Ipsos MORI Research Highlights - 17 July 2020
In this week's Ipsos MORI Research Highlights include how the public feel about the recent Government communications, Boris Johnson's favourability ratings and latest findings from the recent COVID-19 home testing study.
Public more favourable towards Rishi Sunak than Johnson or Starmer 
Public opinion on Boris Johnson is still divided as he continues to announce plans to reduce lockdown restrictions, there are nearly as many people who are favourable towards him (41%) as unfavourable (42%). While Keir Starmer's favourability ratings have fallen slightly (3 points), Rishi Sunak continues to be Britain's most favourable politician with 48% favourable towards him. While public perception of the parties remains virtually unchanged, 46% of Britons think the UK is heading in the wrong direction, which has been on the rise since mid-April when this was at 40%.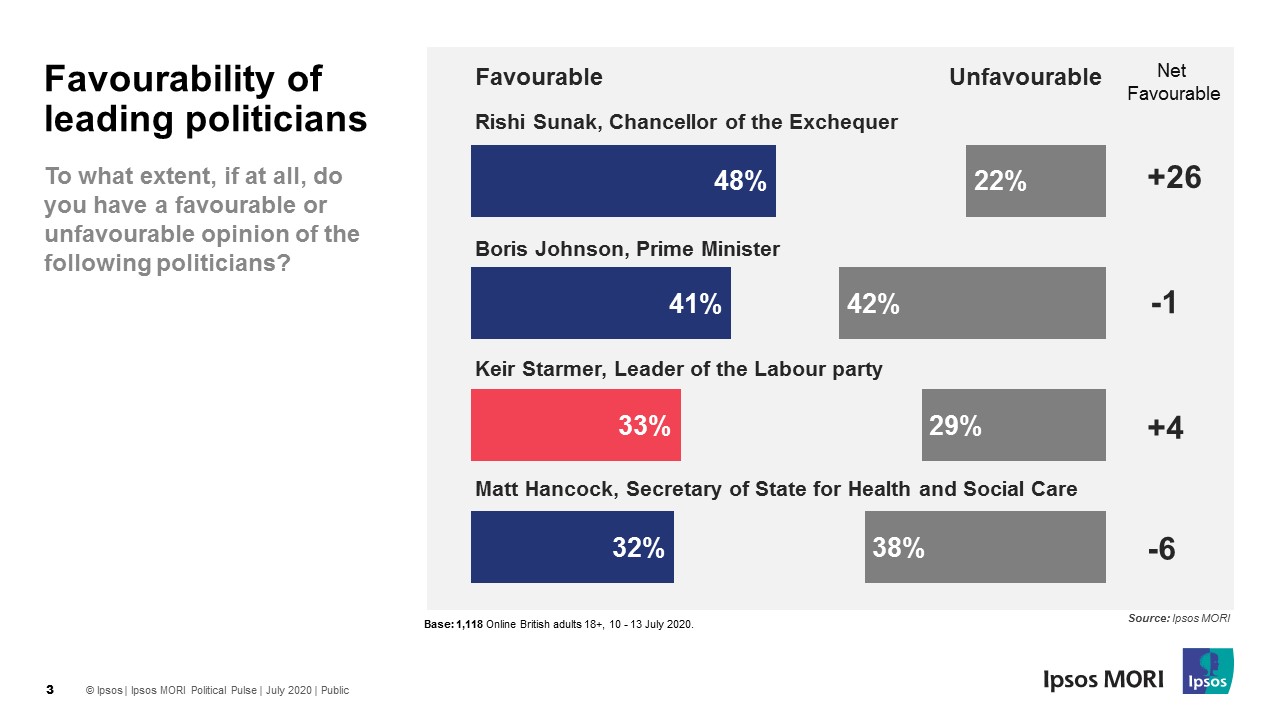 Public not clear about Government advice on socialising, work and travel
As the Government announced the mandatory wearing of face masks in shops and following local lockdowns in Leicester, Britons are still unclear on what Government advice is during the easing of many lockdown measures. Eighty-three per cent feel clear on when to self-isolate, but only 59% know who you can socialise with and only 54% are sure where you can travel to. It's clear that the British public are still cautious. While more than four out of five Britons have heard the term 'R' only 54% of those actually know what it means. 
Majority of Britons say that transgender people face discrimination in Britain
While the majority seem to be supportive of transgender people, 70% of Britons believe that transgender people face discrimination and 33% think transgender rights have not gone far enough. Support for transgender rights differs significantly with age – 56% of Gen Z (56%) say transgender rights have not gone far enough compared with 39% of Millennials, and just 20% of Baby Boomers. While around half (56%) of Britons would be comfortable if a friend or GP (54%) was transgender.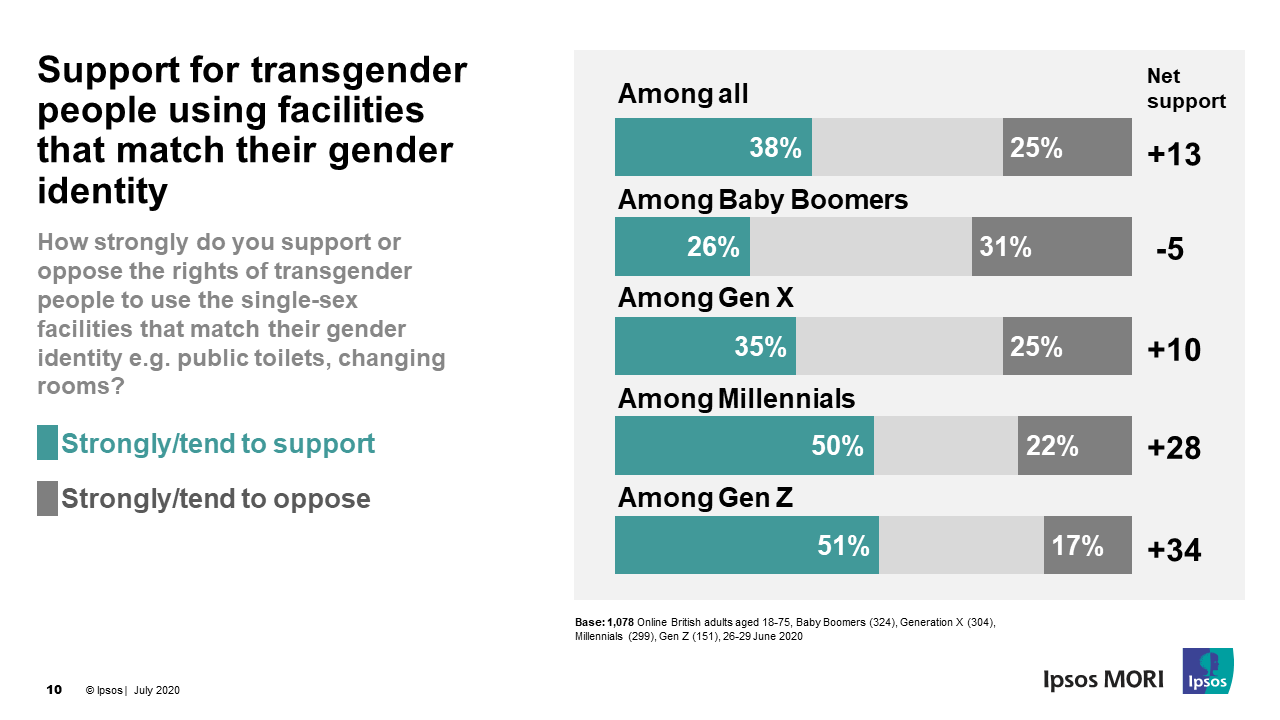 Initial findings released from UK's largest COVID-19 home testing study 
Our research with Imperial College London into the prevalence of  COVID-19 in the UK has shown that care home staff and healthcare workers were more likely to be infected during lockdown while young people aged 18-24 were the most likely to test positive for the virus. The research also found an overall reproduction number of 0.57 – which is lower than has previously been reported. Elsewhere, we've been exploring how best to communicate with the public if there is a second peak.
In other news 
As our Virtual Future of Research series continues, we will host webinars and bringing you regular bitesize content on a range of topics surrounding coronavirus. Join us for our next webinar Business as (un)usual? Product, packaging & service post-COVID-19 on 5 August to examine how COVID-19 has impacted what we buy and what will change for brands, manufacturers, services and retailers. 
Survey results from research conducted amongst online adults in Great Britain about perceptions of Digital Technology.
Finally, Ipsos is proud to announce that we have retained the rank of #1 Most Innovative Market Research Company by Greenbook's GRIT report for the second year running.
As ever, please do let us know what you think, and I hope you find something to interest you.
Ben Page
Chief Executive, Ipsos MORI
ben.page@ipsos.com