Ipsos MORI Research Highlights - 19 June 2020
This week's Ipsos MORI Research Highlights features our eighth edition of Signals, our first Ipsos MORI Politics & Society podcast and the top issues facing Britons.
Ipsos MORI Issues Index: June 2020
Worry about the coronavirus has dropped to 72% from 85% in April, but this is still the top issue facing Britons.  Even though non-essentials shops have opened across the country, concern about the economy has risen by seven percentage points, from 35% in April to 42% this month. With recent Black Lives Matters protests around the country and the world we seen surge in concern for race relations, 24% say that it is an important issue facing Britain today - up 22 percentage points since April. Concern about the NHS has dropped again to 21% and it seems there has been a clear shift in concern in light of recent events.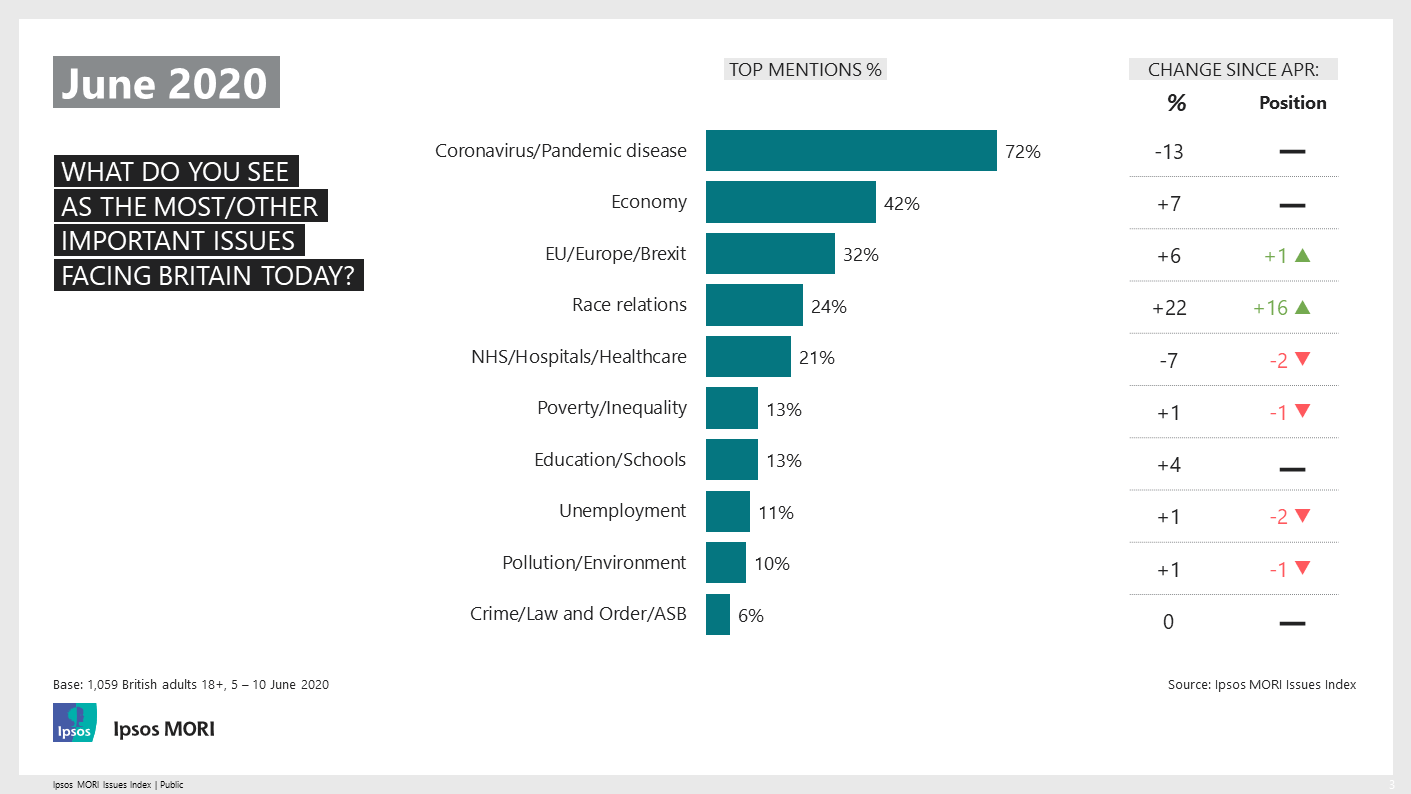 Ipsos MORI Politics & Society podcast: How does Keir Starmer make it to Number 10?
On the inaugural Ipsos MORI Politics & Society podcast, Keiran Pedley is joined by Ayesha Hazarika, Alastair Campbell and Ben Page to discuss historic poll ratings for the new Labour leader and where the Labour Party go from here after a historic defeat in December. 
World Refugee Day 2020
Globally, 72% are believe that refugees should have the right seek to refuge from war or persecution. Britons are among the most supportive countries as 78% agree, this has increased from 72% in 2019. The countries most likely to agree are Sweden (81%), Netherlands (80%) and Spain (79%). While the majority of countries are supportive, globally we're split on whether we should close our borders. Globally, forty-nine per cent agree borders should be closed at this time an increase from 40% in 2019. However, four in ten people (43%) disagree. In Britain, one in six think it should be more open to refugees that it was before the coronavirus outbreak. 
Attitudes to race and inequality in Great Britain
Nearly nine out of ten Britons claim they would be happy for their child to marry someone from another ethnic group and 93% per cent do not agree that "to be truly British you have to be white". While Britons seem to be more open minded than they were in 2009 in their attitudes towards race, it is clear that it is still a cause for concern. Seven in ten (69%) think there is at least a fair amount of tension in Britain between people of different races and nationalities. However, 33% believe that black people are treated worse by public services, and 27% believe that Asian people are treated worse. 
Signals #8: Understanding the coronavirus crisis
Our eighth edition of Signals, presents new research from our teams around the world. As we look towards the uncertain period ahead, our focus is on understanding the dynamics of the current situation as we start to adapt to new realities. We look at changing food habits in the MENA region, explore the relationship between climate change and the coronavirus, and share country spotlights on Brazil, Italy and the US.  
COVID19: The impact of lockdown on older generations
While older generations are said to be more vulnerable to the coronavirus only one fifth (23%) have seen there physical health deteriorate, but a further two-fifths (40%) say their mental health has gotten worse during lockdown with some seeing medical appointments cancelled. Concern about finances is also seen among people aged 50-70 years as 46% believe their financial circumstances will worsen over the next year. Looking at whether they are leaning on any particular vices during lockdown we find that 37% say they are drinking more and 39% say they are smoking more.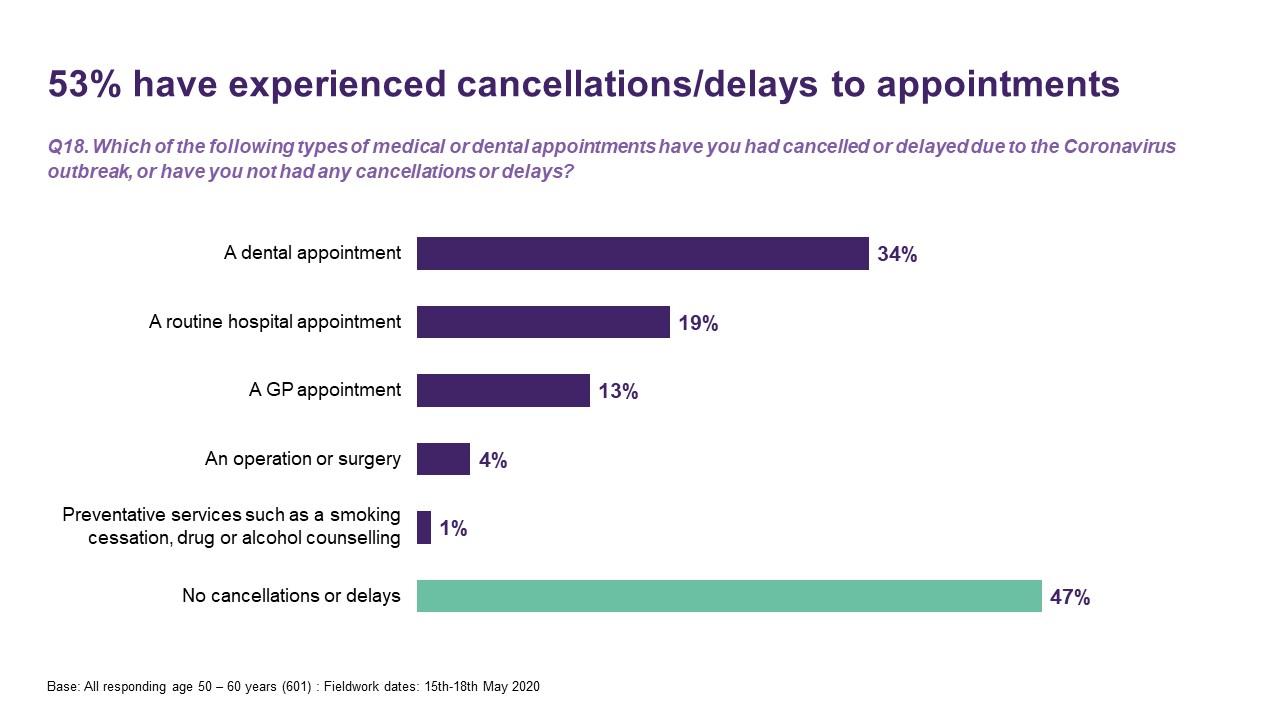 In other news 
Those that get their information about the coronavirus from social media such as Facebook and YouTube, are more likely to believe conspiracy theories surrounding the virus. Fifty-six per cent of people who believe there's no hard evidence COVID-19 exists use Facebook as their key information source and 60% of those who believe the virus is linked to 5G radiation get their information from YouTube. 
What can social distancing behaviour tell us about fundamental human needs? Our new study explores how social intelligence enables us to learn from what consumers are really saying outside of a traditional research context. We explore what this change in behaviour means for brands.
As part of our Virtual Future of Research series, we'll be hosting various webinars and bringing you regular bitesize content on a range of topics surrounding coronavirus. 
Join Kerry Barringer Associate Director at Ipsos MORI on 23 June at 15:30 (BST) for our Financially polarised Britain webinar to discuss how the pandemic has impacted how customers are approaching and managing their money.

 
As ever, please do let us know what you think, and I hope you find something to interest you.

Ben Page
Chief Executive, Ipsos MORI
ben.page@ipsos.com