Ipsos MORI Research Highlights - 20 November 2020
In this week's Ipsos MORI Research Highlights we explore the favourability ratings of the party leaders, public support for prioritising health over the economy and how they feel about the current restrictions.
New lockdown and Corbyn suspension have little effect on favourability ratings for Johnson, Starmer and their parties
Boris Johnson's favourabilty ratings have improved slightly but Rishi Sunak continues to hold more positive favourability ratings than Johnson (and Starmer) with 40% favourable (+1) and 25% unfavourable (+3). There has been a slight uptick in the proportion of Britons that think the country is heading in the right direction since October (from 18% to 21%). However, the majority still think we are heading in the wrong direction.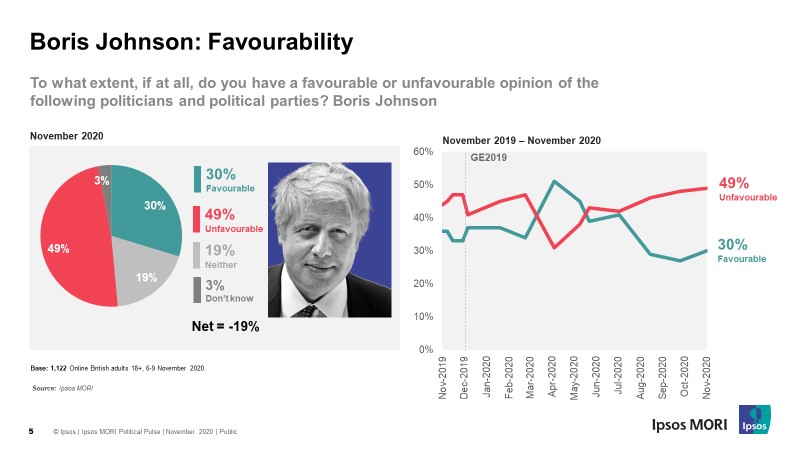 Ipsos MORI Issues Index: October 2020
COVID-19 remains the public's top concern, with 73% of the British public see coronavirus as one of the biggest issues facing Britain, dwarfing the other top two concerns, Brexit and the economy. Brexit as a big issue has fallen slightly to 45% this month, from 51% in September. Concern about poverty and inequality has risen substantially by eight percentage points since September, to 18%.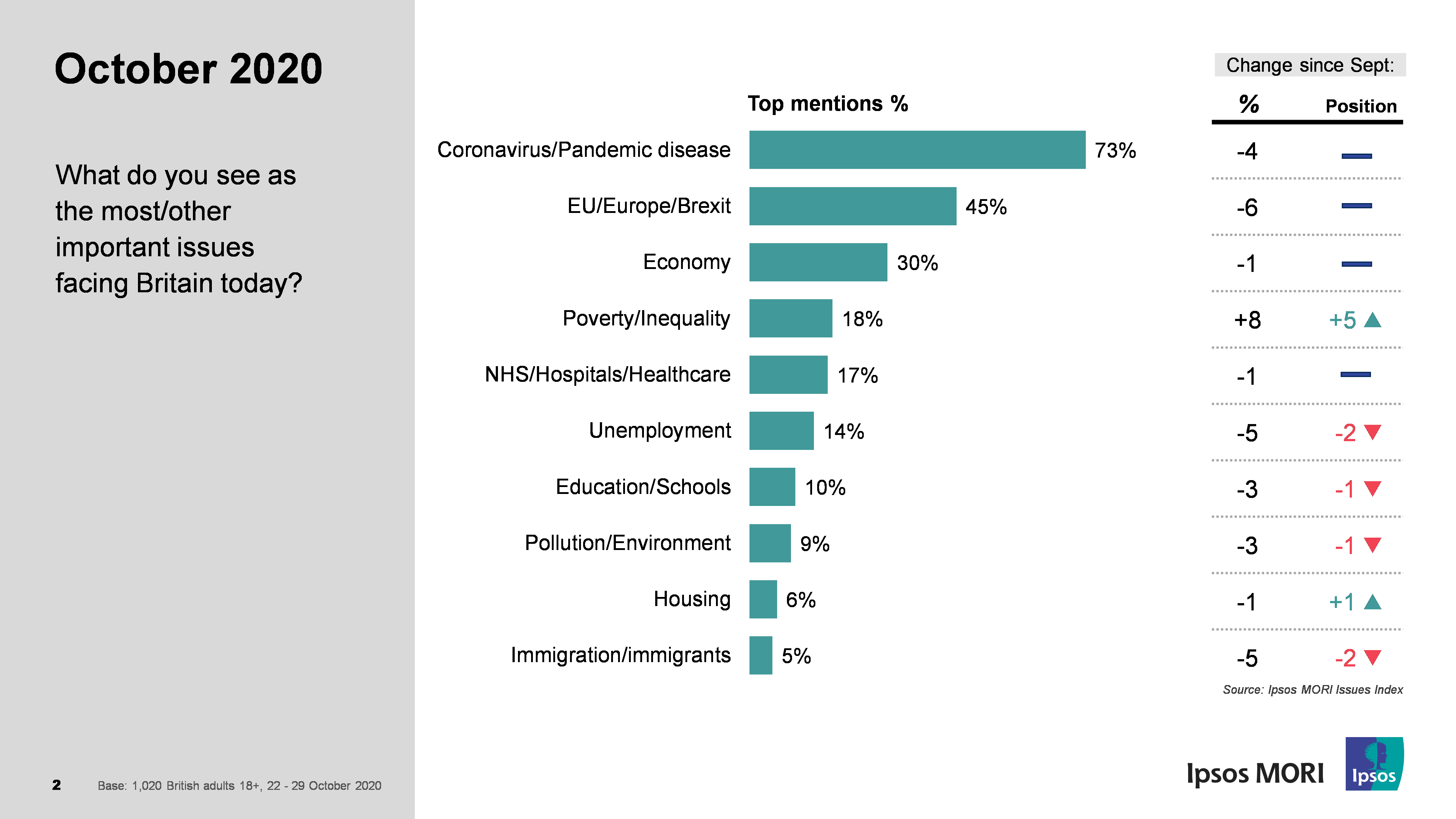 Scottish views of Boris Johnson's handling of the pandemic hit new low
New polling from Ipsos MORI for BBC Scotland shows that ratings of how well Boris Johnson has handled the coronavirus pandemic have fallen since May. Just 19% of the Scottish public now feel that Boris Johnson is handling the pandemic well, while 62% feel he is handling it badly. In sharp contrast, 74% say Nicola Sturgeon is handling it well and just 13% that she is handling it badly.
 
Seven in ten Britons are still confident in the NHS' ability to deal with the pandemic
An online poll shows that confidence in the NHS has fallen again from earlier in the year, with 72% of Britons aged 18-75 confident in the abilities of the NHS to deal with those who are ill as a result of COVID-19, down from 76% in September and 81% in June. One in four (24%) now say they are not confident in the ability of the NHS to handle Coronavirus – the highest level since March.
Meanwhile, the percentage that feel 'very confident' has fallen to 21% from a peak of 37% in May. Commenting on the findings, Ipsos MORI Research Director Keiran Pedley said: "Britons continue to have overwhelming faith in the ability of the NHS to handle the Coronavirus outbreak, even if confidence is softening a little as we head deeper into winter."
Young Britons most likely to break Coronavirus rules in the pursuit of romance
A new survey by Ipsos MORI shows a significant minority of Britons aged 18-75 are prepared to break COVID-19 rules in the name of romance. One in five Britons in relationships (22%) and one in five Britons that are single (20%) say that they have broken government-imposed restrictions or lockdown rules to either spend time with their partner or pursue a romantic relationship. 45% of those aged 18-34 in a relationship have broken the rules to spend time with their partner and 29% of singles in the same age group have broken the rules to go on a date or pursue a romantic relationship. 
As ever, please do let us know what you think, and I hope you find something to interest you.
Ben Page
Chief Executive, Ipsos MORI
ben.page@ipsos.com