Ipsos MORI Research Highlights - 22 May 2020
This week's Ipsos MORI Research Highlights features how the public feel about the recent Government communications, how we feel about life after lockdown, and our sixth edition of Signals exploring the pandemic globally.
Boris Johnson's favourability ratings have slipped - but still remain higher than pre-COVID
The recent surge in Boris Johnson's favourability has fallen by 6 points since April but his ratings still remain positive on balance. Forty-five per cent feel favourable towards him (down 6 points since April), higher than it was at the beginning of the year.  Keir Starmer's ratings also continue to climb as 34% are favourable towards him (up 8 points this month). There is little change in party favourability ratings this month. Meanwhile 42% of Britons think the UK is headed in the wrong direction as only 33% think it's the correct direction.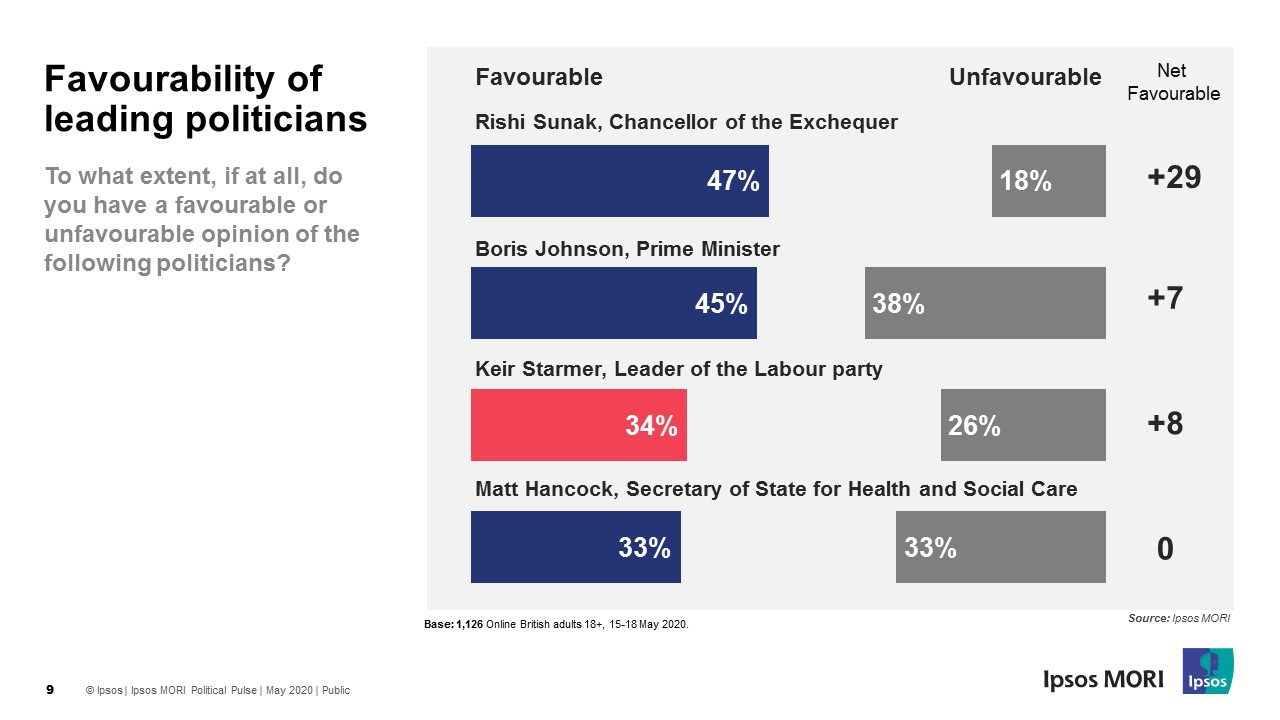 Majority think Government communications on Coronavirus are clear, but fall from peak after original lockdown
The majority (56%) of Britons think the Government's communication about what to do during the lockdown is clear and 52% think they are providing the right information. While confidence is still high, this is a sharp drop from the beginning of the lockdown, when 90% of Britons were happy with the Government communications. This fall is particularly noticeable among Labour voters in the 2019 General Election, but 88% say they are personally following the rules most of the time. 
How comfortable are Britons returning to normal after lockdown? Just two in ten would be comfortable holidaying abroad
The recent easing of lockdown measures has meant some Britons are already back at work but the public are still very cautious. Around half (47%) of the public would be comfortable returning to work, but only 22% would using public transport to do so. While only 20% of Britons would be comfortable going on holiday abroad, 45% would be happy to go on holiday in the UK.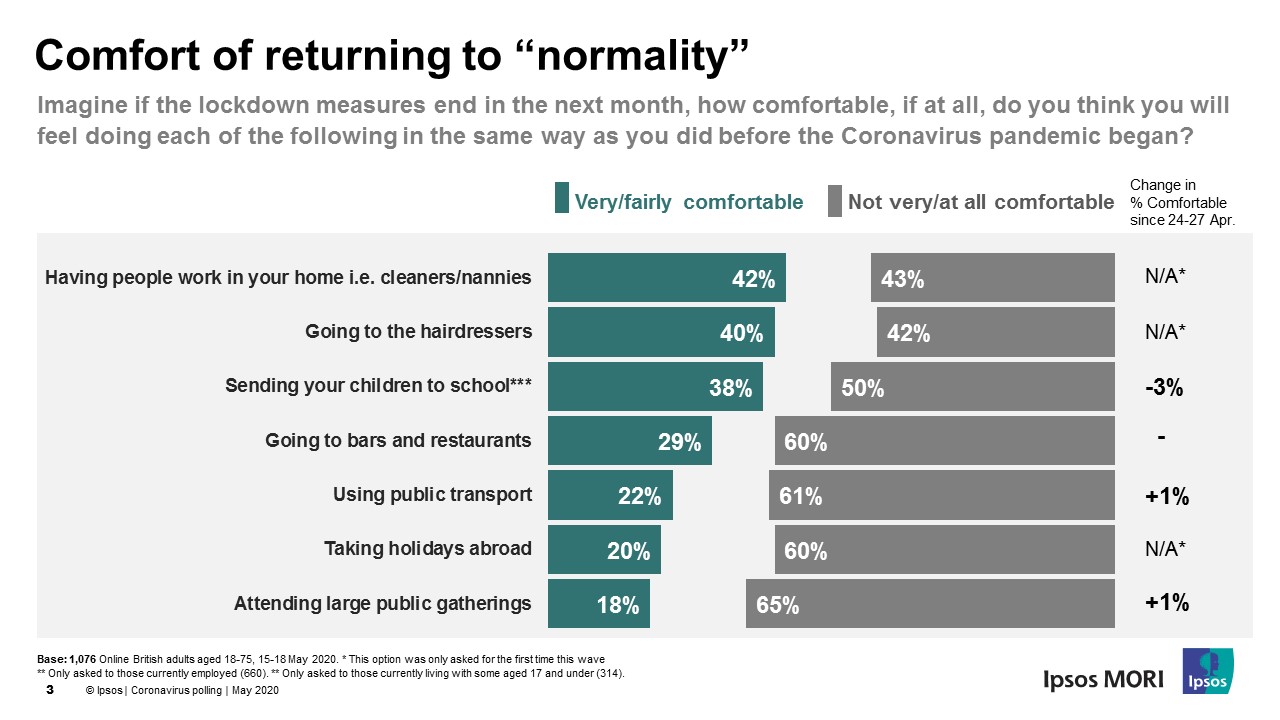 Six in ten women finding it harder to stay positive day-to-day due to Coronavirus
Confidence around the future remains uncertain among the public, and particularly among women. Forty-nine per cent of women say they are very concerned about the risk the coronavirus poses to the country, compared to 36% of men. As 78% of women say they have checked in with friends (compared to 63% of men) and 21% have delivered supplies, (compared to 16% of men) it is clear that women are baring the emotional brunt of the virus. 
Signals #6: Understanding the coronavirus crisis
Our sixth edition of Signals, presents new research from our teams around the world, drawing on our global polling, expert analysis and studies carried out by our teams in different countries. With the coronavirus quickly evolving globally, we look at what the coming period will mean for societies, markets, and people around the world. This edition also includes country spotlights on Turkey, China, Russia, and Italy.
In other news 
With pandemic forcing the majority of the world to stay home and out of our offices, the need for digital skills has increased rapidly. We find that 35% of those who were we unable to use the internet unassisted before lockdown have now taken action and boosted their digital skills.
Our Thinkbox real-time study, following the media habits of 12 households across the UK, has two new editions. We find that consumers are excited about life beyond lockdown and VOD provides the perfect place to explore, catch up, and binge.
As part of our Virtual Future of Research series, we'll be hosting various webinars and bringing you regular bitesize content on a range of topics surrounding coronavirus. 
Sign up for our next webinar COVID-19: The generational response to explore the generational response to the coronavirus and how the different generations are experiencing and coping with the lockdown.
In episode 6 of the Customer Perspective podcast, our hosts, Helen Wilson and Trevor Clarke, are delighted to welcome Helen Bywater-Smith to learn more about customer journey mapping and the impact this can have on organisations.
As ever, please do let us know what you think, and I hope you find something to interest you.

Ben Page
Chief Executive, Ipsos MORI
ben.page@ipsos.com