Ipsos MORI Research Highlights - 23 October 2020
In this week's Ipsos MORI Research Highlights we explore how many Britons are following the COVID-19 rules, support for Scottish independence and the latest approval ratings for Joe Biden and Donald Trump.
Britons increasingly abiding by the COVID-19 rules, with social responsibility and the NHS the primary drivers
Nearly three-quarters (73%) of Britons claim to be following the coronavirus rules, up by 11 percentage compared to 62% last month. As the UK announces a three tier system of coronavirus restrictions, 87% of Britons are convinced that stopping friends and family catching the virus and ensuring the NHS is not overwhelmed are good arguments for following the rules. And of those who haven't followed the rules most are not social distancing.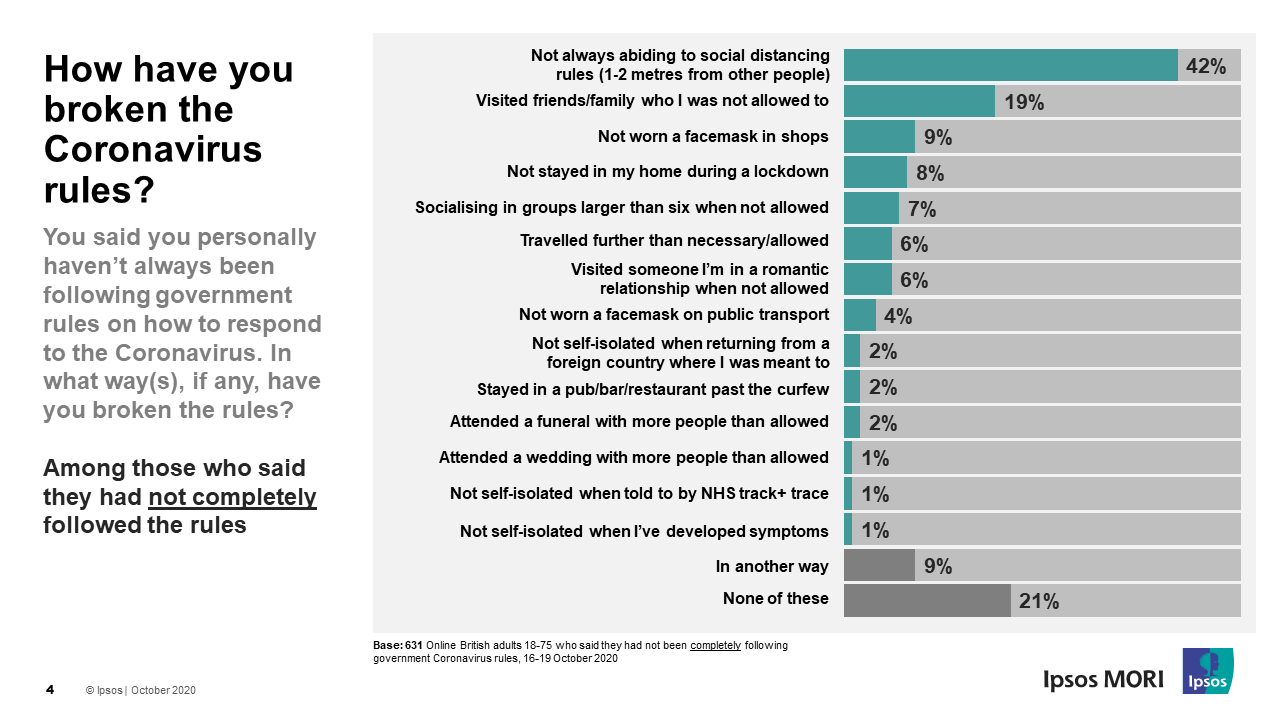 Half of Britons believe Trump's re-election would negatively impact the UK's "special relationship"
43% say Joe Biden election would have a positive impact on the UK's relationship with the US and under half of Britons (49%) say the re-election of Donald Trump as President would negatively impact the relationship. Opinion is much more split concerning post-Brexit trade deals with the US. One in five (20%) Britons think the UK would get a good deal with Biden, while 16% believe it would be better from Trump. However 26% we won't get a good deal no matter the result. 
Record public support for Scottish independence
Our most recent Scottish Political Monitor finds that 58% say they would vote Yes while 42% would vote No if there was a independence referendum. Nicola Sturgeon's ratings are extremely high with 72% of the Scottish satisfied with her. This is in stark contrast to the 76% of Scots that are dissatisfied with the way Boris Johnson is doing his job​ - the lowest ratings Ipsos MORI has ever recorded for him in Scotland. The most convincing argument tested in favour of Scotland staying in the UK is the risk to Scotland's economy and jobs.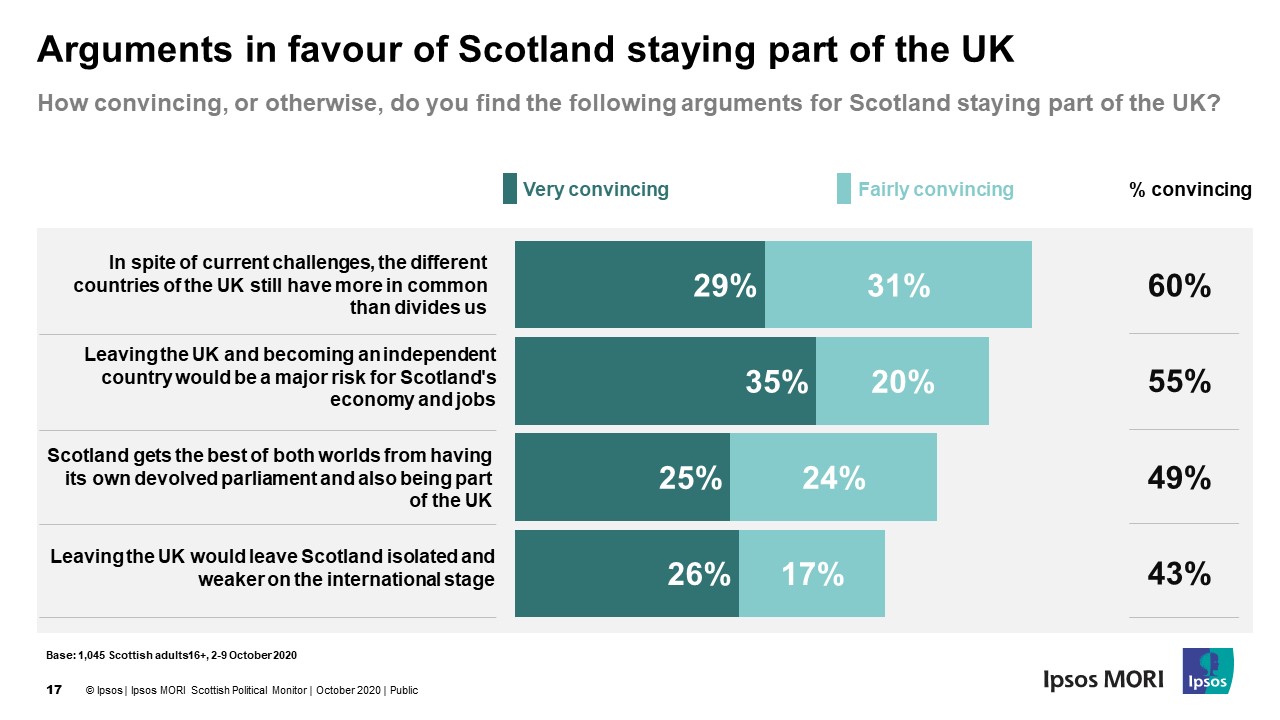 3 in 10 Britons are worried about paying their rent or mortgage
A similar proportion (31%) are worried about these payments in 12 months' time. Levels of concern are highest amongst private renters as 43% are very or fairly concerned and concern is highest in London at 39%. While fifty-one per cent of Britons say they are spending less money overall, almost a quarter (23%) have accessed money from their savings (up from 14% 6 months ago).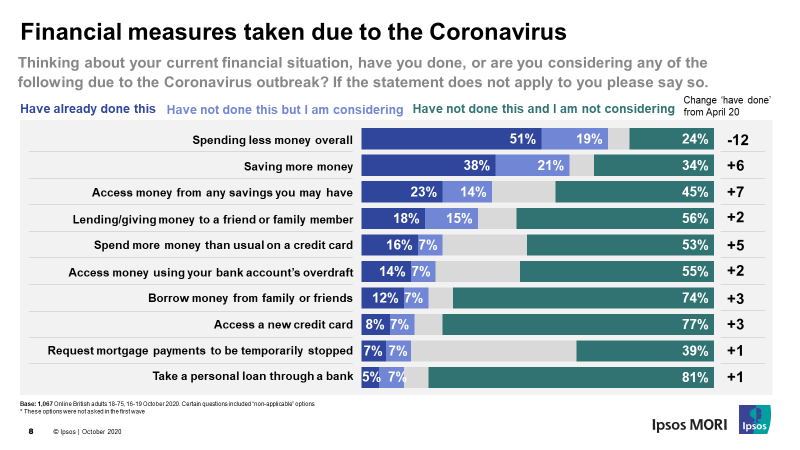 New research shows how far employers have to go to meet the needs of women experiencing the menopause
Over half (57%) of working women aged 40-65 have experienced three or more symptoms of the menopause. Six in 10 (60%) of those who have experienced 3 or more symptoms would like to see their employer do more, while over half (55%) say they would feel more positively about a company who had a menopause awareness programme.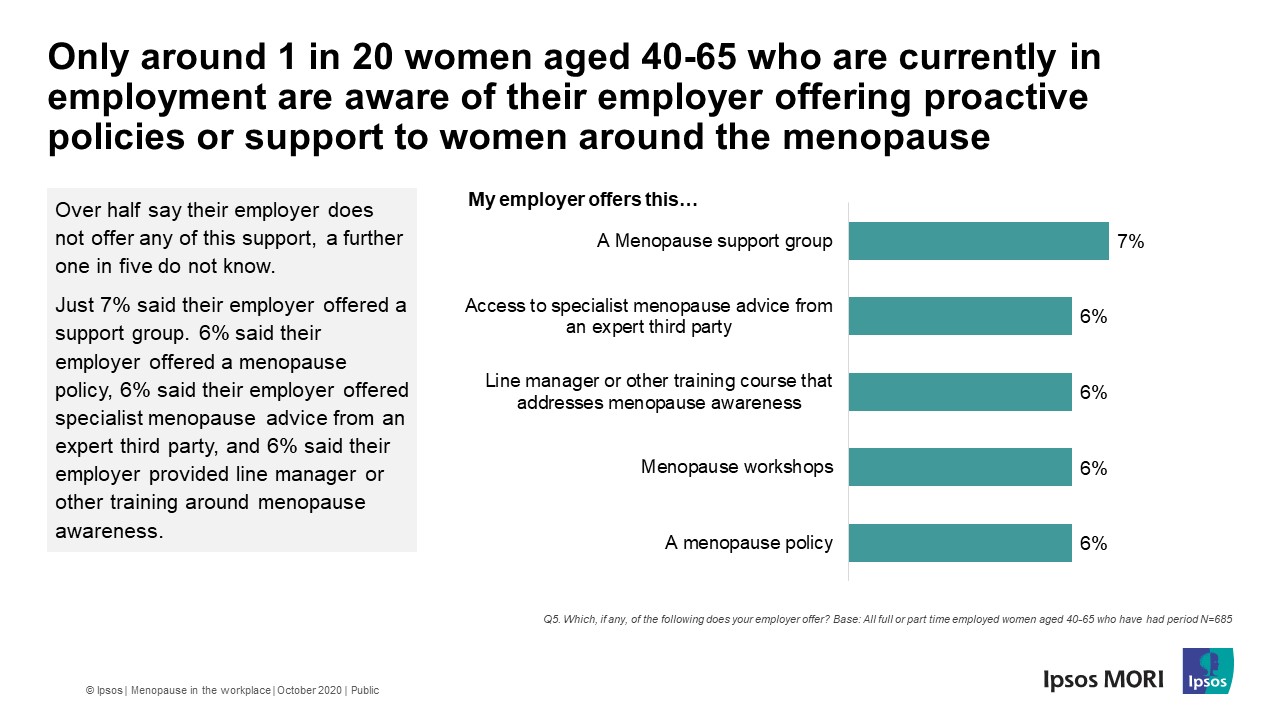 In other news
New Ipsos MORI polling looks at views of Parisians and Londoners. The high cost of living, access to housing and air quality are among the biggest issues for Londoners and Parisians. Citizens disagreed on which city was better for culture, transport and food.
Ipsos has collaborated with The Trust Project to identify and explore the key factors influencing the future of trust and truth in media.
And finally, a recent report published by the British Business Bank and Oliver Wyman has revealed that Black business owners and those from Asian and Other Ethnic Minority backgrounds face persistent disparities in business outcomes.
As ever, please do let us know what you think, and I hope you find something to interest you.
Ben Page
Chief Executive, Ipsos MORI
ben.page@ipsos.com