Ipsos MORI Research Highlights - 24 July 2020
In this week's Ipsos MORI Research Highlights we look at how the public feels about wearing face masks in shops, their priorities for British infrastructure and where they place themselves on the political scale.
Polling on how voters identify politically presents challenges and opportunities for Labour
A quarter of Britons consider themselves right wing, 24% consider themselves left wing but the majority (34%) identify as centrist. Perhaps unsurprisingly, those identifying as on the right are more favourable towards Boris Johnson (73%) and the Conservatives (72%) than those on the left are towards Keir Starmer (60%). Fortunately for the Prime Minister, centrist voters are more favourable toward Johnson (42%) than Starmer (31%).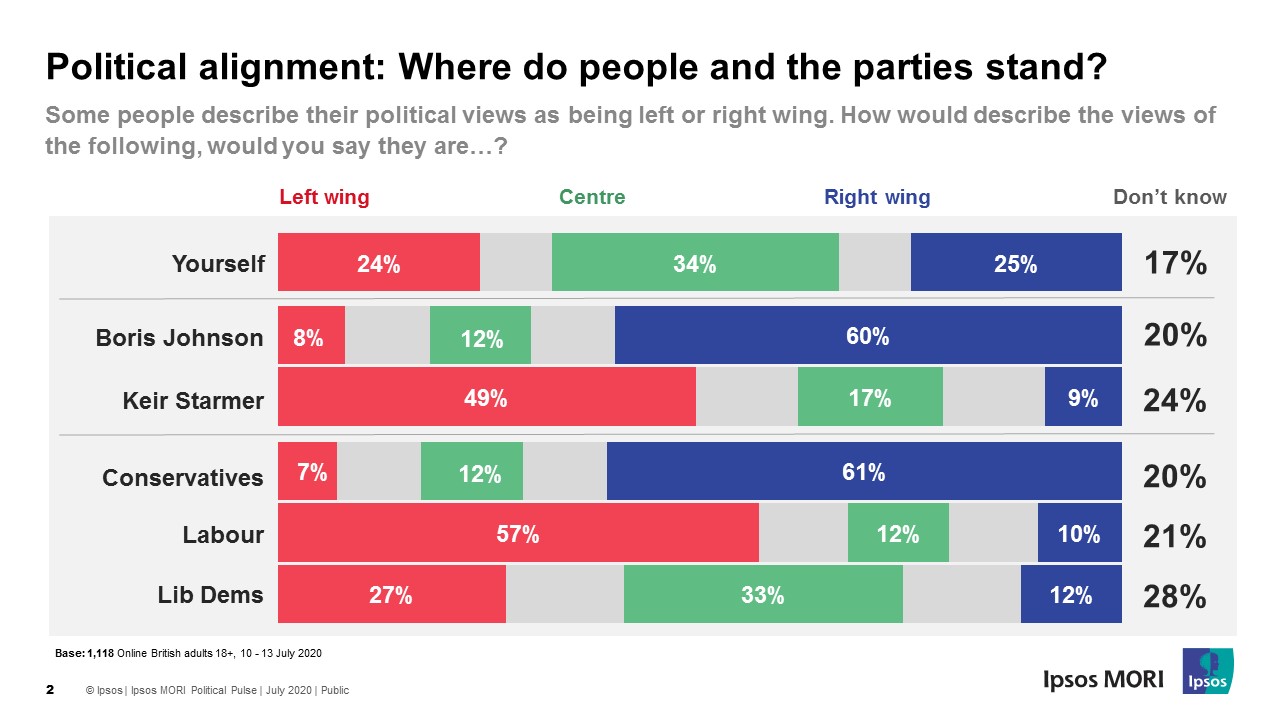 MPs back investment in infrastructure, but have different priorities
Boris Johnson recently reiterated he plans to "Build, build, build". Research carried out before the pandemic indicated that MPs want to prioritise rail and digital infrastructure, whereas 40% of Britons selected solar energy infrastructure as an investment priority, followed by flood defences and rail (both 39%). It is clear that the public and Government are divided as to what should be top priority. Meanwhile, 73% of MPs are 'fine' with foreign investment in infrastructure in Britain, while that number is 48% among the public. As this research was conducted before coronavirus happened, it will be interesting to explore what the prime concern will be going forward.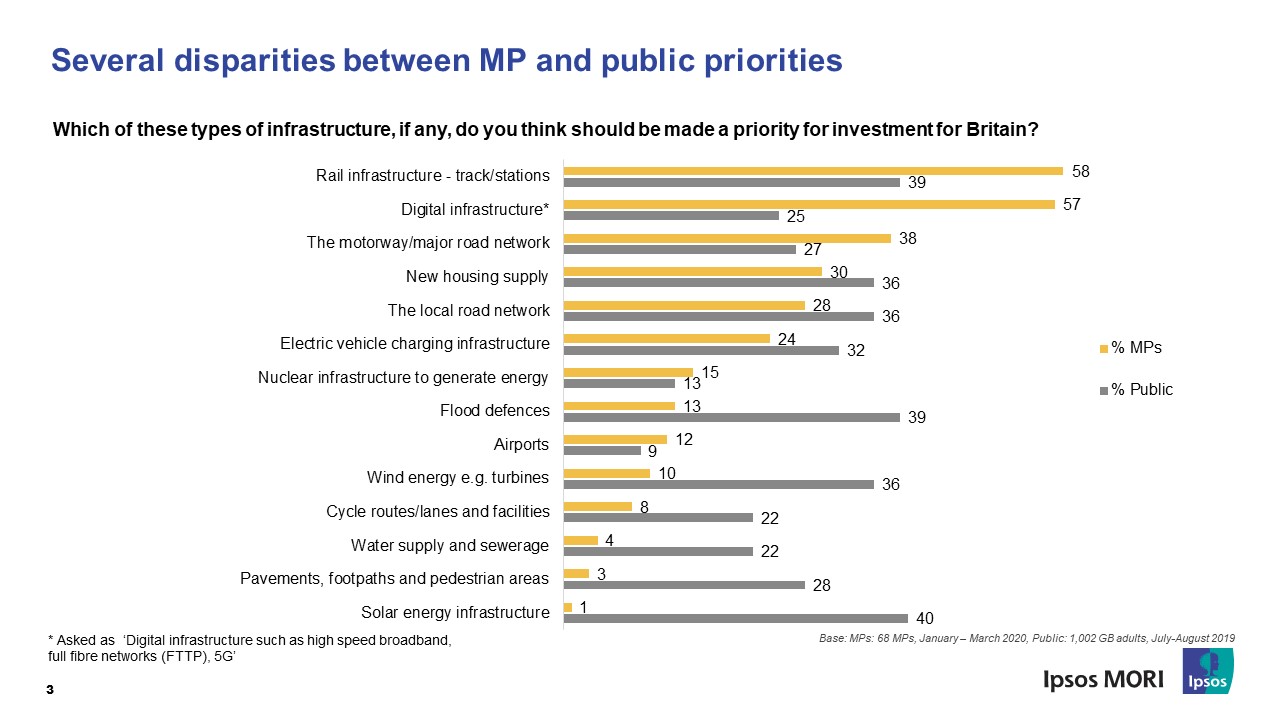 Nearly 9 in 10 Britons say it is either essential or important to wear a facemask in public to stop the spread of coronavirus
Two-thirds of Britons support making it the law to wear a facemask in shops, and 86% Britons say it is either essential or important for people to wear a facemask in certain public situations. With the public remaining cautious, 28% say they already wear facemasks, which has shot up from 7% at the end of April. However, there is no clear indication that this will be long term, even though those that wear facemasks want to stop the spread of coronavirus to others 59%, half of Britons say it will make no difference to their shopping habits.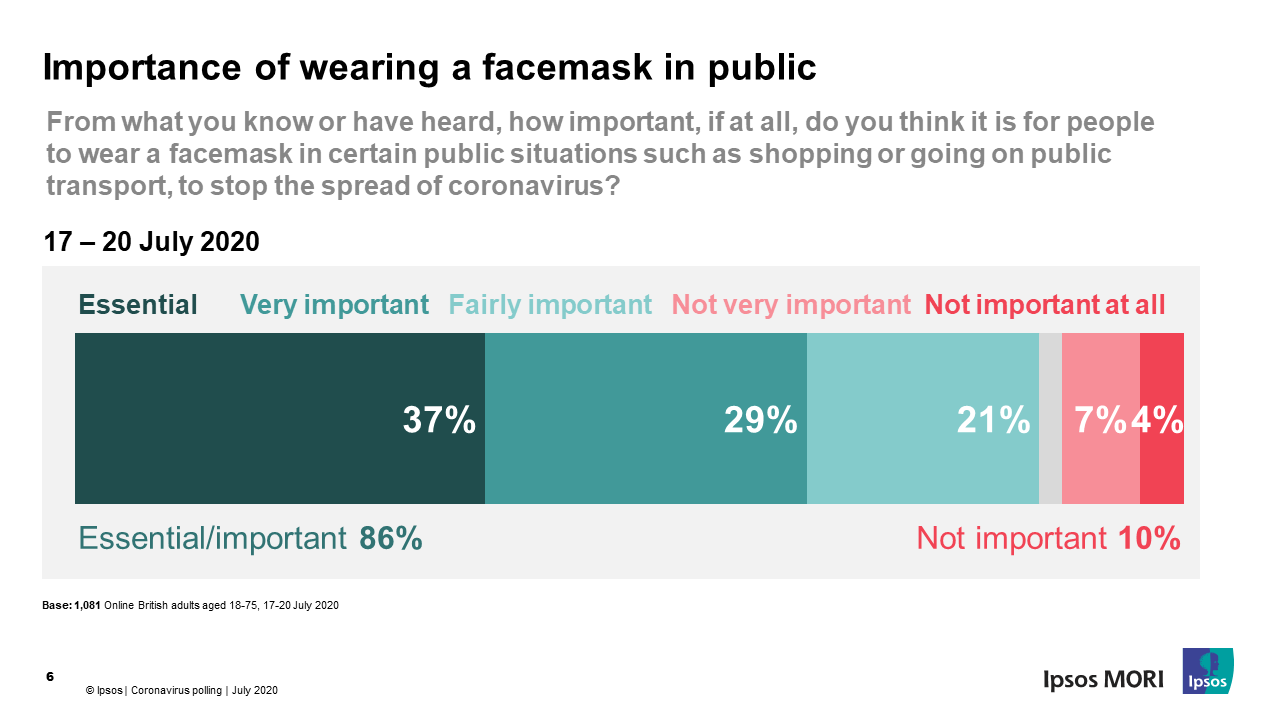 Younger people say entertainment costs have risen since COVID-19 
In a recent global survey of nearly 18,000 people, a quarter of those in 26 countries say the cost of entertainment such as electronics, movies and books has increased since COVID-19 began. The data shows younger people are most likely to say the cost of entertainment has increased with almost a third (30%) of those under the age of 35 globally citing this. That compares to a quarter of people aged 34 to 49 and just 18% of those aged 50 to 74.
Ipsos' Customer Perspective podcast: Mystery Shopping the digital channel 
With the Government desperate to get people back into shops but people still seemingly not keen, digital shopping is on the rise. In the last podcast (number 15, in fact) of the summer before taking a quick break, the Customer Perspective team speak to Darren Burgess, Deputy MD of our Ipsos MORI's Mystery Shopping – Channel Performance business, as he speaks about the power of Mystery Shopping in evaluating and improving the performance of the digital channel, as well as the practical considerations when setting up such a programme.
In other news
As our Virtual Future of Research series continues, we will host webinars and bring you regular bitesize content on a range of topics surrounding coronavirus. Join us for our next webinar Business as (un)usual? Product, packaging & service post-COVID-19 on 5 August to examine how COVID-19 has impacted what we buy and what will change for brands, manufacturers, services and retailers. 
As ever, please do let us know what you think, and I hope you find something to interest you.
Ben Page
Chief Executive, Ipsos MORI
ben.page@ipsos.com