Ipsos MORI Research Highlights - 25 September 2020
In this week's Ipsos MORI Research Highlights include public support of further measures to control the pandemic, a fall in ratings for both the Prime Minister and the Government but Rishi Sunak remains popular.
Ipsos MORI Political Monitor – More see Keir Starmer as capable and having sound judgement than Boris Johnson
Just two in five (40%) say they are satisfied with the way the Prime Minister is doing his job (down 7 points) and more than half say they are dissatisfied (54%, up six points).  Even though the majority of Britons think the Prime Minister is patriotic (68%), Keir Starmer is making progress with the British public – 44% say he is a capable leader (versus 37% for Boris Johnson) – and for the first time in over a decade more people like the leader of the Labour Party than the party itself.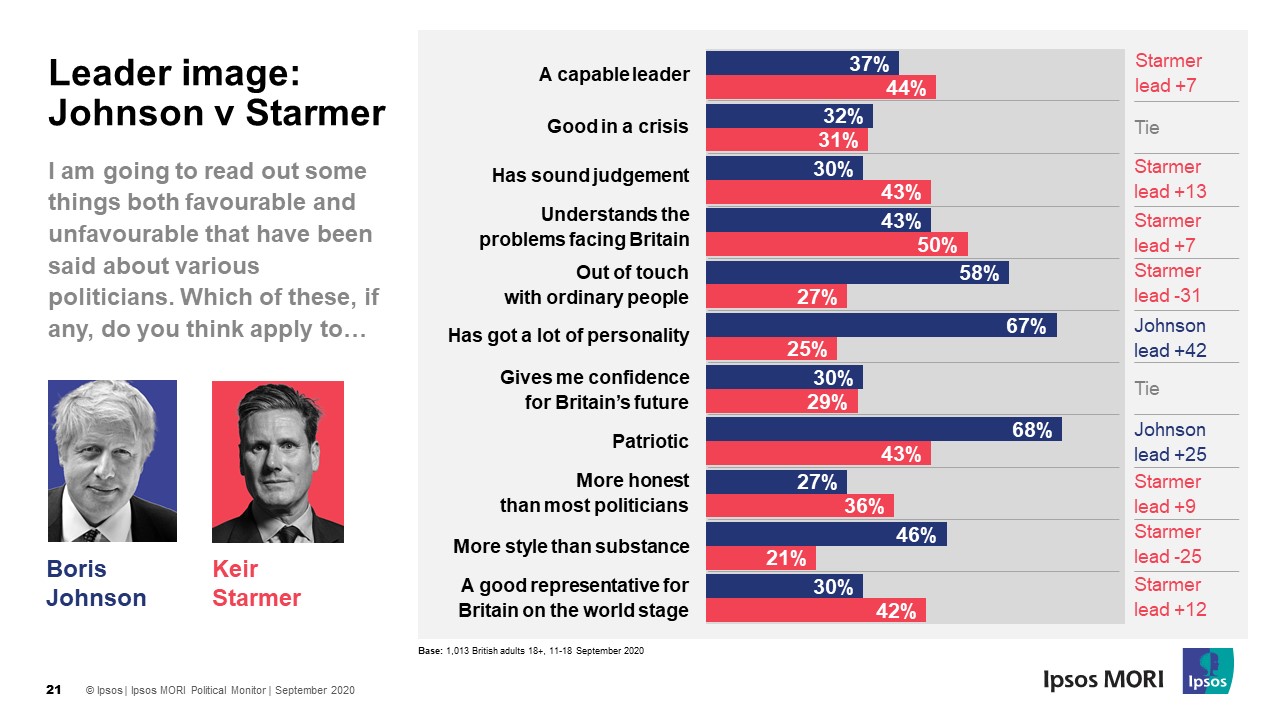 Ipsos MORI Political Monitor – Rishi Sunak has highest satisfaction ratings for a Chancellor since Denis Healey in 1978
Rishi Sunak remains popular with the British public, in a poll conducted before the latest announcement of the Job Support Scheme on Thursday,  two-thirds (64%) say they are satisfied with the way he is doing his job as Chancellor, up from 45% in March. This is the highest job satisfaction ratings among the public since Labour's Dennis Healey in 1978 with a majority of Labour supporters (59%) also satisfied with him.
Ipsos MORI Political Monitor – Ratings fall for the Government on its handling of the coronavirus
Fifty per cent of Britons think the Government has handled the pandemic very or fairly badly (up 10 points since August) and only a third say it is handling it very or fairly well (32%, down 10 points). Criticism of the Government is split along both parties, 60% of Conservative supporters think the Government is handling it well, compared with just 15% of Labour. However, this still the lowest lowest score seen so far in this series - in March, 49% thought the Government was handling it well.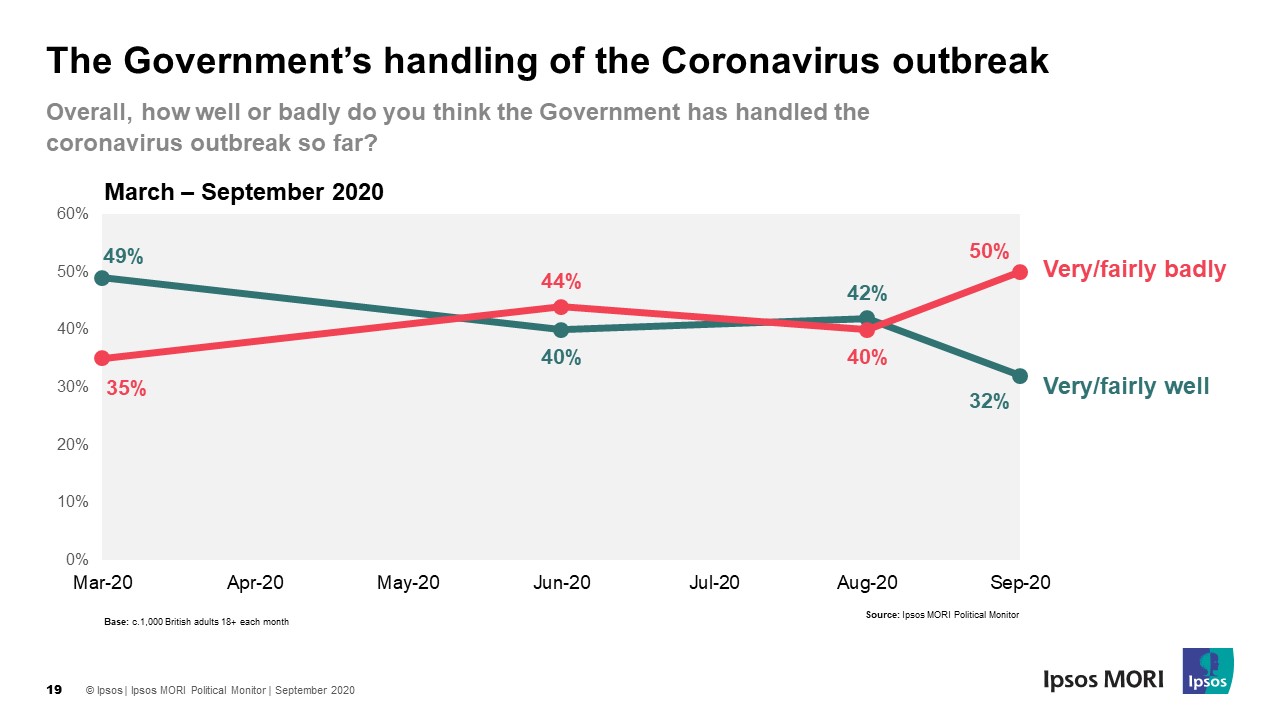 Less than half of Britons support a second complete national lockdown
As Britons remain cautious cautious about the risk COVID-19, 76% are likely to support the use of 'local lockdowns'. Only 1 in 10 (9%) are opposed, showing that Britons are in favour of strong measures to tackle the coronavirus. More than two in five (45%) think the Government should prioritise health over the economy. The majority (51%) also support closing all restaurants and pubs entirely, however 34% would oppose another national lockdown.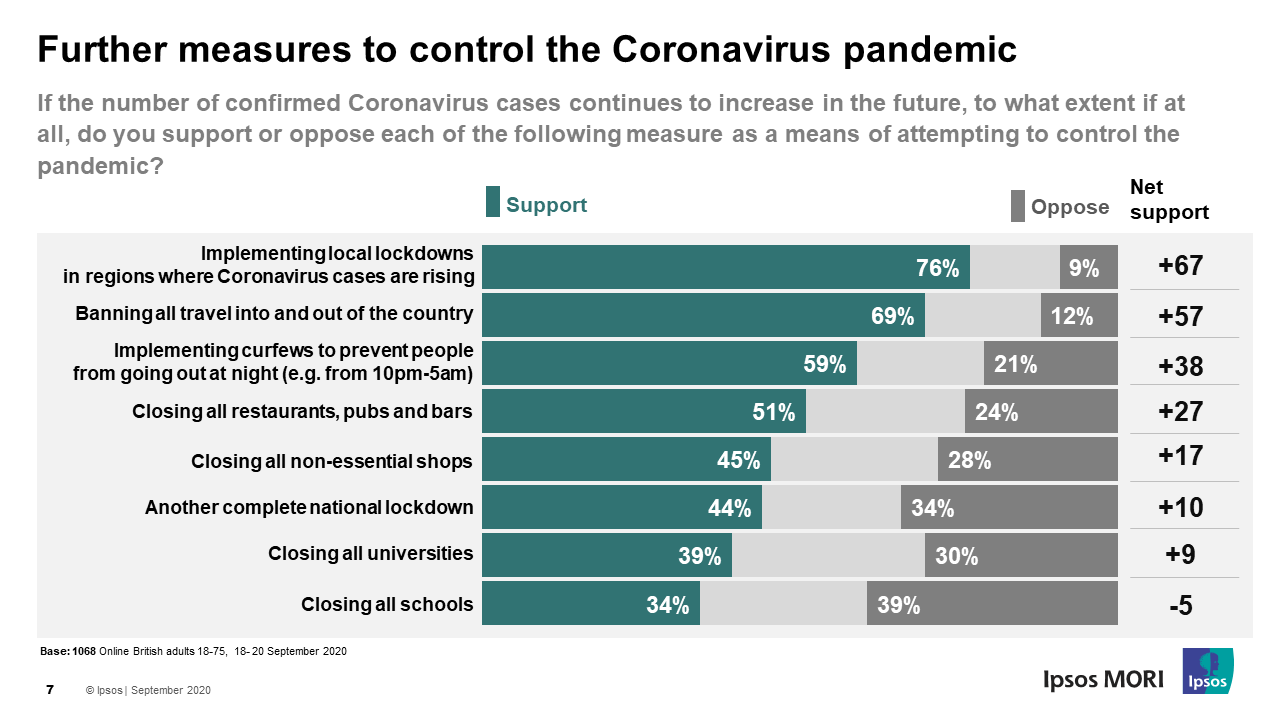 Half of parents concerned about pupils' mental health and wellbeing as children return to school
Over half (51%) of parents are concerned for their children's mental health during this back to school period and is a particular concern for parents from lower-income households. Four in ten parents (39%) report their child's/children's mental health and wellbeing has worsened since lockdown began which a majority think is due to a lack of social contact with friends (82%) followed by the lack of a daily routine (62%).
Ipsos MORI Politics & Society podcast. The coronavirus pandemic and Starmer's first conference speech
On this week's Ipsos MORI Politics & Society podcast, Keiran Pedley is joined by Katy Balls, Deputy Political Editor of The Spectator and Ben Walker, Data Journalist at the New Statesman and founder of the Britain Elects website. The team discuss the fallout from new COVID restrictions announced by the Government this week – and what the public think of them as well as reaction to Keir Starmer's first conference speech as Labour leader and how he polls versus Prime Minister Boris Johnson.
In other news
Our Virtual Future of Research Series continues as we explore ways in which research has adapted to be stronger, smarter and fitter in adapting online – and some offline – techniques in the pandemic and beyond.
Three out of five (60%) support the 'rule of six', which makes it illegal for more than 6 people to meet, in order to control the spread of coronavirus and two-thirds (67%) believe it won't affect their social life much, if at all.
As the NHSCOVID19 app launches this week, we found that in polling with the Health Foundation in July that 52% of Britons said said they were likely to download it but people from a BAME backgrounds, women, the youngest age group and the unemployed, are found to have lower awareness of the app. 
A recent survey for the UK Research and Innovation shows that UK public have a positive disposition towards science and scientists, (63%) said the benefits of science to the UK are greater than any harmful effects. Three in five (60%) considered scientists in general to be trustworthy.
As ever, please do let us know what you think, and I hope you find something to interest you.
Ben Page
Chief Executive, Ipsos MORI
[email protected]