Ipsos MORI Research Highlights - 26 June 2020
In this week's Ipsos MORI Research Highlights features we explore the top concerns around the world today, the global responses to the peaceful protest in the U.S. and how people in the UK feel about a return to workplaces.
What Worries the World – June 2020
As quarantine measures continues to ease around the world, concern about COVID-19 has dropped again as 47% now say this is a top concern for their country, down from 55% in May. Britons are still the most concerned about COVID-19 (69%) and 13 out of 27 countries, still have COVID-19 as the top issue facing their country. Anxiety surrounding unemployment still remains at its highest in five years, at 42% and now eight countries, have unemployment as their top concern over COVID-19.
Global support for peaceful George Floyd protests in U.S. with majority saying response is appropriate
Unsurprisingly, some of the most supportive countries of the Black Lives Matter (BLM) protests include Canada (81%), Germany (80%) and South Africa (79%), all of which have had their own protests in solidarity. Britons are among the most supportive peaceful BLM protests in the U.S. (79%) and 80% believe peaceful protests are an appropriate response. The majority of people across the countries surveyed, are not in support of how US President Donald Trump has responded to the recent demonstrations. Just half of Americans surveyed disapprove of their president's actions, but this sentiment is higher in the UK (80%), Canada (76%) and Spain (75%).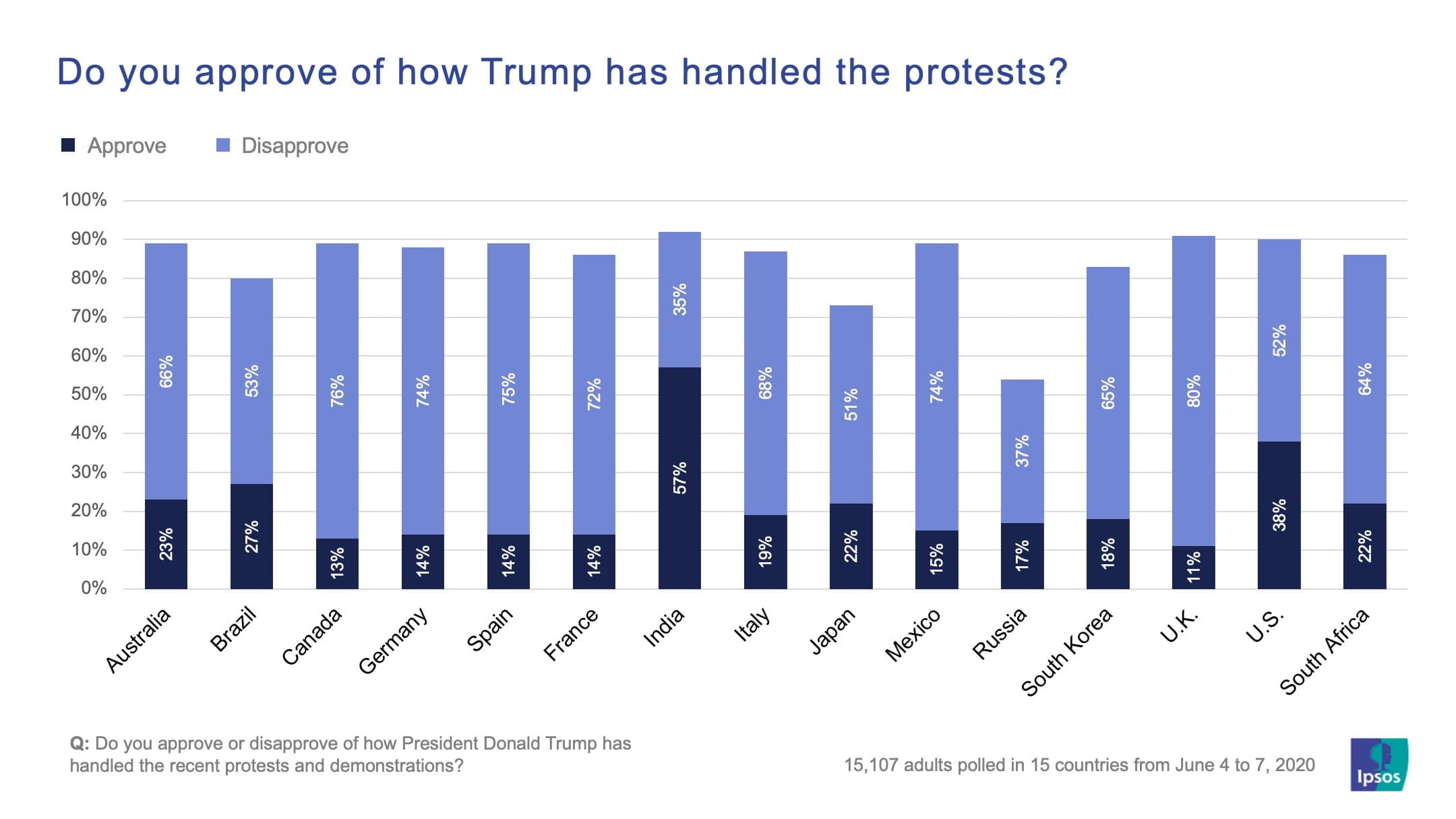 Sexual orientation and attitudes to LGBTQ+ in Britain
More than half of Britons say they are supportive of LGBT-inclusive sex education in schools and 49% support teaching about LGBT families in Relationship Education in primary schools. While Britons seems to support the educating of LGBT issues, 60% still believe that LGBTQ+ people face discrimination in Britain today. One in five (18%) think LGBTQ+ rights have gone too far in Britain, but 27% think they haven't gone far enough. Younger generations are seen to be more open-minded as 47% of Gen Z agree LGBTQ+ rights haven't gone far enough compared to 14% of Baby Boomers, and 38% of Millennials.  
Despite concerns for job security, Britons confident in their company's management of the coronavirus crisis
Forty-nine per cent of Britons are dissatisfied with Boris Johnson's handing of Brexit. The majority of Britons think the UK will leave the EU without agreeing a trade deal and, even while 38% of Conservative voters agree, half think it's unlikely. The same amount say they are satisfied with how Boris Johnson is handling Brexit, but twice as many of those who previously voted Remain are dissatisfied. However when it comes to the opposition, Keir Starmer does not fair any better, as 45% don't know if they're satisfied with his handling of Brexit or not.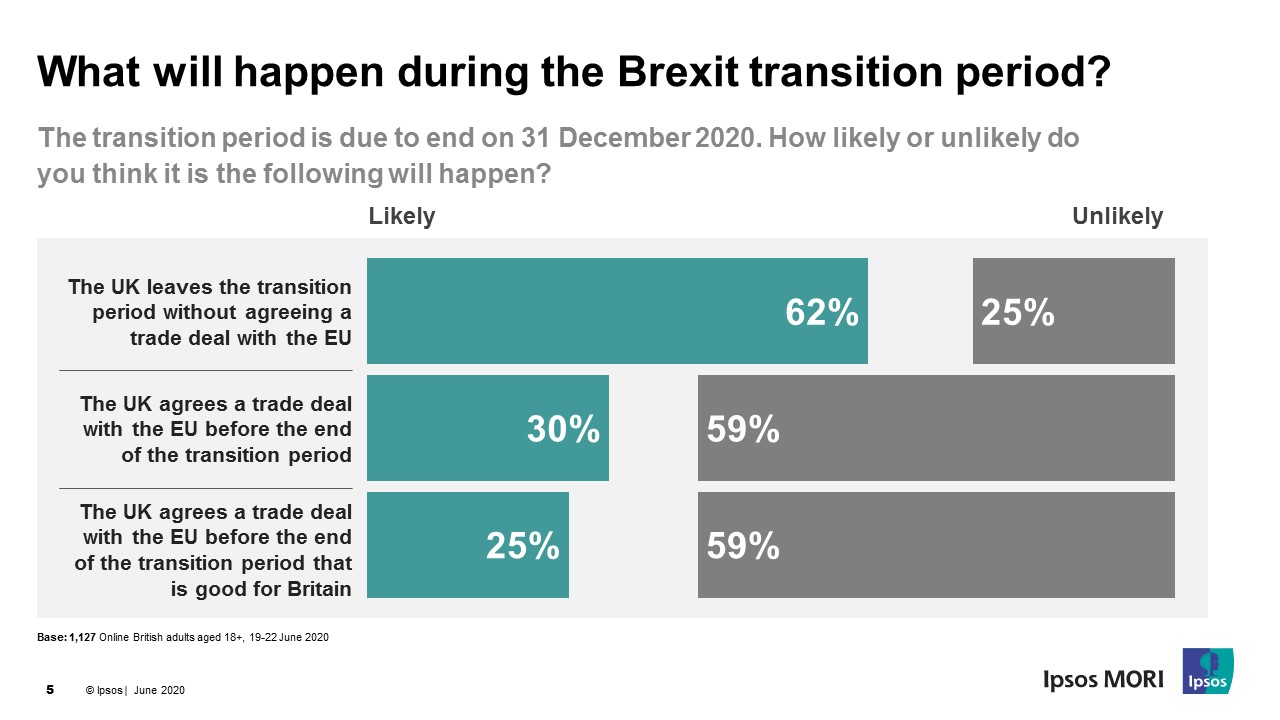 Despite concerns for job security, Britons confident in their company's management of the coronavirus crisis
With more Britons starting to enter the workforce as offices around the UK begin to open, two in five employees have concerns about job security (40%). However, nearly double that feel positive about the steps their company has taken during the pandemic. Four out of five people believe their company is being responsible (81%) and adapting well to the current crisis (79%). As working patterns shift, 57% of Britons anticipate that their relationship to work will change profoundly. 
In other news 
As our Virtual Future of Research series continues, we will host webinars and bringing you regular bitesize content on a range of topics surrounding coronavirus. Join hundreds of others that have registered to explore public perceptions of the social contract and priorities for the local and national public sector have all been disrupted during the last few months. Register for our next webinar The Future of Public Services to find out what where we are now as we begin to relax the lockdown period. 
Plus, businesses and non-essential shops around the UK are continuing to open and we look at the steps brands should take to ensure customers feel safe when shopping. Ipsos' Consumer Health & Safety Index will report on how brands performed across key industries.
As ever, please do let us know what you think, and I hope you find something to interest you.
Ben Page
Chief Executive, Ipsos MORI
ben.page@ipsos.com