Ipsos MORI Research Highlights - 28 August 2020
In this week's Ipsos MORI Research Highlights the Conservatives see a drop in their ratings, we explore how many parents are staying positive during the pandemic and whether Britons are happy to continue working from home.
Public favourability towards Johnson and the Conservatives dips after a challenging fortnight for the government
In the wake of a difficult few weeks and the chaos around exam results Boris Johnson's ratings have fallen 12 points since July, with just 29% are now favourable towards him: his lowest ratings since becoming Prime Minister. The public also now have a similar favourable opinion towards the Labour Party (29%) as they do the Conservative Party (28%). As the Liberal Democrats announce Sir Ed Davey as their new leader we find just 13% of Britons are favourable towards the party.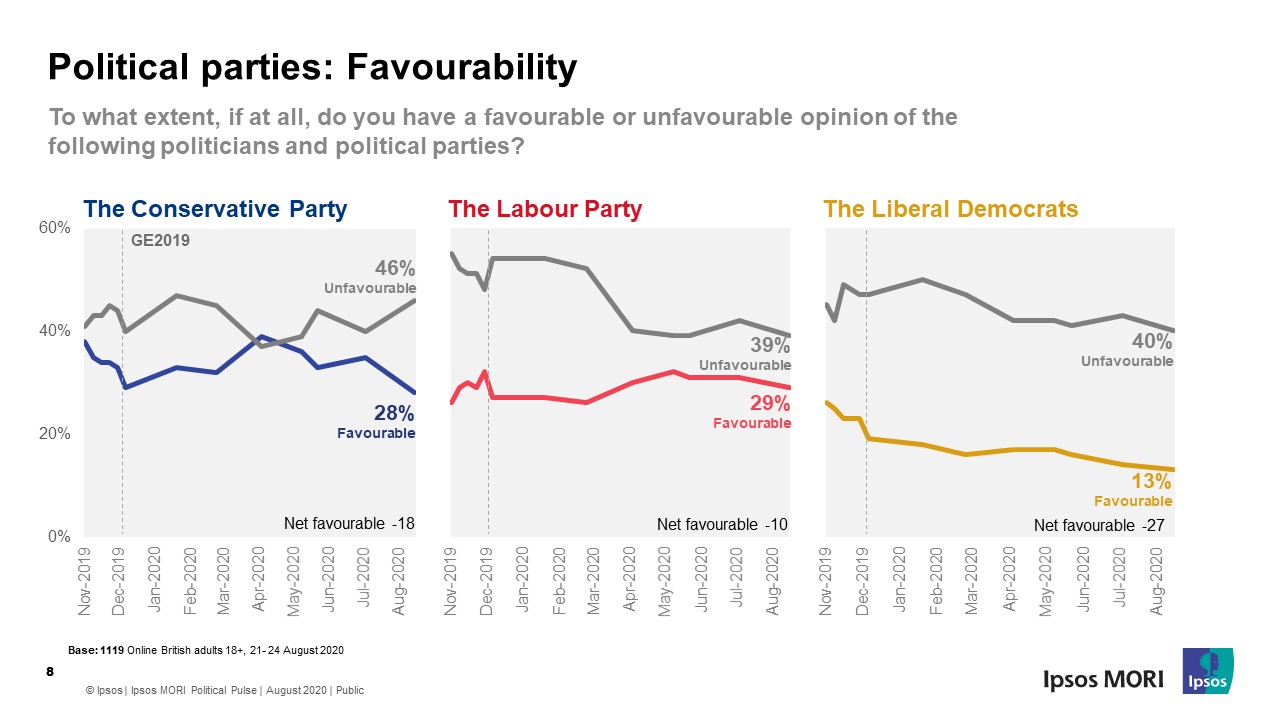 Majority of those working from home are not finding working from home challenging, but many miss their co-workers and technology
Nearly six in ten (59%) of those now working mainly from home say it is not a challenge, while 40% admit to struggling at least a fair amount. This is particularly high among younger people, over half of those 18-34 say they're struggling while only around a third of other age groups say the same (35% of 35-54s and 31% of 55-75s). Some of the reasons the British public are making their way back to the office are that they miss meeting and working in person with their colleagues (36%) and 27% are finding it hard to collaborate with colleagues.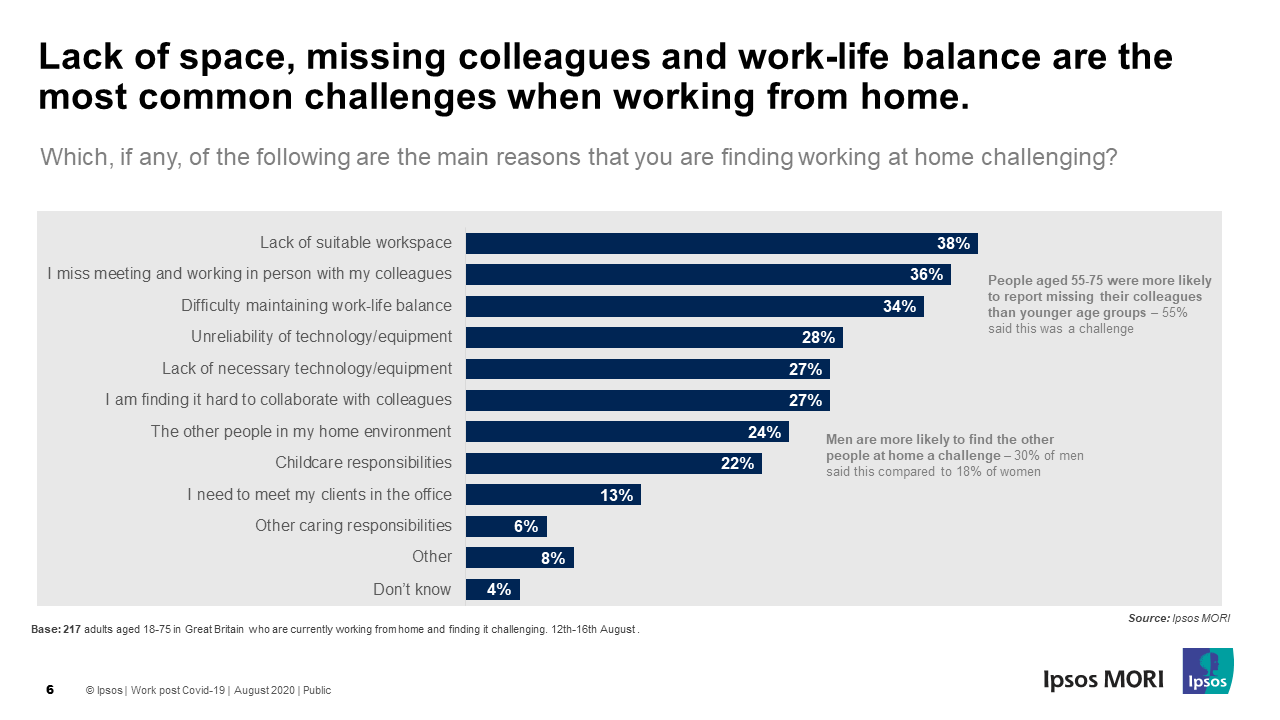 COVID crisis: who's been hardest hit, the impact on Britain and generational prospects
When exploring who the public think has been impacted most by the pandemic, Britons tend to think it has been worse for older people (63%) and ethnic minorities (63%). While just 10% think young people have been affected worst by the crisis. Elsewhere the public are relatively divided on how the coronavirus crisis will affect Britain as 46% say the country will be weaker because of it for years to come.
New data reveals how UK would be prepared to live if COVID vaccine can't be found
In the event that a vaccine is not found, 86% of Britons are still happy to work from home if they can choose and just 8% say they would not. The recent Leicester lockdown proved effective and the majority (87%) are also in support of local lockdowns being imposed long term, and virtually the same proportion (85%) say they'd accept their own local area being subject to these kinds of restrictions. The public remain cautious about large gatherings as 68% say they'd accept a ban on major sporting or cultural events with a live audience.
Women finding it harder than men to stay positive during the pandemic – particularly working mums
Women in particular are finding it hard to stay positive about the future (59%) compared with 49% of men. As we think about children potentially going back to school, there is a bigger gap between these figures among working parents, as 44% of working mothers say COVID-19 is having a negative impact on their mental health compare to 28% of working dads. Women are also more likely to say they are finding it harder to keep entertained (46% vs 38% for men) and stay fit and healthy (43% vs 37% for men). 
In other news
Our Virtual Future of Research Series of 12 events this autumn will explore ways in which research has adapted to be stronger, smarter and fitter in adapting online – and some offline – techniques in the pandemic and beyond and features speakers from Avanti West Coast, SEGA and Watches of Switzerland.
With the Presidential election just around the corner, Ipsos US also see how Americans are responding to their presidential candidates. With the President's ratings remaining fairly even, about two in five Americans approve of the job Donald Trump is doing as (39%).
We explore the perceptions of leader competence in handling of COVID-19 tend to mirror country experience. Leaders that are most likely to have been seen to use expert advice, are generally seen to have also handled the outbreak most effectively. President Trump stands out as receiving the lowest marks from the public.  
As we move towards the end of the year and explore what the 'new normal' will be, we look at new vehicle owners desire for self-driving technology in their next vehicle in Europe's top five markets, US, China and Brazil.
While our Corporate Reputation team have look at what can organisations do to build reputation resilience to protect themselves in times of crisis. They've identified five essentials for reputation resilience that we can share in our latest article.
As ever, please do let us know what you think, and I hope you find something to interest you.
Ben Page
Chief Executive, Ipsos MORI
ben.page@ipsos.com