Ipsos MORI Research Highlights - 31 March 2021
In this week's Ipsos MORI Research Highlights we explore the latest findings from our recent Issues Index, life after lockdown and the impact of Brexit on the British public.
Ipsos MORI Issues Index: March 2021
COVID-19 remains the public's top concern, but we've seen a dramatic fall in concern about COVID-19 this month from 72% to 49% as lockdown restrictions continue to ease. Concern about Brexit has also fallen again, with one quarter now mentioning it as a worry (26%), down from 33% in February. With the vaccine rollout continuing and concern around COVID-19 declining, there have been significant increases in worries about the NHS, education and housing.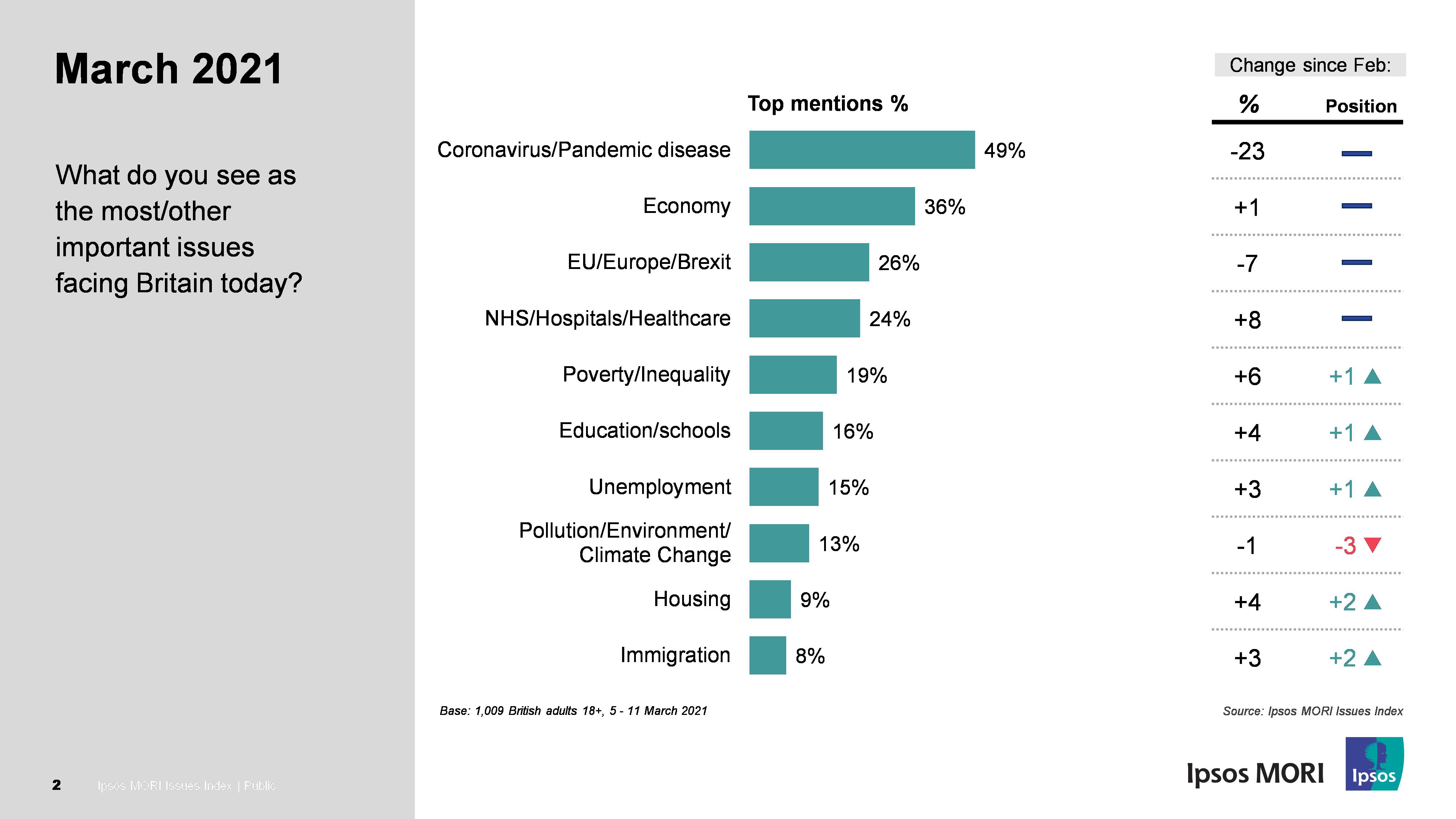 British public say Churchill, followed by Thatcher, did best job as Prime Minister
Looking at favourability of past Prime Ministers, the British public have Winston Churchill on top, with 63% saying he did a 'good job' and only 8% saying he did a 'bad job'. He is Followed by Margaret Thatcher and Tony Blair at doing a 'good job' as Prime Minister and our four most recent Prime Ministers top the list of doing a 'bad job'. Although Clement Attlee started the NHS as we know it today, 68% 'don't know' or have 'never heard of them', as most Britons do not have an opinion on many of Britain's post-war Prime Ministers.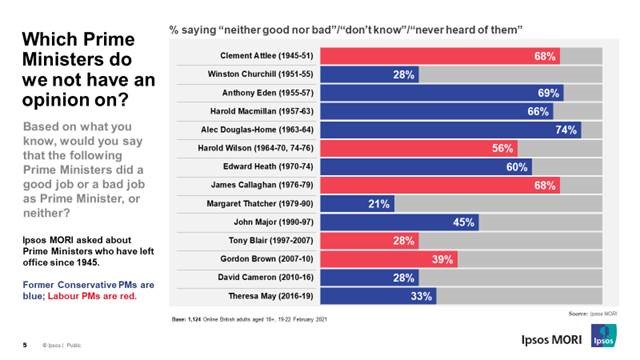 6 in 10 say Brexit has made no difference to their daily life
Despite significant media coverage when it comes to Brexit, six in ten Britons say it has made no difference to their daily life. However, more have seen a negative impact than a positive one. Four in ten Britons expect the nature of the relationship between the EU and UK to continue to be negotiated over the next few years as they consider there to be at least some major issues still to be resolved.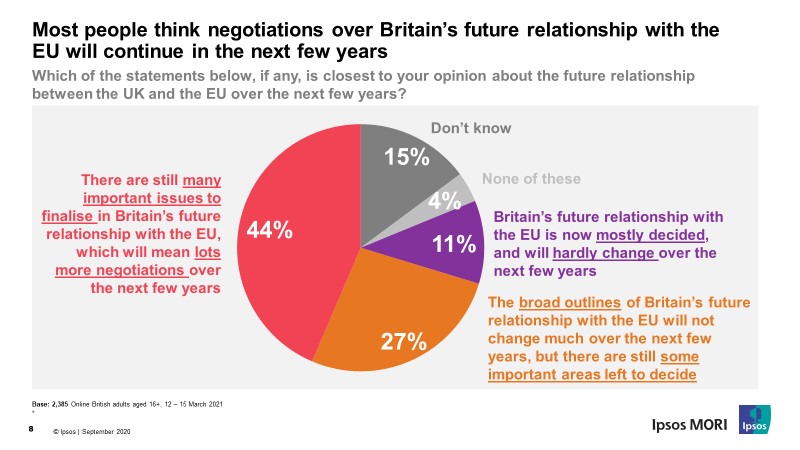 Two-thirds of Britons believe the UK has handled the COVID-19 vaccination process better than EU countries
While there has been heavy criticism on how the Government was handling the pandemic, 67% British public feel the UK has handled the vaccine programme better than the EU. Only 12% think it was handled worse. Two-fifths of Britons believe Brexit has made Britain's response to the COVID-19 pandemic better but the public is divided on whether this has brought the UK and the EU closer together or further apart.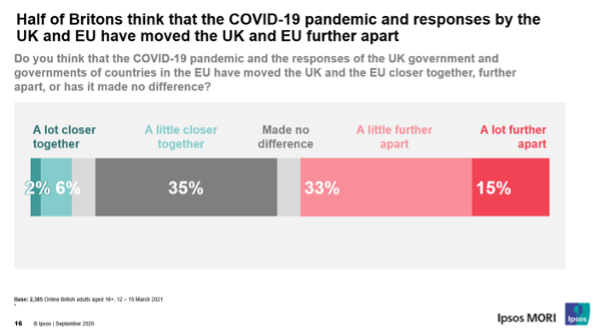 Majority of Britons support vaccine passports but recognise concerns in new Ipsos MORI UK KnowledgePanel poll
There is particularly strong support for their use for people who are travelling abroad (78%), for visiting relatives in hospitals (74%). Eight in ten say that they should be required to work on the frontline in the NHS or care sector (79%), seven in ten say the same about teaching (69%).While Britons recognise some of the ethical or legal issues surrounding vaccine passports, six in ten think the potential benefits to the economy outweigh any concern.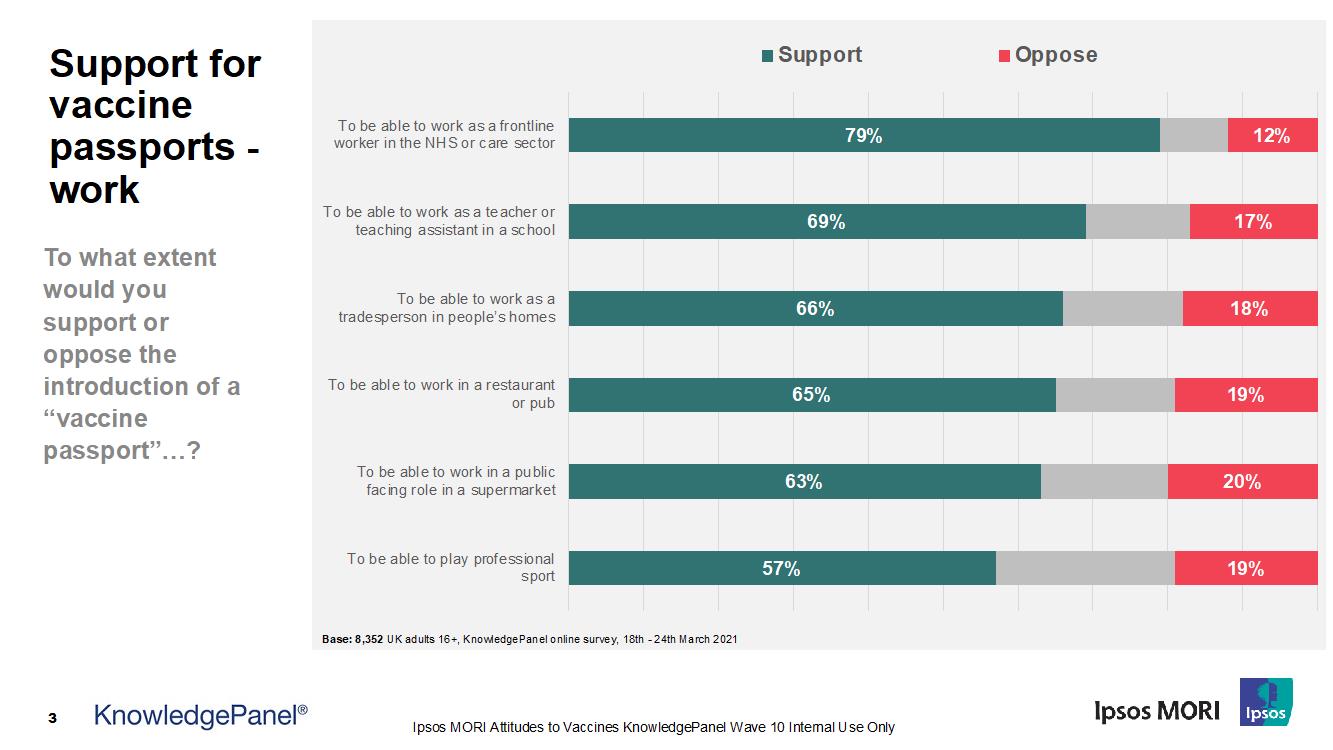 In other news
Ahead of the Holyrood Election in May, Ipsos MORI Scotland will be keeping up with the research, polls and trends.
The public are fairly divided on if there will miss being in lockdown. Over half say they'll miss at least some aspects of lockdown, while 42% say they won't miss any. Family time is mentioned as being the thing the public will miss most.
We've found that popularity of the Monarchy remains stable. Despite the controversy surrounding the Oprah Winfrey interview, the Queen remains the most popular member of the Royal Family (40%) and Harry is still fourth at 25%.
Looking at life post-lockdown, our study with Nationwide finds that 90% of those working from home want to keep doing so at least once a week in future. 
As ever, please do let us know what you think, and I hope you find something to interest you.
Ben Page
Chief Executive, Ipsos MORI
ben.page@ipsos.com