Ipsos MORI Research Highlights - 5 June 2020
This week's Ipsos MORI Research Highlights we explore how the British public feel towards Boris Johnson, their trust in MPs and our seventh edition of Signals.
Trust in MPs to tell truth still low but higher than pre-election
Despite satisfaction with the Government rising trust is still pretty low, only 19% of Britons think MPs tell the truth most or all or the time. Trust in people's local MPs is often higher than trust in MPs generally which is seen in our results - a third think their local MP tells the truth at least most of the time (32%, up from 22% in October), while a quarter think they do so not very often or never. Trust in Boris Johnson to tell the truth all or most of the time has however increased from 22% to 31%.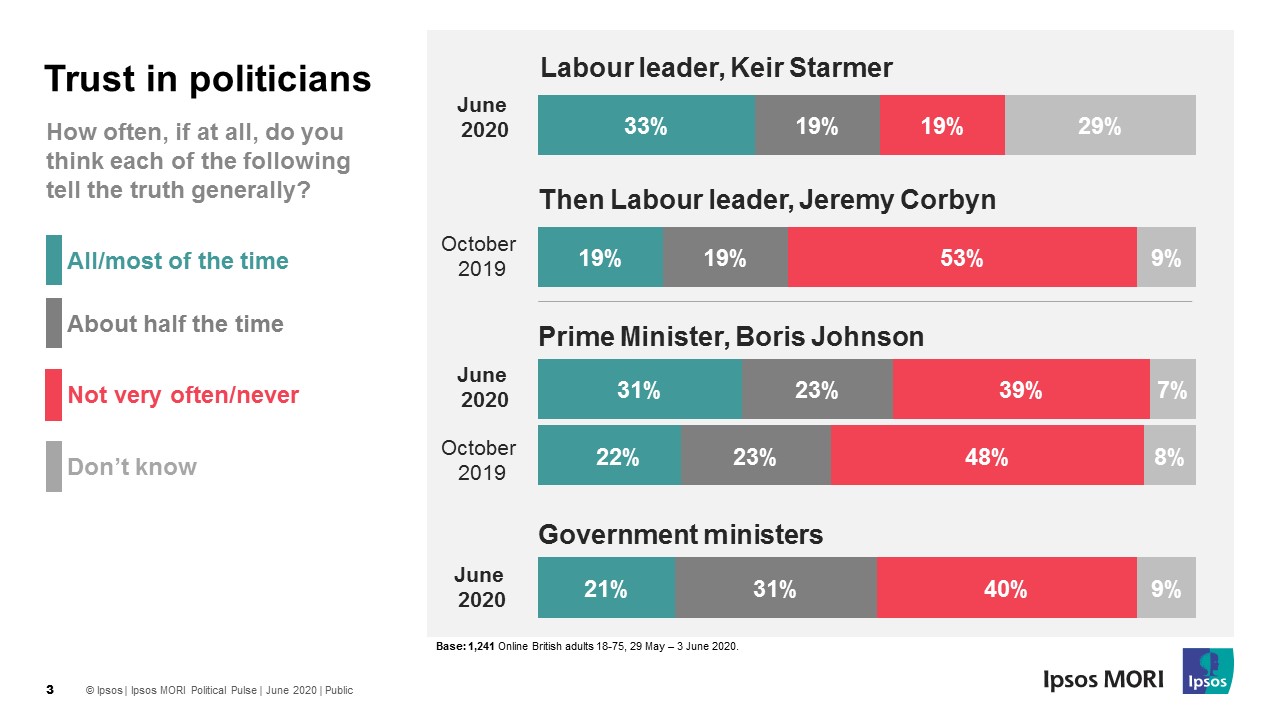 Public favourability towards Boris Johnson continues to fall
Forty-three per cent have an unfavourable opinion of Boris Johnson up from 38% last month. This is the first time more Britons have been unfavourable towards the PM than favourable since the beginning of March. Forty-four per cent of Britons now have an unfavourable opinion of the Conservative Party, compared to 39% in May.  Meanwhile more than one third of Britons (36%) have a favourable opinion of Keir Starmer, up 10 percentage points from April. Labour numbers have been consistent over the past two months having improved following Jeremy Corbyn's departure as leader - 31% are favourable towards the party and 39% unfavourable.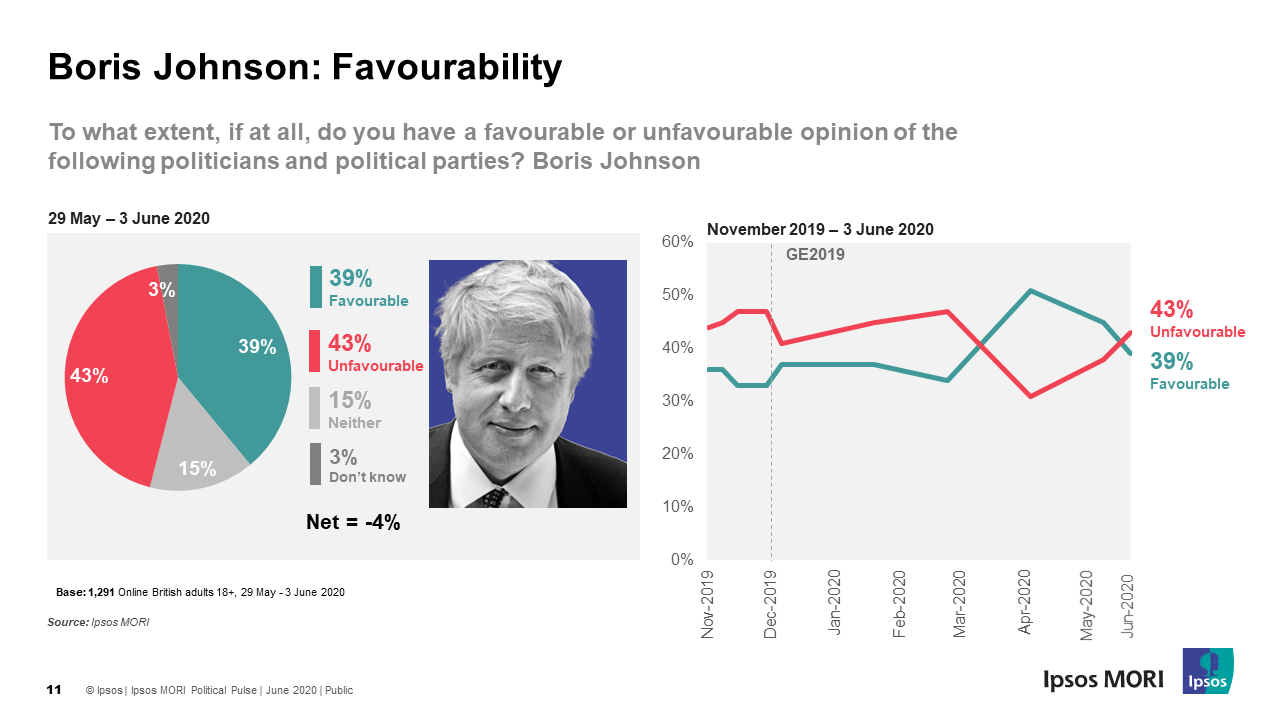 More think opening businesses puts too many people at risk of COVID-19 and we need to wait
Globally, Britons are among the most likely to be apprehensive about opening up businesses and the majority of countries say that opening businesses now would put too many people at risk of contracting COVID-19. Those in Brazil (71%), India (69%), Mexico and South Korea (65%), Japan are all very likely to agree. Surprisingly, countries hit hard by the virus, like China, Italy and France, are more likely to say the health risk is minimal if people follow social distancing rules. 
Signals #7: Understanding the coronavirus crisis
Our seventh edition of Signals, presents new research from our teams around the world, As we look towards the uncertain period ahead, our focus is on understanding the dynamics of the current situation as we start to adapt to new realities. With the coronavirus quickly evolving globally, we share the voices of doctors from around the world and we share country spotlights on Jordan India and Japan. 
COVID-19 track and trace smartphone app for The Health Foundation
With the NHS announcing plans to launch a new coronavirus contact-tracing app we explore attitudes towards the app.  While 18% have never heard of it, more than six in ten people (62%) say they are likely to download it once it is released. We found a significant 'digital divide' across occupation, educational level and age. For example 71% of those with a degree say they are likely to download the app, but this falls to 63% for those with A-levels or equivalent only and 38% among those with no formal qualifications.
Watch week 8 of our Life under Lockdown: COVID19 Video Diary
Our participants' started to think about ways to escape - but would travel restrictions make this impossible?
In other news 
While coronavirus continues to be a primary concern for Britains, our research shows this is having an impact on their sleep. Nearly two-thirds (63%) of Britons say their sleep have gotten worse. Of those who have managed to sleep for longer, three in 10 (29%) say they've slept longer hours but feel less rested.
As part of our Virtual Future of Research series, we'll be hosting various webinars and bringing you regular bitesize content on a range of topics surrounding coronavirus. 
As ever, please do let us know what you think, and I hope you find something to interest you.

Ben Page
Chief Executive, Ipsos MORI
ben.page@ipsos.com