Ipsos MORI Research Highlights - 6 November 2020
In this week's Ipsos MORI Research Highlights we explore the images of political parties, how businesses plan to build back better and the majority of Britons remain concerned about the impact of the virus on the economy.
Ipsos MORI Political Monitor – Labour lead the Conservatives by 5 points
Labour leads the Conservatives on 42 (+5 from September) compared with 37 (-3), while Keir Starmer's ratings remain positive 45% are satisfied (+2 from September). Under Keir Starmer the party is now seen as less 'divided' and 'extreme' than before 2019 General Election and Britons believe Labour have the best policies on unemployment, healthcare and education. Following the row over free school meals, Labour holds big leads over the Conservatives on 'understands the problems facing Britain'. However when it comes to managing the economy 41% of Britons think the Conservative Party do well compared  23% for Labour.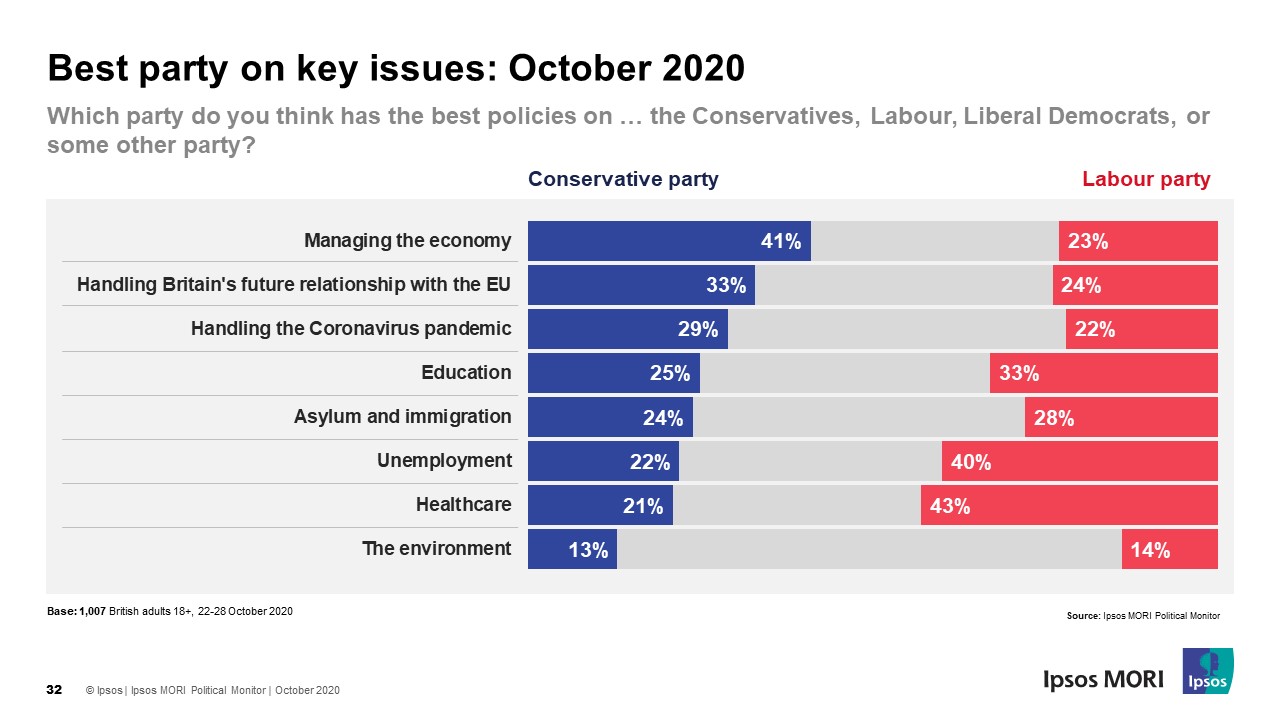 COVID-19 provides pathway to future of carbon reduction, flexible working & local shopping
Our latest findings from the recent CBI Annual Conference exploress at how businesses expect to be operating in a post-pandemic future. Almost half (47%) expect staff to split their time evenly between home and the workplace. With many businesses less likely to default to abroad travel, nearly 7 out of 10 say they expect to have increased activities to 'support the net zero carbon emissions reduction target'.
Largest COVID-19 antibody testing programme publishes findings on antibody response over time
Findings from Imperial College London and Ipsos MORI show the number of people with antibodies in England fell by 26.5% over between June and September. There was a decline in people across all age groups, with the smallest decline at ages 18 to 24 years (-14.9%). The decline in people testing positive for antibodies was largest in those who did not report having had COVID-19 symptoms. 
Latest interim findings from COVID-19 study published
Interim findings from our sixth report with Imperial College London show infections continued to rise. Prevalence was highest in Yorkshire and The Humber as it more than doubled but the level of infection increased nationally, the R rate increased to 1.6. Findings also showed infections continue to rise across all age groups and all regions in England, with the biggest increase in those aged 55-64. 
Global Trends – Beyond the Pandemic webinar
We have seen massive changes in behaviour and e-commerce in a few short months. 2020 has been the year of Zoom calls and Black Lives Matter, but how much have underlying attitudes and values changed? Join us on 11 November 2020 as unveil new research that updates Global Trends from February to look at how our societies and consumers are changing during the pandemic. 
In other news
As we await the most anticipated vaccine in modern history we explores whether vaccines hesitancy is rooted in individual beliefs or whether the bigger role is played by social, cultural and political drivers.
Findings from the latest Global Infrastructure Index survey show a great support for investment in infrastructure – 69% believe Government should prioritise it as part of the COVID-19 economic recovery.
As ever, please do let us know what you think, and I hope you find something to interest you.
Ben Page
Chief Executive, Ipsos MORI
ben.page@ipsos.com