Ipsos MORI Research Highlights - 9 October 2020
In this week's Ipsos MORI Research Highlights we explore the UK's position in the world, who the public would blame if a 'no deal' is reached and although Rishi Sunak's ratings are slowly declining, he remains ahead both party leaders.
Largest testing study for Coronavirus publishes latest findings
Our fifth COVID-19 home testing report with Imperial College London shows that the virus is increasing and the R rate was estimated to be 1.16 reinforcing the need for continued vigilance from the public. Highest R rates were in the North West (1.27), Yorkshire and The Humber (1.37) where many are in 'local lockdown'. Infections are increasing across all ages in England with 1 in 170 infected across all ages and 1 in 80 18-24 year olds infected.
Ipsos MORI Issues Index: September 2020
Concern about COVID-19 remains high, with 77% seeing it as one of the biggest issues facing the country. Worry about unemployment has risen again by three percentage points to 19%. The highest score in almost five years, driven by higher concern among those aged 18-34 (22%). Concern about Brexit and the EU has also risen sharply, with 51% of the public now mentioning it as a concern, up +21 percentage points.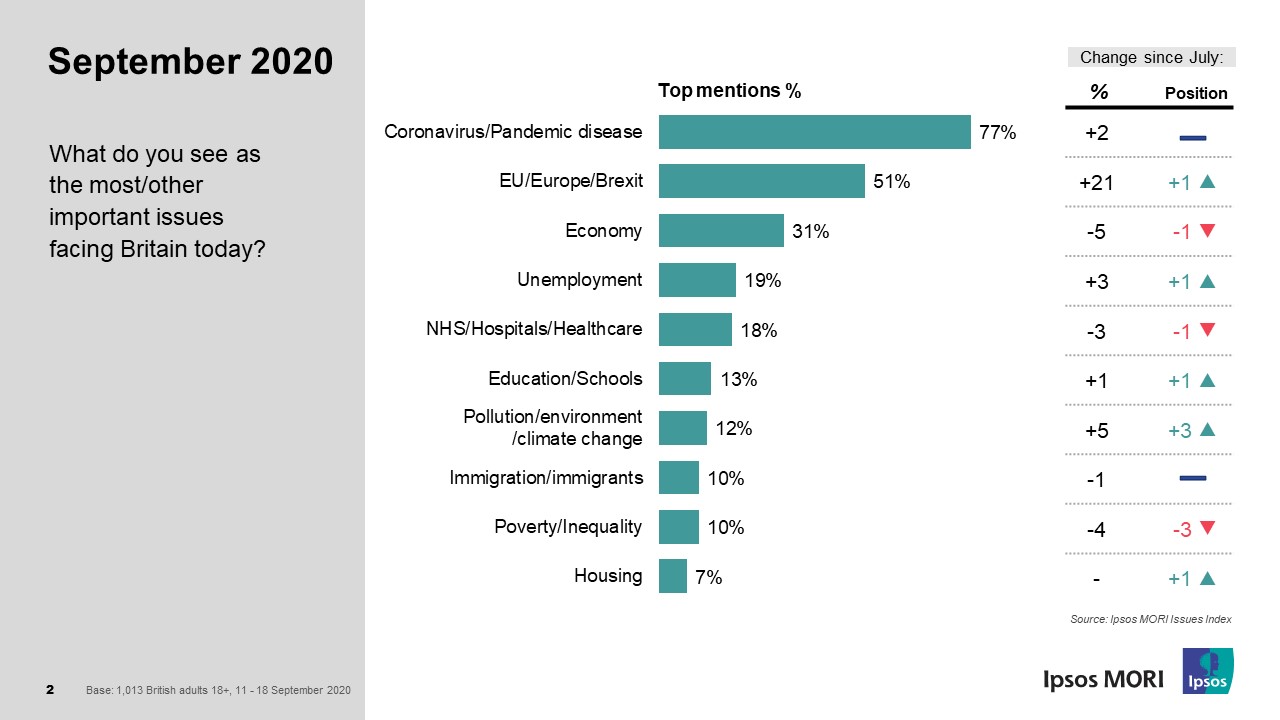 Majority of Britons think things are headed in the 'wrong direction' - first time this year
Over half  (53%) of Britons think things in Great Britain are headed in the 'wrong direction' (up 8 points from August) and just 18% say things are headed in 'the right direction'. Rishi Sunak is still popular with the British public as 39% have a favourable opinion towards him. The Prime Minister again sees his ratings fall - 48% are unfavourable (up 2 points) and 27% are favourable towards the PM (down 2 points). Britons are also now more unfavourable towards the Conservative Party (47%) than Labour (39%).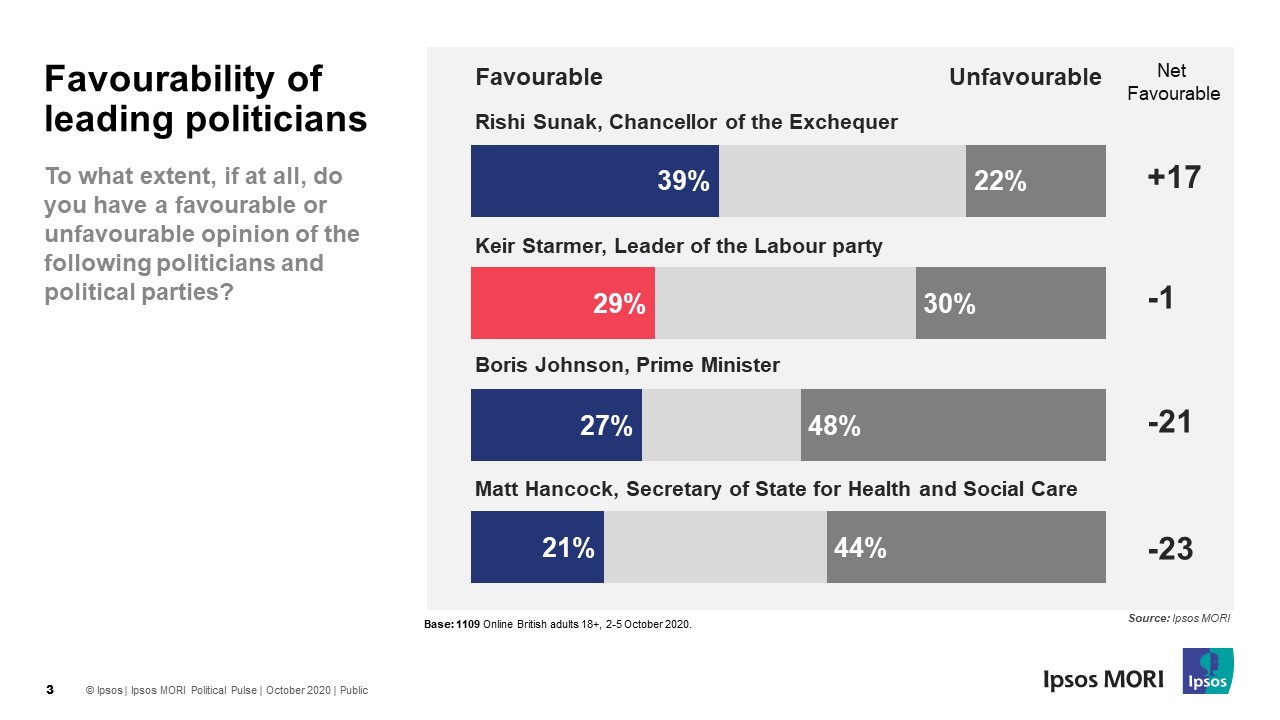 Britons lose confidence in Great Britain's position and influence in the world
Just under half of the British public (49%) believe that Britain is a force for good in the world and 38% believe that Britain should stop pretending it is an important power - up five points since 2019. While the UK gets closer to transitioning out of the EU, 41% think that Europe is still Britain's most important relationship and 45% think leaving the EU will reduce Britain's influence around the world.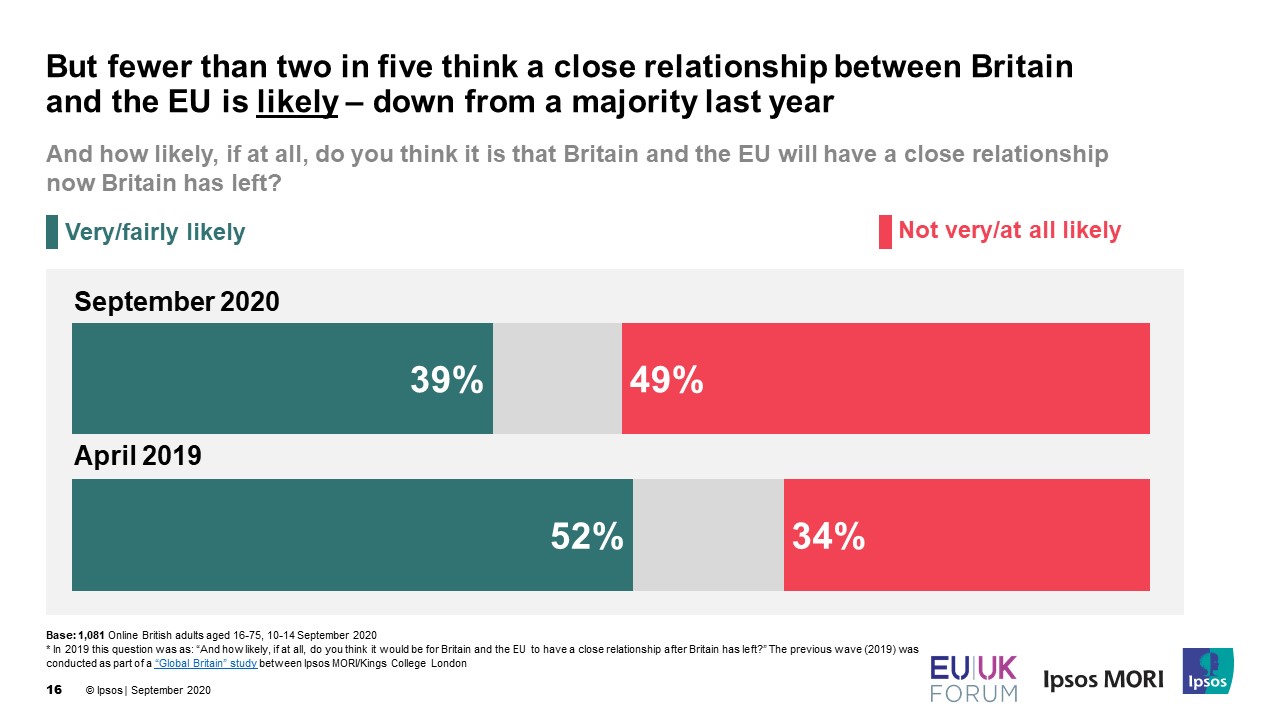 Ipsos MORI Political Monitor - Most lack confidence Johnson will get a good deal for Britain from EU negotiations
Just 39% think the Prime Minister will get a good deal for Britain in Brexit negotiations but the majority (58%) lack confidence in him. There is also little faith in the opposition – only 37% would think Keir Starmer would get a good deal. Six in ten (63%) think the Government has done a bad job preparing for leaving the transition period without a deal. However, if 'no deal' is reached the public are about as likely to the blame the Government (44%) as they are the EU (40%).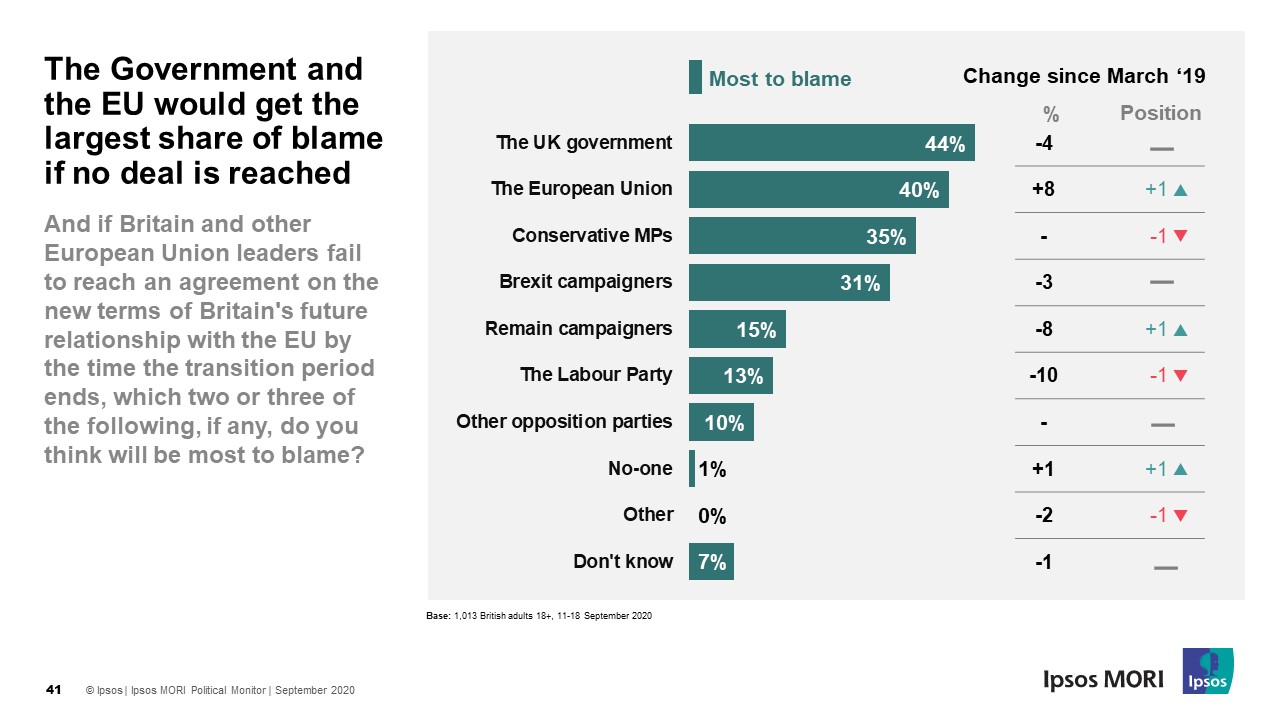 Ipsos MORI Politics & Society podcast. The coronavirus pandemic and Starmer's first conference speech
On this week's podcast, Keiran Pedley is joined by Chris Jackson from Ipsos in the US and Ariel Edwards-Levy of the Huffington Post to take a deep-dive look at the upcoming US presidential election..
In other news
According to new research more than four in ten Britons say they are prepared to pay more taxes themselves to fund public services, in the context of COVID-19 requiring high levels of government spending.
Half of Britons (51%) support the aims of the Black Lives Matter movement, including 28% who support it strongly. Four in ten disagree that Britain is a racist country​ but 32% agree. Among all people from ethnic minority groups, this agreement rises to 46%. 
And finally the Global Happiness 2020 survey shows happiness has receded in many, but not all countries since last year. Despite the events of the last few months, the survey shows 76% of Britons say they are very or fairly happy, while globally, an average of 63% say they are happy.
As ever, please do let us know what you think, and I hope you find something to interest you.
Ben Page
Chief Executive, Ipsos MORI
ben.page@ipsos.com