Ipsos MORI Research Highlights - December 2018
Welcome to our final review of 2018. Theresa May gets a reprieve but the public don't like her EU withdrawal deal and we find a group of people less trusted than estate agents and politicians!
Six in ten think withdrawal deal would be bad for the UK – but public can't agree on what should happen next
The Ipsos MORI December 2018 Political Monitor reveals most (62%) of the public believe withdrawing from the EU on the terms of the government's deal will be bad for the UK as a whole (25% say good). If Theresa May fails to get her Withdrawal Agreement passed in Parliament the public are split on what they most think the Government should do next. The top three choices include 20% calling for a new Remain vs. Leave referendum, 20% think that Britain should simply leave the EU without a deal, or that the Government should ask for the EU to re-open the negotiations to seek a different deal (19%).
People have become more pessimistic about Brexit's effect on Britain's economy (while being more worried about the short-term impact than the long term), while remaining more positive about its benefits for British sovereignty.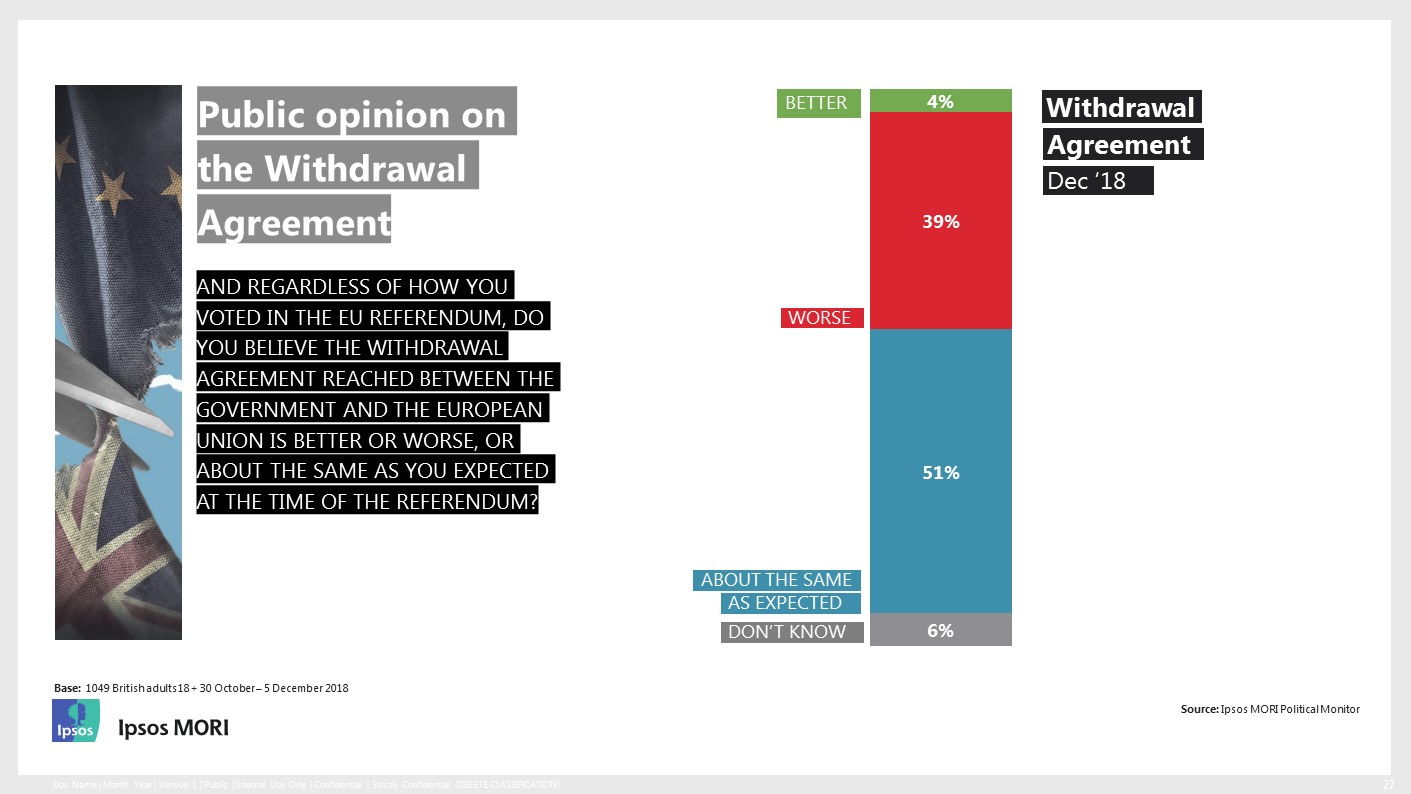 Advertising execs rank below politicians as Britain's least-trusted profession
Nurses remain the most trusted profession in Britain. This year 96 per cent say they trust nurses to tell the truth, following on from from their already high 2017 score (94%) and four percentage points higher than doctors (92%). One of the new professions added this year are Advertising executives who have been revealed as the least trusted. Only sixteen per cent of the public say they trust ad executives to tell the truth, making them less trusted than politicians (19%) and Government Ministers (22%). Journalists (26%) and Estate Agents (30%) complete the bottom five.
Concern about Brexit continues to climb and worry about crime rises to a seven-year high
This month's Issues Index shows sixty-two per cent see the EU and Brexit as one of the biggest issues facing Britain, a three-percentage point increase from last month. This is a new highest level of concern on this topic since September 1974. Aside from Brexit there has been a significant increase in concern about crime, (up ten percentage points from last month) particularly in London, with  35% of Londoners mentioning it as a big issue.
The Ipsos MORI Almanac 2018
The Ipsos MORI Almanac is our annual Almanac reviewing life, society, business, media and politics in statistics in Britain and across the world in 2018.
Colleagues from across the business discuss populism, to voice technology, from toxic masculinity to immigration, from fake news to healthcare and much more, it's all here.
We hope you enjoy it. Please let us know what you think.
Perils of Perception
Our latest Perils of Perception study shows which key facts the online public across 37 countries get right about their society – and which they get wrong.
Now in its fifth year, the survey aims to highlight how we're wired to think in certain ways and how our environment influences our (mis)perceptions.
Here are just a couple of examples...
People are wrong about the scale of knife and gun crime in their country. For example, in Great Britain, 71% of people think knives cause the most deaths, when they actually account for just 25% of all violent deaths.
On average, people think 39% of women have experienced harassment, but actually on average 60% have. Denmark, the Netherlands, France and the United States are the most likely to underestimate the extent of sexual harassment in their country.
In other news
Almost three quarters (73%) of the British public agree that investing in infrastructure is vital to the country's future economic growth but 58% do not believe enough is being done to meet infrastructure needs according to the latest Global Infrastructure Index survey.
Our latest edition of Understanding Society - Tomorrow's Business, this issue released recently delves into the landscape of UK businesses. We discuss the contemporary and upcoming challenges that threaten their success, but also some of the opportunities that await them. 
The Connected Health Survey 2018 looks at why there has been little change in uptake of connected health (this includes wearable devices, remote monitoring devices, and health apps) over the past two years and internal and external factors impacting adoption on a personal and national level.
Opinion
As we enter the age of AI, we need to think about the way in which this technology is gradually encouraging us to look at ourselves, Colin Strong discusses Human Flourishing in the age of AI. Dr Margaret Blake also blogs on the Active Lives Children and Young People survey, exploring
How active are children and young people (and will they tell us)? She covers how the survey for Sport England was designed and how important the findings are for addressing key questions about children and young people.
As ever please do let us know what you think and I hope you find something to interest you.
Ben Page
Chief Executive, Ipsos MORI
ben.page@ipsos.com