Ipsos MORI Research Highlights - January 2020
This month's Ipsos MORI research highlights includes Britons predictions for 2020, support to curb overfishing and the launch of landmark survey on early years from the Duchess of Cambridge.
What Worries the World - January 2020
We start the year with 61% globally saying that things in their country are heading in the wrong direction, up four points since January 2019. Since then, we have seen Brazil and the US enter the top 5 most optimistic countries. Poverty and social inequality continues to be the top global concern (34%). Unemployment is no longer the dominant global issue it once was. The biggest change here is in the United States. The percentage mentioning unemployment peaked at 71% in February 2011 and has now fallen to 13%.
NHS replaces Brexit as the most important issue facing Britain
Public concern about the NHS was just ahead of Brexit for the first time since May 2018. Fifty-five per cent of the public saw the NHS as a major concern for the country, narrowly ahead of the 52 per cent who said the same about Brexit. Brexit continued as the single biggest issue for the country, although the proportion who said this fell by eighteen percentage points from November.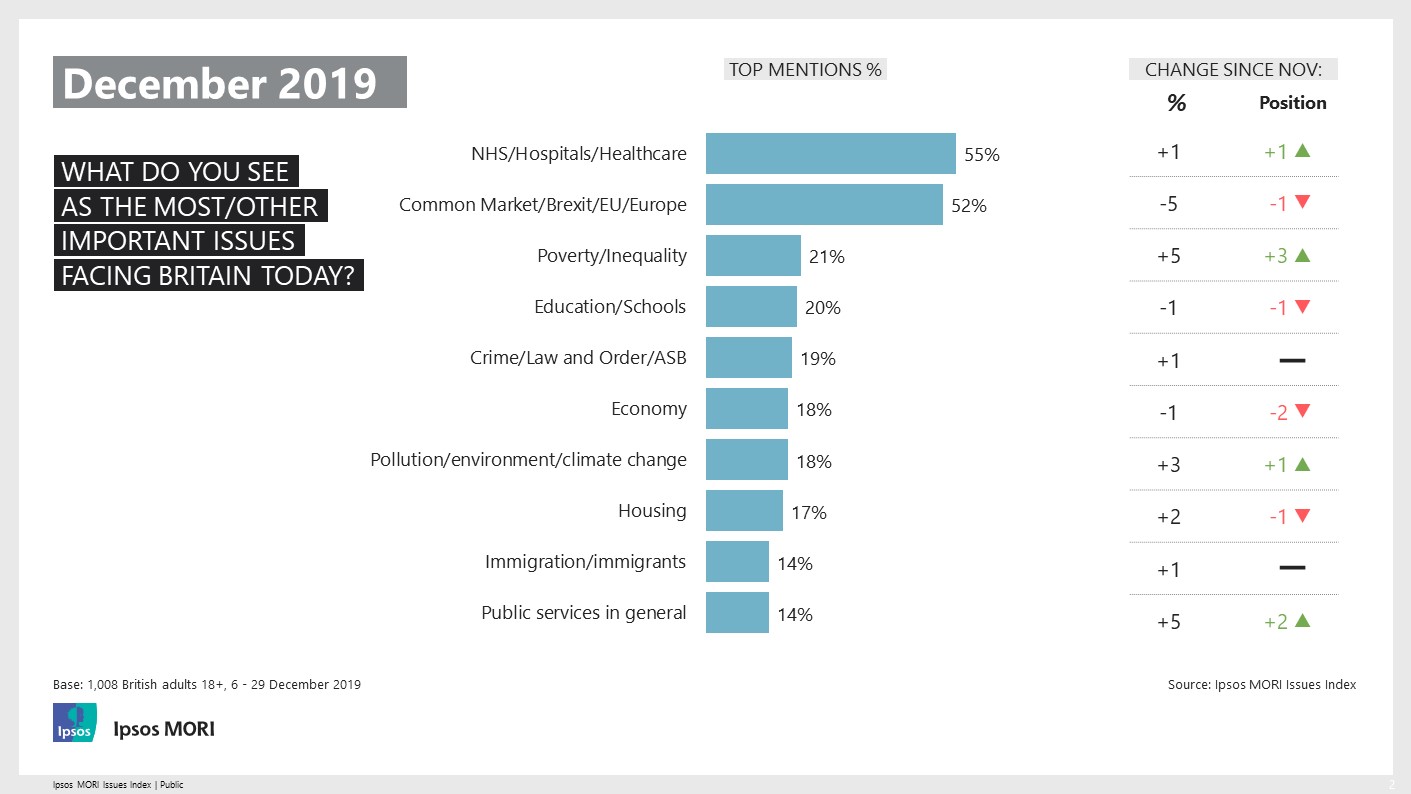 Britons predict rising temperatures and poor economy in 2020
Britain has little faith in the economy going into 2020. We are among the least optimistic countries as just 35% of Britons agree that the global economy will improve in 2020. When it comes to the environment four in five Britons (81%) felt it was likely that global temperatures would increase in 2020, as do much of the world. Meanwhile half of Britons believe it's unlikely women will be paid equally to men in 2020.
Global divide on social mobility
Globally we are evenly split on whether today's young people are better or worse off than their parents when it comes to their financial wellbeing and job security. However the data shows a stark contrast between emerging and established markets. Across most emerging markets, optimism reigns on nearly all issues but the reverse is true in most advanced economies. 
Measures to curb overfishing receive widespread support globally
Three-quarters of people across 28 countries support measures to make fishing more sustainable such as banning fishing of all endangered species and banning government subsidies to fisheries that contribute to overfishing.
In other news
The Duchess of Cambridge launched a landmark survey which gives people across the UK an opportunity to provide their view on raising the next generation. The survey contains five short questions and aims to spark a national conversation on the early years.
While plastic straws, plastic bags or water bottles are obvious targets for reducing our plastic consumption the majority of Britons struggle to identify household items that contain plastics. But it is heartening to know the British public claim to be ready for change, as an overwhelming majority (81%) want to buy products with as little packaging as possible.
Finally, Kelly Finnerty and Ruth Townend turn to the data to ask where veganism fits in to what we know about changing diets in their blog Could veganism be the solution to the climate crisis?.
As ever, please do let us know what you think and I hope you find something to interest you.
Ben Page
Chief Executive, Ipsos MORI
ben.page@ipsos.com