Ipsos MORI Research Highlights - July 2019
With Economic Optimism taking a turn for the worse, we explore attitudes to trade, human rights and refugees, where it turns out the British public are more liberal than most other countries. We look at how to build strong brands, environmental concerns and more.
Little to choose between Hunt and Johnson in terms of public opinion
As the battle to become the next Tory leader and prime minister, both Hunt and Johnson have improved since May in terms of the proportion of people agreeing they 'have what it takes to be a good Prime Minister.' When asked who would 'make the most capable PM', the Conservative leadership candidates or Corbyn, both Hunt and Johnson convincingly lead the Labour leader Jeremy Corbyn.When asked to choose, 51% of Brits choose Johnson and 33% choose Corbyn as the most capable PM.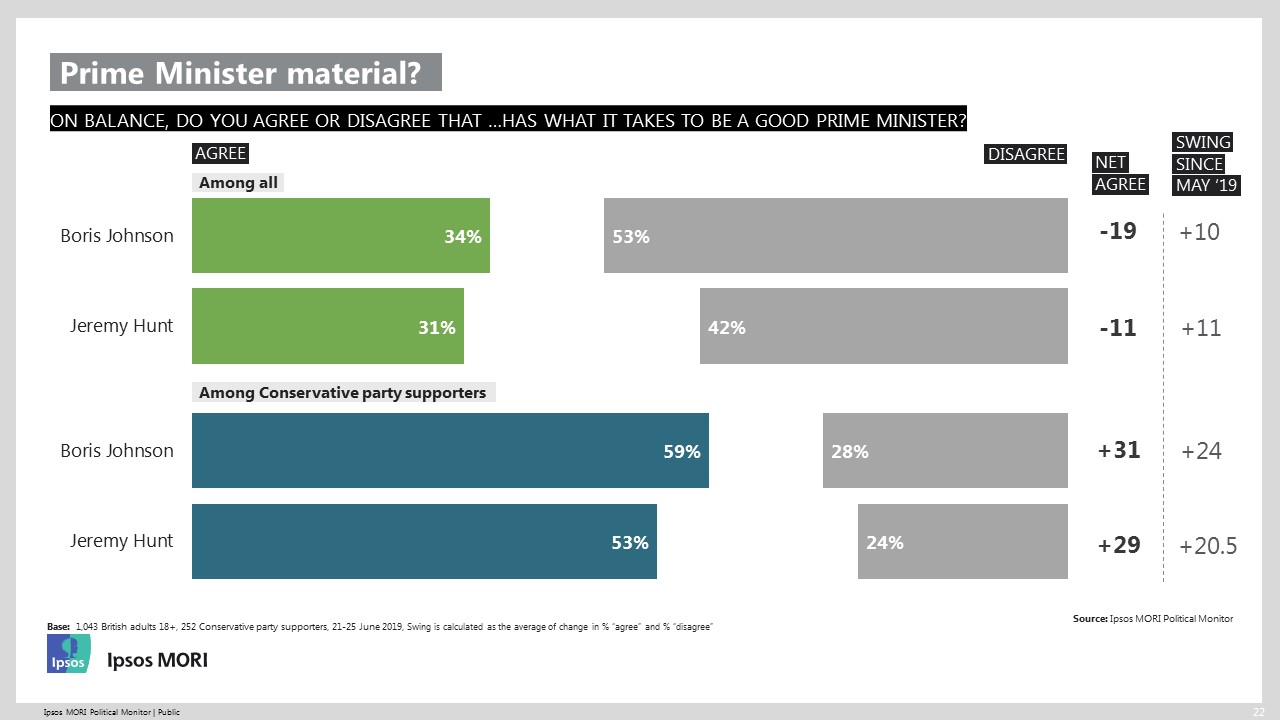 Corbyn's personal image ratings fall as he trails Johnson, Hunt and Farage
As the uncertain political situation continues Jeremy Corbyn has some work to do to win back public favour. Only quarter of Britons (24%) would be confident that Jeremy Corbyn could get a good deal for Britain in negotiations with other European leaders and the number who see him as a capable leader is down 9 points from April 2018. Three-quarters (75%) say that they do not like Jeremy Corbyn's approach to Brexit (including 52% of Labour supporters) compared with 58% who do not like Nigel Farage's approach.
What Worries the World - June 2019
79% of Britons believe the nation is heading on the wrong track according to What Worries the World. Positive sentiment about the direction Britain is taking has fallen by 14-percentage points since January 2018 (35%), with just 21% of Britons now saying the country is heading in the right direction. Despite a 6-point drop from the previous month crime and violence (35%) is now the joint greatest concern for Britons, along with concern about healthcare. Globally we are most worried about unemployment (33%) with Spain (64%) in particular is the nation which is most worried about unemployment, closely followed by on Italy 63% and South Africa on 61%. 
Britons joint top for prioritising human rights in international trade, global survey finds
Britain ranks alongside Sweden as top for prioritising human rights in international trade. 50% of the public say we should only trade with countries that have a good human rights record, even if it harms our economy. Iran is most likely to be seen as using its influence for bad from all the countries asked about in the study (31%). This followed by Israel (24%), Russia (25%), and Saudi Arabia (25%). The US is next most likely to be seen as using its influence for bad (22%).
World Refugee Day
Brits are among the most supportive of the right of people to seek refuge from war or persecution, with seven in ten (72%) agreeing that people should have this right (compared with 61% globally). Globally, just over half of people (54%) are doubtful that people coming to their country claiming to be refugees really are genuine, instead believing that they are coming to their country for economic reasons or take advantage of welfare services– a very small increase of two percentage points on 2017.
In other news
Three-quarters believe Britain has become less neighbourly in the last two decades. Britons' biggest pet peeves are parking and noise with three in ten people (28%) saying that selfish parking and noise are what they least like about their neighbours.
In a new white paper, Andrew Green, Global Head of Business Development – Audience Measurement describes the current state of play in Out of Home (OOH) advertising and the challenge of audience measurement in this medium to increase visibility and impact.
In a world with more online sources for pasta sauces than ISAs and mortgages, why haven't financial institutions got their online presence for fledgling savers organised? Nina Gaber examines the ingredients financial services could add to their current offerings.
As ever, please do let us know what you think and I hope you find something to interest you.
Ben Page
Chief Executive, Ipsos MORI
ben.page@ipsos.com