Ipsos MORI Research Highlights - March 2020
This month's Ipsos MORI Research Highlights includes Government satisfaction improving, concern about isolation and travel bans and a drop in consumer confidence as coronavirus impacts everyone globally.
Globally, the public is divided on whether isolation, travel bans prevent COVID-19 spread; border closures become more acceptable 
In Ipsos' most recent global poll, the results show people are not confident that isolation, both personally and nationally, will stop the spread of the coronavirus. The majorities in eight out of the 14 countries surveyed agreed social distancing measures such as travel bans, and self-isolation will not prevent the spread of the virus including Japan (62%), India (61%), whereas China (61%) and Canada (59%) disagree.
Economic confidence in the UK falls to lowest since 2008, but half think government handling the coronavirus crisis well
As the coronavirus reaches Britain, Ipsos MORI's Political Monitor shows that government satisfaction is at a high during this pandemic. Although the response to the Government's Budget to combat the coronavirus was positive, only 15% of Britons think that the economy will improve over the next 12 months.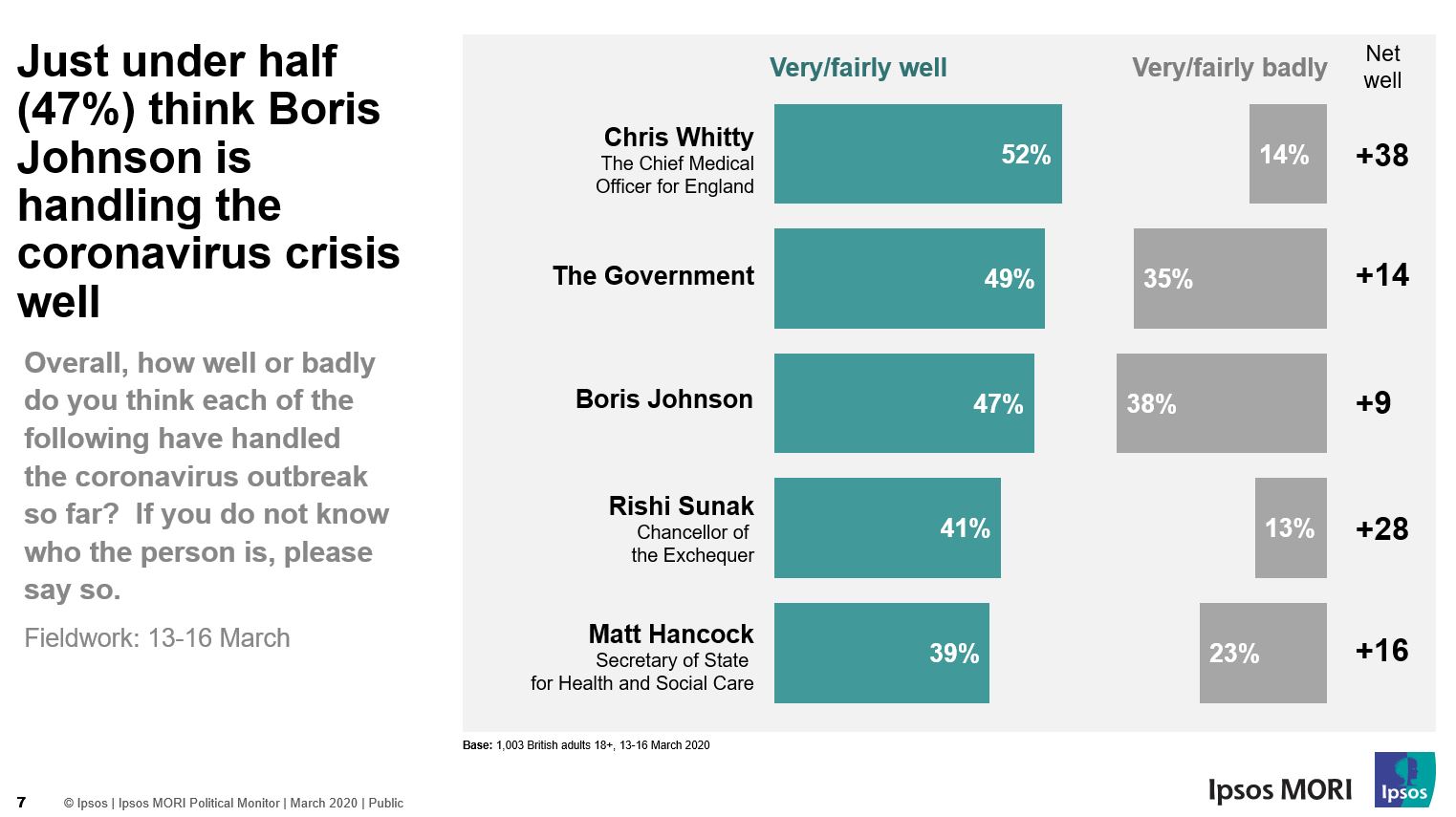 Consumer confidence still holding up globally, but expectations are down
Just two months after the first coronavirus outbreak reports, and for the first time since May 2017,  China loses its status of consumer sentiment champion to Saudi Arabia. The Ipsos Global Consumer Confidence Index, finds that  Italy, Japan, South Korea, Mexico and the United States see a notable drop in their expectations since February. 
Half of British workers finding it harder to do their job during COVID-19 
There is an overwhelming sentiment that COVID-19 is impacting more than just health. In an online Ipsos MORI survey, half (49%) of British workers say they are finding it more difficult to work now than they did before. Approximately 39% of British parents (with children under 17) are finding balancing work and taking care of their children significantly more difficult since the outbreak.
In other news
Ipsos MORI's latest white paper looks at the shift towards digital, in a world of constant data flow. In a time where there is no limit to accessing data, we answer the question of wading through this any finding what is insight. This paper explains how you can avoid the pitfalls of trying to analyse too much, and how to think better rather than bigger.
For International Women's Day 2020, we surveyed 20,000 people in 27 countries to find out what women and men see as acceptable workplace behaviour. This survey found that globally, 52% of men and 41% of women say it's acceptable to ask a colleague for a date. It also explores, what choices or responsibilities are much more likely to be damaged women's careers more than men's. 
As ever, please do let us know what you think and I hope you find something to interest you.
Ben Page
Chief Executive, Ipsos MORI