Ipsos MORI Research Highlights - September 2019
This month's Ipsos MORI research highlights include the lowest leadership ratings for any opposition leader since 1977 for Jeremy Corbyn, the Labour Party and Liberal Democrats running neck-and-neck in the latest voting intention figures and we release our new report 'Trust: the Truth' to explore whether trust is in terminal decline.
Jeremy Corbyn has lowest leadership satisfaction rating for any opposition leader since 1977
Three quarters of Britons (76%) say they are dissatisfied with the way he is doing his job as leader of the opposition (up 7 points from July). Only 16% (down 3 points) say they are satisfied leaving him a net satisfaction score of -60 (down 10 points). When it comes to Brexit specifically three quarters (77%) say that he is doing a bad job at handling Britain's exit from the EU (down 4 points from May) with 14% saying he's doing a job (up 2 points).
Latest Political Monitor shows movement for Lib Dems
The Labour Party and Liberal Democrats are running neck-and-neck according to the latest voting intention figures. As it stands, the Labour party are currently on 24% with the Liberal Democrats on 23%. The Conservatives lead on 33%. 
This increase in voting intention for the Liberal Democrats may be due to the fact that the British public are becoming more familiar with leader Jo Swinson. When asked if either satisfied or dissatisfied at how she is doing her job as leader of her party a third (35%) say that they are satisfied (up 7 points from July) while two in five (40%) say they are dissatisfied (up 12 points) – leaving her with a net satisfaction score of -5 (compared to zero in July).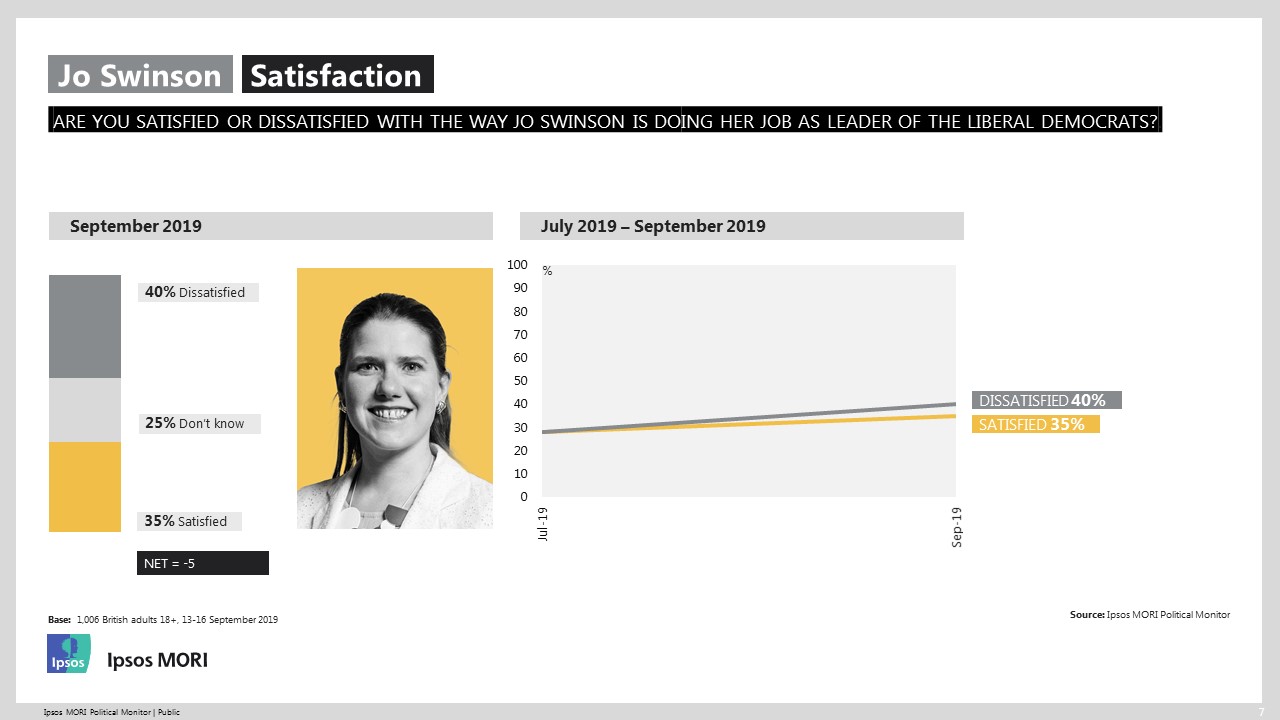 Ipsos Thinks - Trust: The Truth
Is trust in crisis or is it just complicated? Our major new Ipsos Thinks report reveals the truth about trust. We wrote it to investigate the common assumption that trust is in terminal decline, and that this is part of a 'crisis' in many democracies. We have found that there is no single, global 'crisis of trust' – while trust in many institutions is low around the world, this can be seen as a long-term chronic condition, not a very new, acute one.
Visit the Ipsos Thinks Microsite
It's a fact! Scientists are the most trusted people in world
Six in ten of the global public rate scientists as trustworthy, followed by doctors (56% trustworthy), and teachers (52%). In the UK we found that trust in experts is actually rising.  Globally politicians are the least trusted group, two thirds of the public consider politicians generally to be untrustworthy (67%) and almost six in ten say the same about Government Ministers (57%).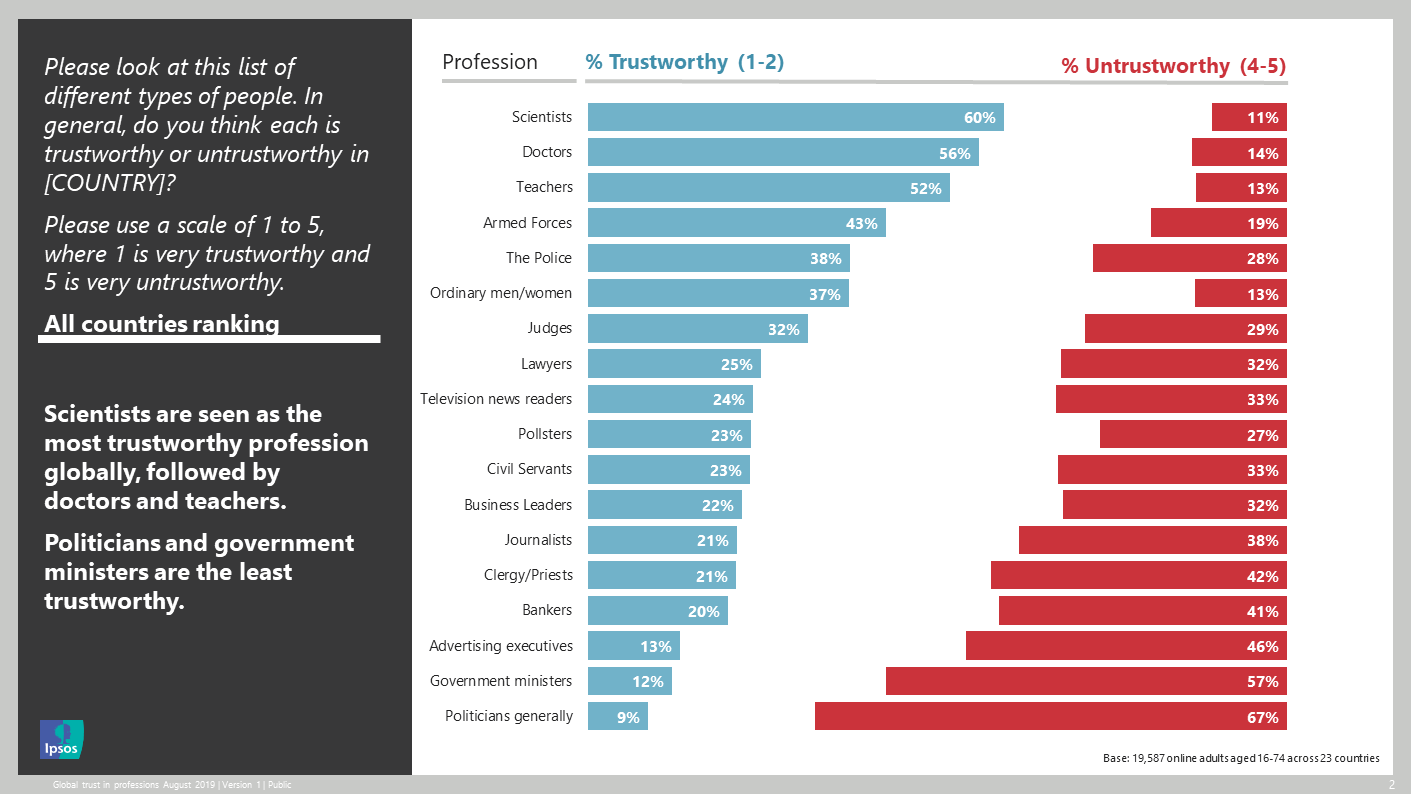 Worries about Brexit hold steady while concern about the NHS and crime rise
The latest Issues Index shows Brexit continues to be the number one concern for the British public with ​​60% mentioning it as one of the biggest issues and almost half (47%) seeing it as the single biggest worry. Concern about the NHS and crime continue to riseas 43% mentioning the NHS as one of the biggest concerns for the country (up 4ppt since last month). While public concern about crime is now at a level last recorded during the London riots in 2011.
In other news
Friends and family members are proving far more influential than Instagram and online videos. Despite being the home of 'influencers,' Instagram and photo sharing sites came bottom of a list of influences on women's beauty regimes. 
Almost 2 in 3 GB adults feel concerned about their online privacy. This quarter's Tech Tracker shows us for the first time the awareness of emerging technologies such as driverless cars, artificial intelligence and foldable smartphones amongst the British public. 
A growing proportion of Britons think that the political parties don't pay a lot of attention to housing, according to our research for the Chartered Institute of Housing.
As ever, please do let us know what you think and I hope you find something to interest you.
Ben Page
Chief Executive, Ipsos MORI
ben.page@ipsos.com