Ipsos MORI Scotland Issues Index 2018
Scots are more likely than their neighbours to see Brexit as one of the most important issues facing the country.
New Ipsos MORI analysis shows 53% of people in Scotland view Brexit as one of the most important issues facing Britain today, compared with 46% across Britain as a whole. Brexit tops our 'Issues Index' in Scotland, ahead of the NHS which was mentioned by 50%.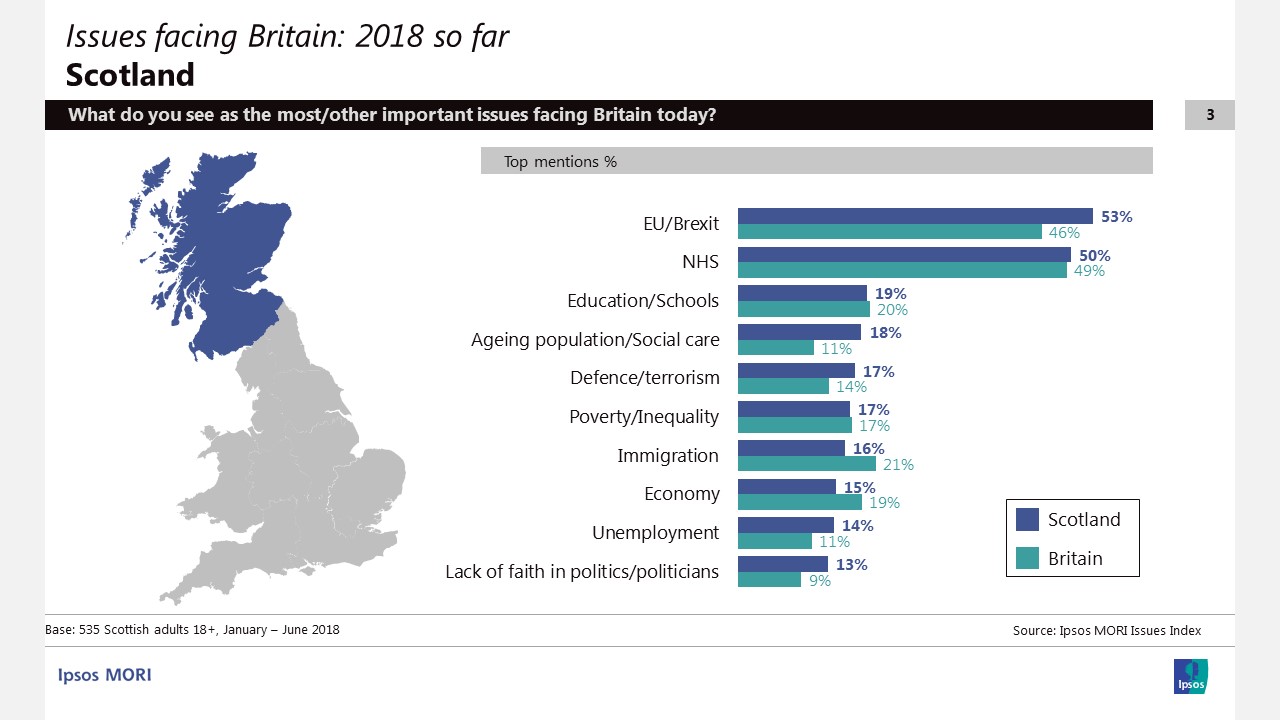 However, our English neighbours are, of course, far from homogenous in their views on Brexit. There is substantial regional variation, with the proportions considering Brexit one of the key issues facing the country ranging from as low as 35-36% in the Midlands, to as high as 60% in the South East. Unsurprisingly, concern about Brexit is highest in those areas that, like Scotland, saw a relatively high Remain vote.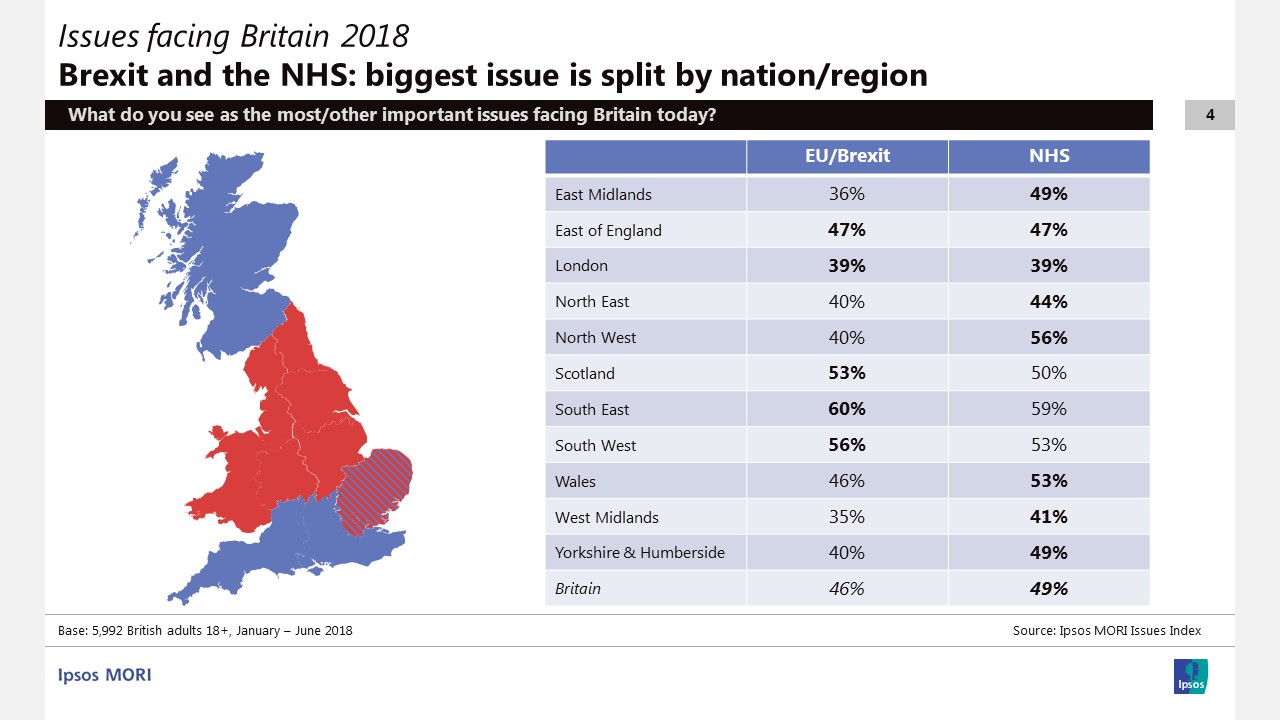 In terms of the other key issues exercising people in Scotland, education and schools were mentioned by 19% (similar to Britain as a whole). At 18%, the proportion mentioning the ageing population and social care as a key issue facing the country was higher in Scotland compared with Britain as a whole (11%), perhaps reflecting growing awareness of the particular challenges Scotland faces around its ageing population.
In contrast, Scots were a little less likely to identify immigration as a key issue facing the country (16%, compared with 21% across Britain as a whole).
Emily Gray, Managing Director of Ipsos MORI Scotland, said:
Our findings confirm that Brexit remains at the forefront of people's minds, with Scots more likely than those across the rest of Britain as a whole to see Brexit as a key issue facing the country. Satisfaction with the British political system is low among people in Scotland, and our latest research underlines this; a lack of faith in politics, politicians and government is now one of the top ten issues that people north of the border say Britain faces.
Technical note
Ipsos MORI's Issues Index is conducted monthly and provides an overview of the key issues concerning the country. For each monthly wave, Ipsos MORI interviews a representative quota sample of c.1,000 adults aged 18+ across Great Britain. The answers are spontaneous responses, and participants are not prompted with any answers.
Ipsos MORI's Capibus vehicle was used for this survey. Interviews were conducted face-to-face in-home. Data have been weighted to match the profile of the population.
Results presented here are aggregate figures for adults in Scotland only in the first six months of 2018. Fieldwork dates:

12th – 22nd January
2nd – 11th February
2nd – 21st March
6th – 24th April
11th – 29th May
1st – 12th June

Where results do not sum to 100%, this may be due to computer rounding, multiple responses, or the exclusion of "don't know" categories
Results are based on all respondents (c.1,000 per wave) unless otherwise stated.
Access our long term social and political trends.