Ipsos MORI September 2012 Issues Index
Concern about the economy falls in line with an increase in economic optimism, according to our September Issues Index.
Concern about the economy falls, though it still remains the paramount issue
Ipsos MORI's September issues index shows a seven percentage point fall in concern about the economy; just over half (54%) cite it as among the most important issues facing Britain, down from 61% in August. However, despite this fall, it still remains the issue that is "first, and the rest nowhere" in terms of public concern, with a 20 percentage point lead over the next most important issue, unemployment, which is mentioned by a third of the public (34%).
This fall in concern coincides with a recent interview given by Mervyn King to Channel 4 in which he talked of "a few signs of a slow recovery", as well as our recent Political Monitor, which shows that economic optimism is at its highest point since July 2010.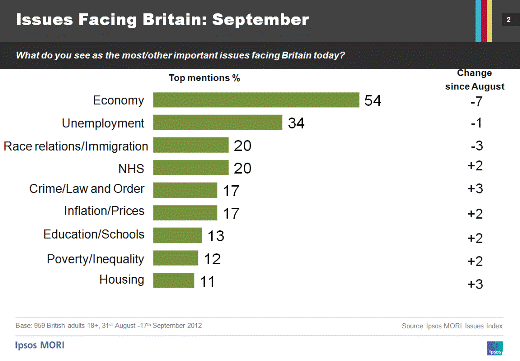 A fifth (20%) of the public are concerned about race relations/immigration, and a the same percentage are concerned about the NHS, ranging from a third (32%) of those in social grade AB to just one in seven (14%) of those in social grade DE.
Looking further down the list of concerns, 12% are concerned about poverty/inequality, the highest percentage since before the millennium. Also, concern about housing has increased by three percentage points to 11%, the highest level of concern in four years as Downing Street announces a package of measures designed to boost the housing industry, including a £10 billion guarantee for building new homes.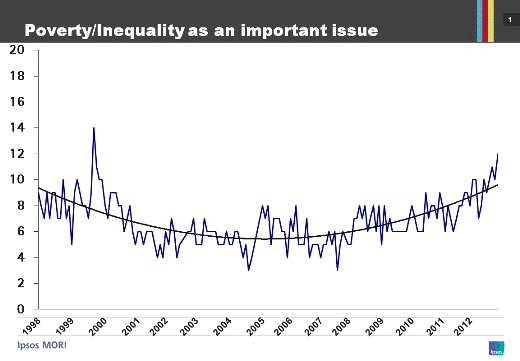 Just one in twenty (5%) are concerned about defence/foreign affairs, a fall of two percentage points and the lowest level since prior to 9/11, despite a recent upsurge in 'green on blue' attacks in Afghanistan. 
Technical note
Ipsos MORI's Issues Index is conducted monthly and provides an overview of the key issues concerning the country. Ipsos MORI interviewed a representative quota sample of 959 adults aged 18+ across Great Britain. The questions are spontaneous - i.e. respondents are not prompted with any answers.  Ipsos MORI's Capibus vehicle was used for this survey. Interviews were conducted face-to-face in-home between 31st August and 17th Sept  2012 at 154 sampling points across Great Britain. Data are weighted to match the profile of the population.