Lowest ratings for Cameron and government since General Election Osborne's personal ratings lower for any Chancellor since Ken Clarke Budget seen as bad for individuals and bad for the country
 Voting intention: CON 35 (-1); LAB 38 (+1); LIB DEM 12 (+1)
Ipsos MORI's April Political Monitor, carried out for the Evening Standard, shows the continuing fall-out from the Budget and a difficult few weeks for the government, and the Conservatives in particular.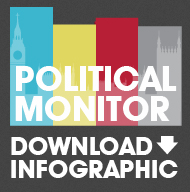 Over half are dissatisfied with David Cameron as Prime Minister (57%, 37% are satisfied), up from 52% last month and his worst since becoming leader of the Conservative Party.  Dissatisfaction with the way the government is running the country is at 65% (27% satisfied), up from 60% in March and also the worst since the election.  Dissatisfaction with the government has risen especially among Conservative supporters, from 27% in March to 43% this month.
One month on, the public's reaction to the Budget is negative.  Six in ten (60%) say it is bad for them personally (25% good), and just over half say it is bad for the country (53%, while 33% think it will be good).  While people often think they personally will be hit, the proportion who think the Budget will be bad for the country has doubled compared to the government's first budget in June 2010 (from 27% to 53%).  Ipsos MORI's Economic Optimism Index also shows a slight fall this month, from -14 to -18.
In line with this, George Osborne's personal ratings as Chancellor have also fallen sharply.  58% are unhappy with the way he is doing his job (28% are satisfied), a year-on-year decline from 23% dissatisfied in June 2010 and 45% in March 2011.  These are the worst ratings for a Chancellor Ipsos MORI has found since Ken Clarke in December 1994.
This has led to a slight increase in Labour's lead over the Conservatives.  The Conservatives are on 35%, while Labour is on 38%, a three-point lead.  The Liberal Democrats meanwhile are on 12%.
For Labour, Ed Miliband's personal ratings are unchanged over the month, with 34% satisfied and 52% dissatisfied, although he is starting to improve among his own supporters with 55% happy with his performance.  Nick Clegg shows a marginal fall over the month, with a net rating (satisfied minus dissatisfied) of -31, compared to -27 in March.
Head of Political Research at Ipsos MORI, Gideon Skinner, said:
"Our poll shows just what a difficult month it's been for the government, and for the Conservatives in particular.  At this stage of a parliament, as much attention is paid to approval ratings as voting intentions, and while David Cameron is one of the Conservative's greatest assets, dissatisfaction with him has reached its highest ever, and George Osborne has also dropped significantly.  After having a month to sink in, public reaction to the Budget is poor, and other difficult stories such as the IMF and deportation may have had an impact."
Ipsos MORI interviewed a representative sample of 1,002 adults aged 18+ across Great Britain. Interviews were conducted by telephone 21-23 April 2012.  Data are weighted to match the profile of the population.