Johnson and Hancock see ratings rise amid pre-Budget boost in optimism
In this survey, done before the announcement of the Budget, Johnson and Hancock see rises in their favourability ratings while more people say the country is heading in the right direction.
Ipsos MORI's February Political Pulse shows a boost in optimism as the vaccination programme continued (but before the budget). Over a third (36%) of Britons now say that things in Britain are heading in the right direction, up from 24% in January. However, opinion is still divided with a similar proportion (37%) thinking the country is headed in the wrong direction. Nevertheless, this is the highest proportion saying things are heading in a positive direction since the early onset of the pandemic in April last year (when it was 40%).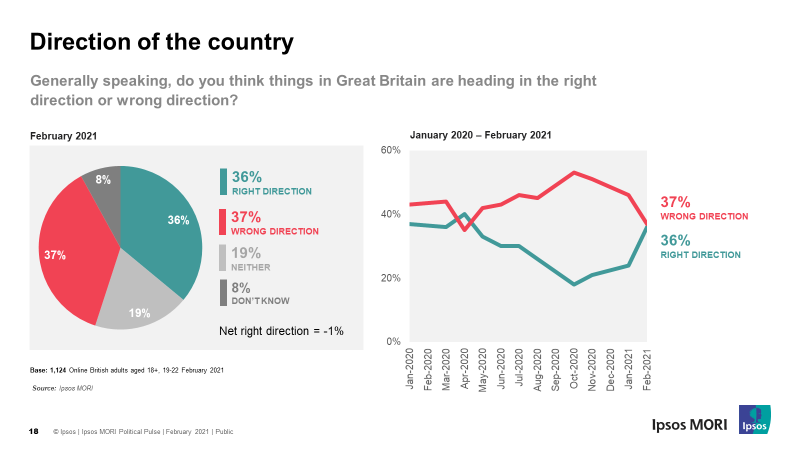 Meanwhile, against the backdrop of the vaccination rollout, both Boris Johnson's and Matt Hancock's favourability ratings have risen since early January but are still not wholly positive. 
Over a third (35%) now say they have a favourable opinion of Mr Johnson (+4 points), whilst near two in five (42%) are unfavourable towards him (-7). Whereas, nearing three in ten (28%) are positive about Matt Hancock (+4) and two in five (39%) unfavourable (-4).
Rishi Sunak's favourability ratings are still buoyant and unchanged since January, with two in five (39%) feeling favourable towards him and nearer one in four (27%) unfavourable.
Labour leader Keir Starmer's favourability has grown slightly more negative since last month, with a third (34%) now saying they are unfavourable towards him (+4) and 28% favourable (-1).
The majority of people who voted Conservative in the last General Election hold a positive opinion of each Conservative politician – although with some variation, as half are favourable to Matt Hancock (52%), compared with seven in ten towards Rishi Sunak (70%) and Boris Johnson (67%). Whereas, now just under half (47%) of Labour voters have a favourable opinion of Keir Starmer (-6 since January) and one in five (21%) unfavourable (+4).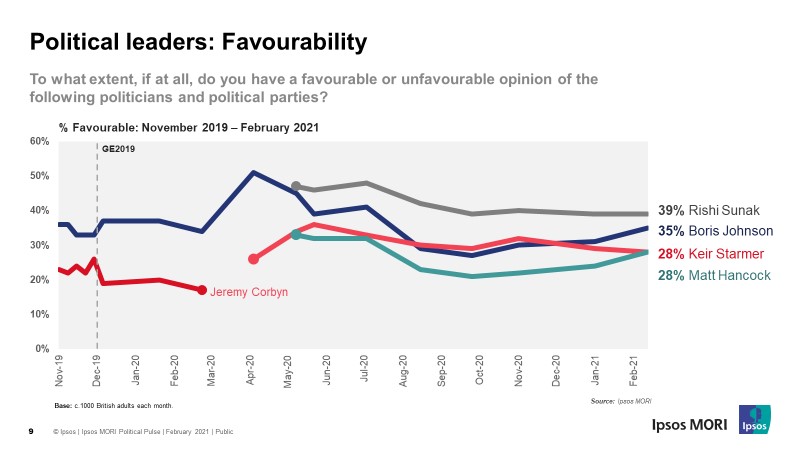 Sentiment towards Britain's main political parties remains largely unchanged since last month, with a slight positive shift for the Conservatives. This is also the first time within this series that Ipsos MORI has gauged opinion towards the Green Party:
The Conservative party: 30% favourable (+2 since January), 43% unfavourable (-4).
The Labour party: 28% favourable (-1), 39% unfavourable (-). 
The Green party: 25% favourable, 29% unfavourable. 
The Liberal Democrats: 14% favourable (+3), 40% unfavourable (-3). 
Elsewhere, opinion towards the impact of the UK leaving the European Union has remained stable since last asked in January 2021. Nearing half (46%) say it has had a negative impact on the country (+1), whilst a third (31%) say positive (+3) and 15% think it has made no difference (-2).
Gideon Skinner, Head of Politics at Ipsos MORI, said of the findings: 
While the full impact of the Budget on public opinion is still to be seen, it is likely that the continued rollout of vaccinations was already feeding through into optimism for the country and ratings of Boris Johnson and Matt Hancock. Since the low-point last Autumn we've seen growing optimism among all groups, although it's still the case that young and middle-aged people are more pessimistic than older Britons. 
Note to editors
Ipsos MORI interviewed a representative sample of 1,124 British adults aged 18+. Interviews were conducted online from 19-22 February 2021. Data are weighted to match the profile of the population. All polls are subject to a wide range of potential sources of error.