July 2010 Issues Index
The economy remains Britain's chief concern, though concern about unemployment increases
The economy remains Britain's chief concern, though concern about unemployment increases
160
Ipsos MORI's160July Issues Index shows that the economy remains the public's most important issue facing Britain by some margin. Similarly to last month, around two-thirds (63%) feel that it is among the most important issues facing the country; 44% see it as the single most important issue, and 19% feel that it is among the most important issues. Those in Scotland (79%),160 the Midlands (68%), and those in the South East (68%) are more likely to mention it than those in Wales, (56%), the north of England (54%) and London (53%)
160
As has been the case since October, race relations/immigration is the second most important issue facing Britain - around three in ten (28%) mention it. This issue is of least concern to those in the south of England, where it is only cited by a fifth (20%) and is not among the top five issues. In contrast, a third (33%) of those in the Midlands and Wales, and the North of England (34%) mention it.
160
In a month in which the Emergency Budget has been released, and extensive cuts in public spending are on the agenda, unemployment has increased as an issue by five percentage points since last month; a quarter (26%) are concerned, and particularly those in Scotland (33%) and Wales (28%), despite the release of official figures showing a fall of 34,000 in the number of unemployed people.
160
Crime/law and order is the fourth most important issue facing the country; a quarter (24%) of the public mention it, though in the south of England it is the second most important issue, mentioned by 28% of the public.
Public concern about poverty and inequality, whilst relatively low compared to other issues, is up three percentage points since last month, and, at 9%, is at its highest level since 2000.
160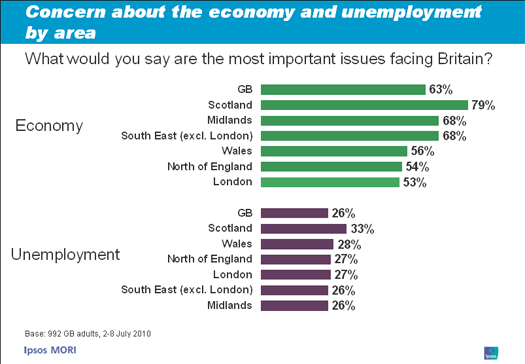 160
Technical note Ipsos MORI's Issues Index is conducted monthly and provides an overview of the key issues concerning the country. Ipsos MORI interviewed a representative quota sample of 992 adults aged 18+ across Great Britain. The questions are spontaneous - i.e. respondents are not prompted with any answers.160 Ipsos MORI's Capibus vehicle was used for this survey.160Interviews were conducted face-to-face160in-home between1602nd-8th160July1602010 at 169 sampling points across Great Britain. Data are weighted to match the profile of the population.