Ladders to social mobility after Brexit
Ben Marshall looks at whether Brexit is a "smell the coffee" moment for a different approach to social mobility and housing tenure.

After the earthquake of the Brexit vote, it feels like the nation is holding its breath for fallout while also trying to understand the reasons a majority voted Leave. The result is a peculiar mix of 'what happened?' and 'what happens next?'
One suggestion for the referendum outcome is that the economically disaffected - the 'left behinds' - were neglected and underestimated. Some say Leave exploited economic and culture wars to good effect, and in his speech standing down from a Conservative leadership challenge, Boris Johnson signalled the need to help "the forgotten" while Theresa May has been talking about a better Britain "for everyone". Boris called for future efforts to "fuel the engines of social mobility".
The need for fuel has been evident in our research which has detected anxiety about inequality of outcome and opportunity. Most recently, our survey for the Chartered Institute of Housing (conducted just before the referendum), found 46% agreeing "people have equal opportunities to get ahead" in Britain, a drop of seven points since 2008. While the margin of agreement to disagreement is +29 in London, it is -5 across the South of England, and (more) squeezed middle 'C1' households are much less positive than their 'AB' equivalents.
Housing sits right in the middle of this. Sure, it is not the only signal or cause of social mobility and inequality but it is an important one, and our research for Mumsnet last year found it to be a bone of contention between generations.
Getting ahead is synonymous with getting on the property ladder; by more than two to one people agree rather than disagree that "getting on the property ladder is one of the most important ways of getting on in life". But Ipsos MORI's analysis for The Guardian has found the proportion of Generation Y who own their own home is significantly smaller than the proportion of Generation X homeowners when that generation was of a similar age, a pattern which is not replicated in the U.S.
While the British are gloomy about young working peoples' prospects of getting the right kind of housing, this hasn't dimmed expectations. Currently, 22% currently live in the private rented sector but only 15% expect to be renting this way in 2021 (and a quarter of mortgage holders expect to be owning outright in just five years):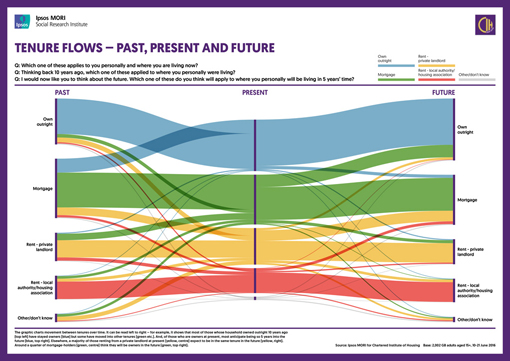 The expected movement towards owner-occupation shown above comes despite forecasts of a continuation of the trend away from home ownership (admittedly before the potential game-changer of Brexit). It also sits alongside strong aspirations to be on the ladder; given a free choice, 84% of British adults would choose to be an owner-occupier as would 71% of private renters.
Tellingly, by more than two to one people would advise a newly-married couple with steady jobs to buy rather than rent even if it meant living in poorer quality accommodation. At the same time, however, the public are clear that there is role for renting; 80% think it is an important part of the UK's housing mix. A similar proportion don't think politicians are being honest about people's prospects of becoming owner-occupiers.
All this points to a need to shift the paradigm of 'getting on' in respect of housing. To get on, some of the 'left behinds' will want a mortgage, but many won't; for them, the housing crisis is not entirely, if at all, about rising prices and ownership but centres on other things like affordability, fairness, liveability and community.
What next? As Alan Milburn, social mobility tsar, said this year,
"The starting points for people to be able to progress are becoming more differentiated and divided".
A one-size-fits-all to housing tenure and social mobility simply won't work in an evidently more complicated country. Milburn also talked of "a wake up and smell the coffee moment". The aroma probably just got stronger and more complex.
Who's awake?