Leadership Connections 2016, HR and the C-suite driving innovation
How can HR help the C-suite drive innovation? Download new research from Ipsos MORI and Cirrus examining the HR contribution to the C-suite agenda.

This year again, we have partnered with Cirrus on a research initiative about Leadership Connections. 
The research explores the C-suite leaders' agenda for 2016 and the role of HR in helping to achieve their key priorities.
Our joint report offers a unique cross-analysis of opinions from C-suite leaders (as part of our Captains of Industry survey), from HR professionals, managers as well as employees (as part of our RED programme). 
Innovation is the word du jour in many ways and HR professionals have yet to be recognised as true transformation agents by Board members. The official launch of our Leadership Connections research took place on 2nd March 2016 at The Ivy in London.
Infographic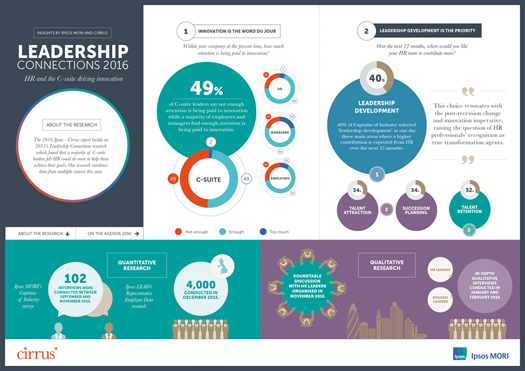 (Click or Tap the image to enlarge)
Download