Liberal Democrat support dropping dramatically in some regions
Liberal Democrat support has plummeted since the general election in the North East and South West of England, new analysis of Ipsos MORI polls shows.
Liberal Democrat suppport has plummeted support since the general election in the North East and South West of England, new analysis of Ipsos MORI polls shows. As controversy over Liberal Democrat support for the government's policy on university tuition fees reaches a peak, Ipsos MORI's aggregate analysis of their monthly polls since the general election shows that support has swung from the Liberal Democrats to Labour across the country, but much more sharply in some regions than in others. Ben Page, CEO, Ipsos MORI says:
"It is traditional for Lib Dems to drop in the polls outside of election campaigns, this is usually down to a lack of media exposure. But now they're in government – and making headlines, albeit negative ones and their support has still fallen. Especially interesting is the drop in the Lib Dem stronghold of the South West and to just 4% in the North East."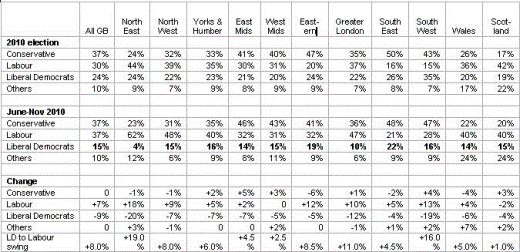 Across Great Britain as a whole, Liberal Democrat support has averaged 15% between June and November, less than two-thirds of the 24% of the vote that the party secured at the general election; the swing has been almost entirely to Labour, with the Conservatives holding the 37% they won in May. But there have been big differences in the changes in support in different regions. In the North East, Liberal Democrat support has almost disappeared, falling to just 4% of those certain to vote, an overall swing to Labour of 19%. In the South West, the Lib Dems' strongest region at the election, the swing has been almost as high, 16%, and they have lost half their support in London, with an 11% swing to Labour. Most recent polls have shown the Lib Dems well below that post-election average of 15% nationally, which suggests that they may well be even worse off now in many regions than these figures show. However, the party has held on to most of its support in the Midlands and South East, as well in Scotland and Wales where devolved elections are due next May
ENDS
Technical note:
Base: 5,029 GB adults aged 18+, of which 2,839 certain to vote and giving a voting intention. Ipsos MORI interviewed a representative sample of c.1,000 adults aged 18+ across Great Britain. Interviews were conducted by telephone 18 to 20 June, 23 to 25 July, 10-12 September, 15-17 October, 12-24 November. Data are weighted to match the profile of the population. Where percentages do not sum to 100, this may be due to computer rounding, the exclusion of "don't know" categories, or multiple answers. Voting intention figures exclude those who say they would not vote, are undecided or refuse to name a party and in the headline figures, those who are not absolutely certain to vote.