Making Tax Digital for Business: Survey of small businesses and landlords
The government has recently announced that Making Tax Digital for Business will be rolled out from April 2019 instead of 2018. This research - conducted before this change - looked at small businesses' and landlords' capacity to comply with Making Tax Digital and the support they are likely to require.
Making Tax Digital (MTD) is a key part of the government's plans to make it easier for businesses to get their taxes right and keep on top of their tax affairs. Businesses will be required to keep digital records and file quarterly tax summaries using software.  
Ipsos MORI conducted research with around 3,000 small businesses and landlords in 2016 when the policy was planned to be rolled out from April 2018. The government has since amended this timetable to give businesses more time to prepare.  Roll-out will now be from April 2019 for businesses above the VAT threshold and for VAT only with other taxes to be included at a later date.
Awareness of Making Tax Digital
The research found very low awareness of the MTD requirements among small businesses and landlords.  Despite this, seven in ten expressed willingness to comply.
Small businesses and landlords were divided on the benefits of MTD. They were most positive about how MTD could help to reduce the burden of their end of year tax bill.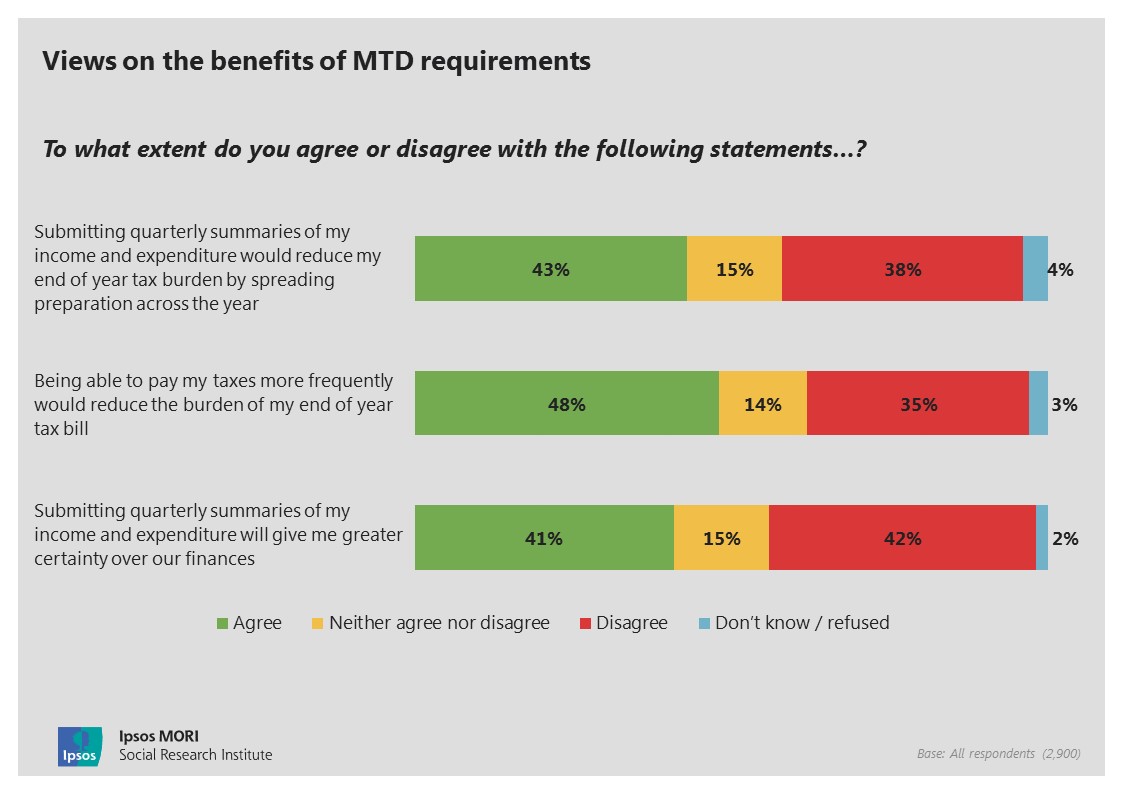 Capacity to comply?
The vast majority of small businesses and landlords had access to digital devices that would enable them to use software under MTD. However, use of software for taxes was low and many will need convincing of the benefits of using software over their current practices, as well as support to choose and use software (one in five non-users of software lacked confidence with technology). Businesses and landlords were also concerned about the security aspect of keeping records digitally.
Most small businesses and landlords should be able to meet the requirement to provide quarterly updates of their transactions without having to make changes to how often they undertake record keeping. Nine in ten found record keeping straightforward and the large majority were recording their transactions, invoices and receipts at least quarterly.
Advice and support
One in three small businesses and landlords expect that it will be difficult for them to meet the MTD requirements because of their limited ICT skills, the time it will take to prepare and provide the information, the ease of integrating MTD into current practices and their lack of knowledge on which software to use.
Small businesses and landlords wanted guidance on how to prepare for the new requirements and use software, and reassurance that they were submitting correctly.  Those lacking confidence in their ICT skills wanted ICT training.