Media Choices: Is it all getting a bit OTT?
With an increased number of OTT (Over The Top) services comes a wealth of opportunities and challenges for broadcasters. Our new OTT measurement solution helps us to assess which services are appealing most to streamers.
Teenagers are bringing me new challenges – I try and kid my colleagues who have babies and toddlers that it gets easier, but I'm lying. Despite loving TV and having worked in media research for many years, I find that media is one of these challenges.
I don't think I realised how easy my 'media life' was back in 2006, when child number two was born. The cost of media for my household was very little, a basic cable TV package and regular DVD purchases of every Disney/Pixar movie and a few family classics. Choice for the family did not feel limited and was a vast improvement on previous years, although TV life for the little ones was very much dictated by when CBeebies started and ended for the day. 
Fast forward to 2020 and my teens are making media choices a challenge. 
My first challenge is financial
Multiple mobile phone and iCloud storage costs aside, my regular monthly subscription spend on in-home entertainment is fairly high, with gaming and music subscriptions for the teens adding to the various TV and video content subscriptions that the family desire.
 

| My subscriptions* | My monthly fee | My share of monthly spend |
| --- | --- | --- |
| Virgin Media (package) | £99 (a current 'loyal customer' deal) | 73% |
| Amazon Prime (annual subscription) | £6.58 | 5% |
| Netflix (two devices) | £8.99 | 7% |
| Spotify (premium, family) | £14.99 | 10% |
| Xbox Live (Gold membership) | £6.00 | 5% |

*An extra £12.88 a month can be factored in to cover the licence fee.
We've asked people about their own monthly spend on media services, and I was interested to see that, though I thought my share of spend was high, it is not too far off the wider population.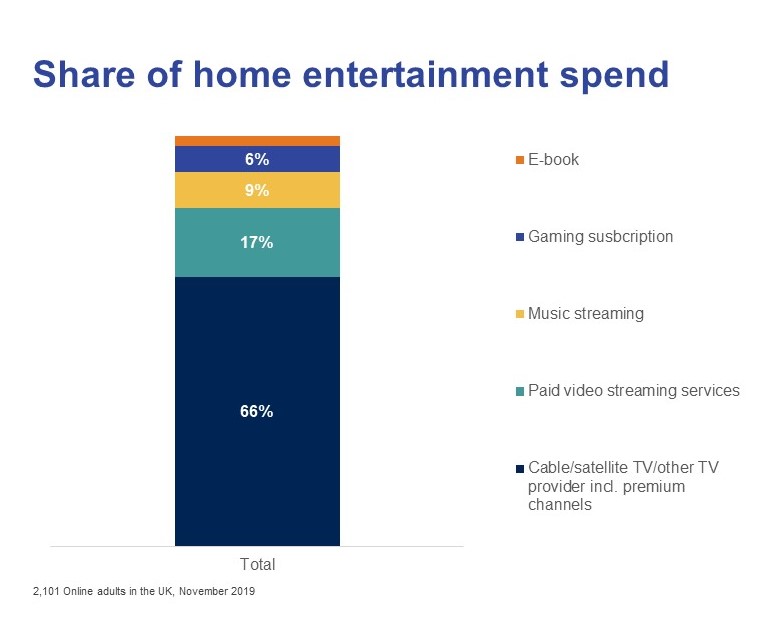 Irrespective of my current fairly hefty spend, my issue is that I need to spend more – some of the new streaming services are very enticing.
I'm excited for the upcoming launch of Disney+. I've always had a love of Disney – having kids gave me an excuse to watch Disney movies, be it for the 50th time on DVD or at the cinema. However, they're outgrowing Disney and me co-watching. So, a Toy Story 4 cinema visit last summer was not on the cards unless I went solo, and I was the one full of excitement about the unwrapping of this DVD from my son's stocking on Christmas morning (and couldn't wait to put it on). Disney+ was made for me, but based on my household composition, and existing ties on my time, am I really going to get the time to use it? Plus, this would be another £5.99 a month in the home-entertainment pot.
I'm equally as drawn to BritBox which would help solve another of my challenges, navigating through all the choice we now have. This new service brings together some of the best content from the great channels we have here in the UK – but, at the cost of yet another £5.99 a month for the pleasure.
Furthermore, upgrading my current Netflix subscription to more devices is high on the agenda. The teens are causing me problems – regularly they are both watching independently when I tune into Netflix, meaning I can't view. Do I kick them off and deal with the aftermath or upgrade and pay another £3 a month?
I could just stay with what I have, but the temptation to lose the adverts is also very attractive, and something the teens are continually moaning about. Given we all use both All4 and ITV Hub, the '+' alternatives would allow me this pleasure (plus another two lots of £3.99).
If I opt for everything, that is another £23 a month, taking my in-home entertainment spend to just shy of £160 a month, of which streaming services would account for more than £38. Whie such a plethora of services in the media streaming market is welcome, the money pot and my free time are not endless. As such, I really feel as a household we need to re-evaluate the services we currently subscribe to and where our pennies are best spent. Realistically, like most streamers in the UK, I think it's unlikely that my level of spend will increase, irrespective of what me or my teens want.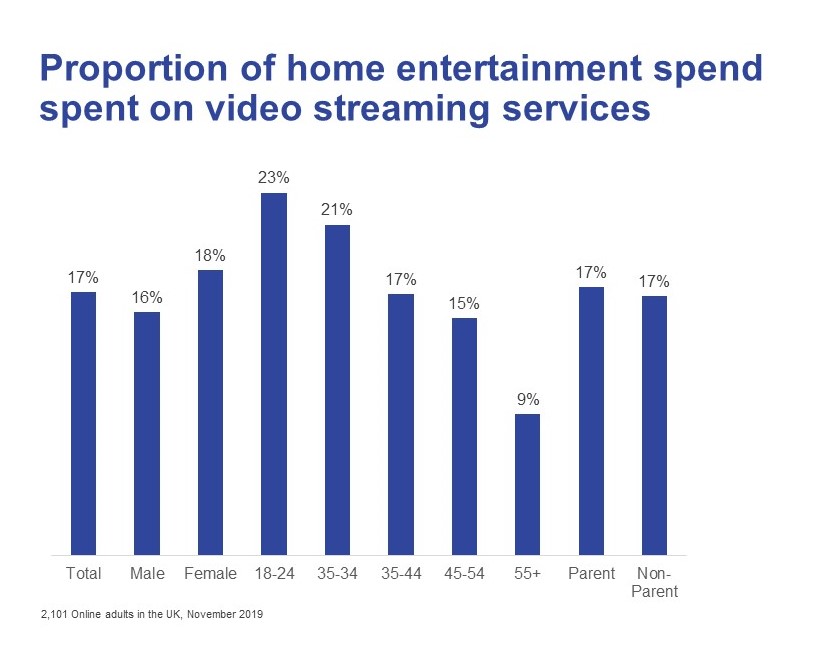 Getting hooked
If I'm going to regularly hand over money for a service, I need to be getting optimal value from it; for me that means regular viewing. Netflix trumps all services in terms of getting people to watch each week, and it is my first port of call. But, for others, value for money might not be judged by the number of hours spent watching.
Access to niche content or your favourite show might provide a hook, but there has to be something to keep us subscribing. In my household, for example, Amazon Prime is a no-brainer for the postage, but Premier League coverage and some great content also provide an additional benefit for our family.
We have conducted research across multiple markets to explore perceptions and attitudes towards streaming services, both overall and for specific services in the market. This helps us understand these motivations and how services vary both overall and among different audiences, as well as revealing which are managing to provide that much needed temptation.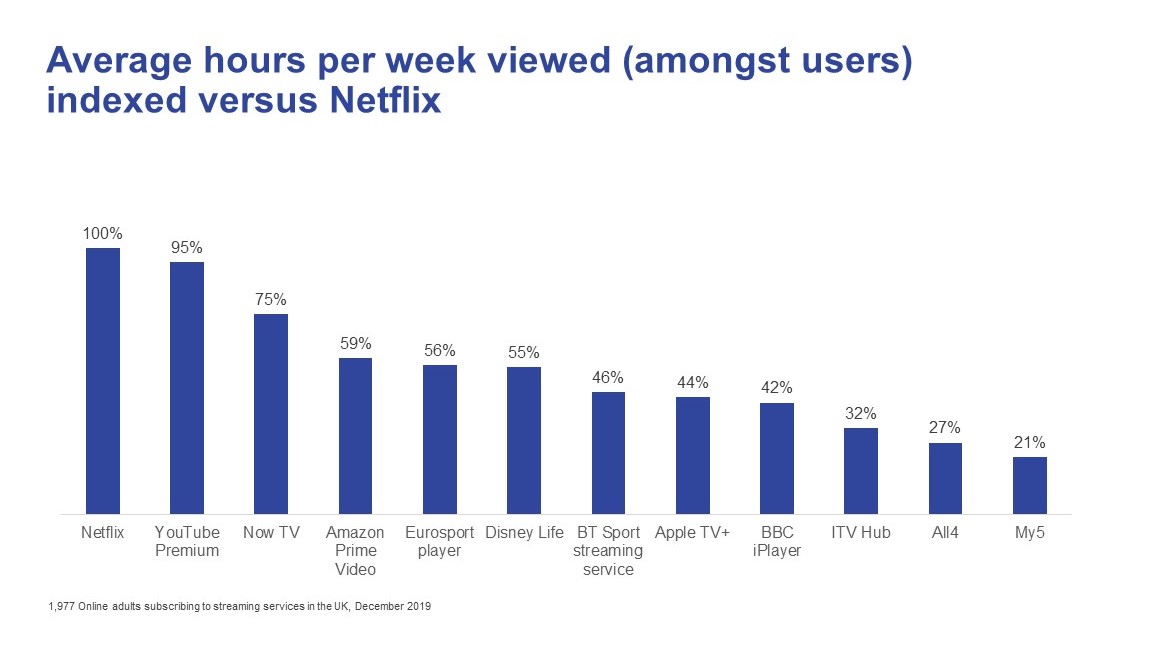 The challenge of choice
2020 has been touted as the year of the streaming wars. We've all heard about the proliferation of services, with 22% of online adults now regularly using or subscribing to at least four streaming services (free or paid for). Young adults are more likely to engage with multiple services and this is where my next challenge comes in: choice.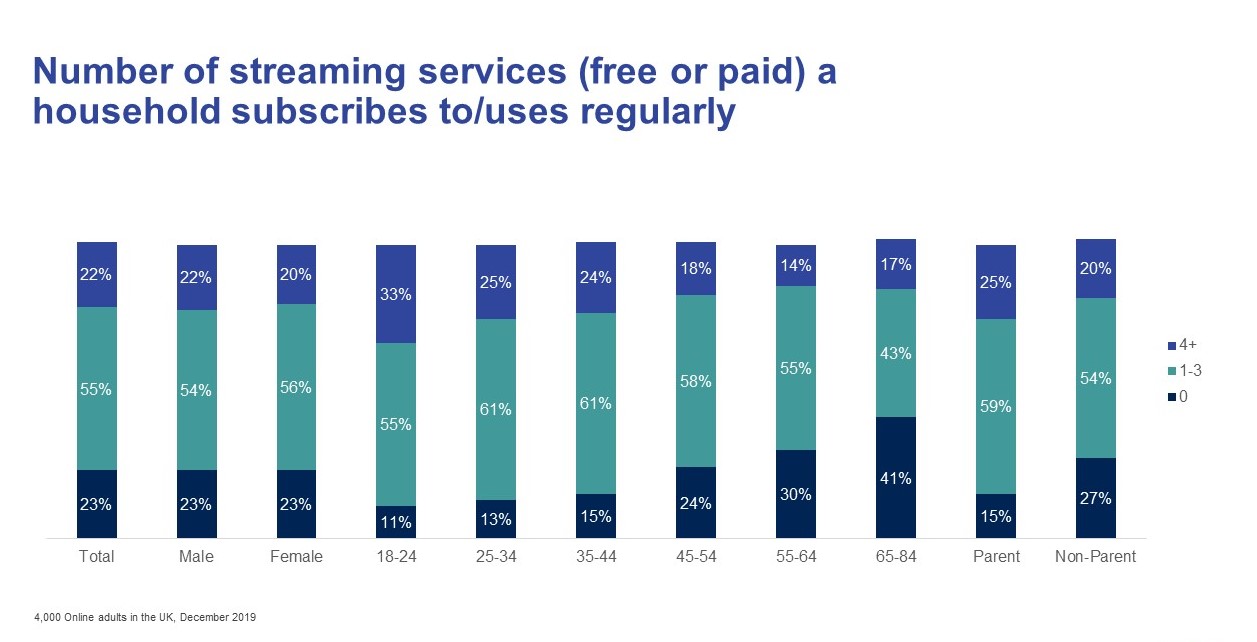 I find myself veering towards the small minority of people who feel that they have too many streaming services to manage. Netflix for me is any easy option, a few clicks of the remote and I'm in, and from there I tend not to stray much from the home screen. However, if I am after a particular genre or type of movie, this is where my choice challenge comes in. 
From my current options, there is simply too much choice and I just don't know where to turn. Family viewing occasions are now rare, but we still enjoy family movies. The problem is, it can take a movie-length period of time to find something to watch. Weighing up the options across Netflix, Amazon Prime, Sky Movies and what we have previously recorded is a time consuming and often fraught experience. All too often we will resort to a pay-per-view recent release (adding more money to the home entertainment pot), and quite often we just give up. This is where propositions such as BritBox appeal to me – bringing content that I like from a number of broadcasters together in one place, rather than me having to venture into a number of different services. 
However, I look to be in the minority here, with most streamers feeling they have just the right number of services at their fingertips. The good news for broadcasters and dedicated OTT (Over The Top) providers is that almost 1 in 3 are open to adding more to their subscription library. This is not just limited to those with one or two services. In fact, among those with three or more current streaming services, openness to more is even higher suggesting that a saturation point for many is still a way off.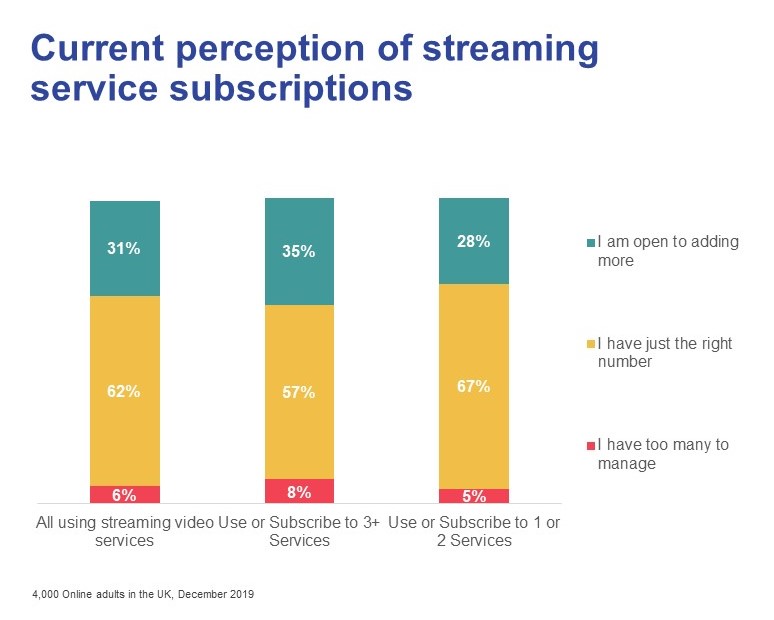 The future of streaming looks increasingly expansive. Though this creates increased competition for streaming services vying to be a part of a user's media mix, for potential subscribers it opens a world of choice. While this choice can be a little overwhelming on family movie night, it allows me to tailor my media mix to suit the needs of my family.
At Ipsos, we are tracking streaming services in multiple markets, monitoring awareness, appeal and likely take-up of established services and new entrants, alongside streaming preferences and discrete choice modelling. If you're looking to hook your audience and ensure that your service is chosen over your competitors, we can help you understand the marketplace and answer specific business questions in this area. Knowing what subscribers are looking for and their appetites for streaming services can help you make yourself an integral part of their media mix.
For more information on our upcoming OTT product, please contact: Sara Rice, or Beckie Goodfield.