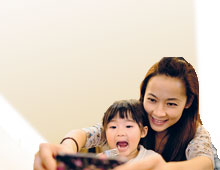 Bringing Life to life: Ipsos UU
OUR SOLUTIONS
Mobile
Applife is Ipsos' proprietary app for using mobiles for qualitative research.
Client context
How to better understand your consumers through exploratory research:
Engaging with consumers wherever they may be.
Using consumers' own mobile devices to collect rich data combining text, emotion, location and pictures.
Combine with detailed online diaries or questionnaires to dive deeper into behaviour and attitudes.
How to better understand your consumers in live events:
Taking full advantage of the mobile phone as a real-time research device.
Ask contextual questions to understand the event experience.
Our Solutions
Applife is fully designed for qualitative research: it allows text, photos, video, GPS geolocalisation.
During the interview:
The moderator can probe participant responses.
Participants can interact with each other and with the moderator.
All involved stakeholders at the client side can view all activity in the app in real-time.
Contacts
Case studies
A leader in FMCG wanted to understand the consumption of makeup in several countries. To answer this question, Ipsos proposed the use of AppLife. This made it possible for women to take pictures and videos every time they wanted to makeup.