More Britons want Government to make fast decisions in a crisis than wait for all the evidence, as long as they're open about it
Latest research from Ipsos MORI shows that when given the choice, more Britons opt for Government to act quickly even if that means not all the evidence is available over waiting, when it comes to a crisis.
Overwhelmingly though they also believe that Government must show all the evidence which has been used to decide actions in a time of crisis.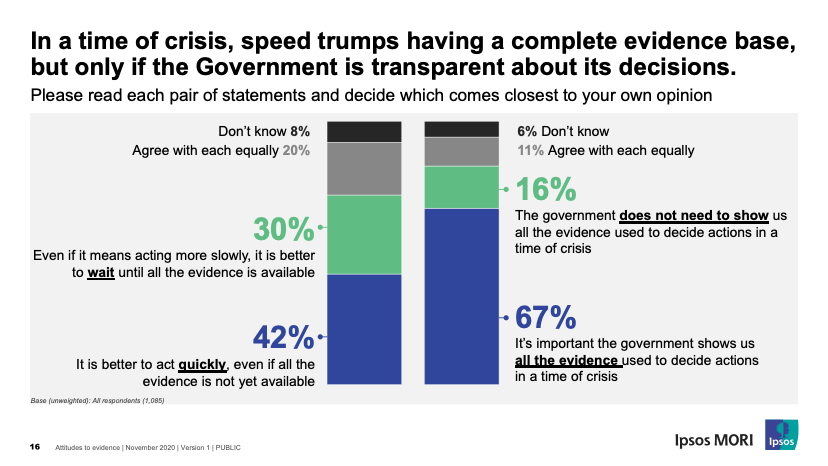 It's not always easy to communicate complex information however for the government or the media. Despite the widespread coverage and use of the 'R number' since March this year, only 47% of Brits surveyed could accurately identify what it was when presented with three options.
Britons also want government to engage with a wider range of evidence when making decisions. 41% believe that Government hasn't listened enough to evidence from people researching the wider social impacts of COVID-19. 43% also don't feel that feedback from the public themselves has been utilised enough supporting a need for engagement and transparency.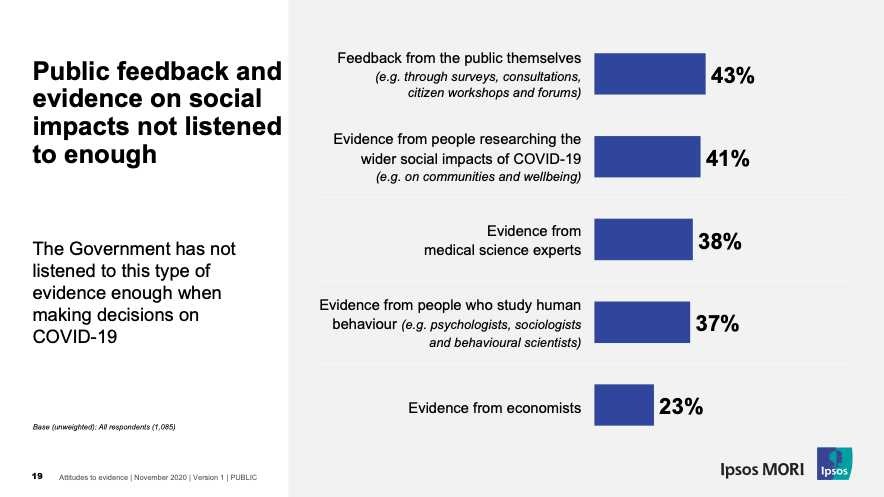 But, compared to 2019 politicians are perceived to be listening more to evidence, experts and public opinion, which given the current pandemic may not be surprising given the utilisation of expert voices in Government press conferences covered live by broadcast media.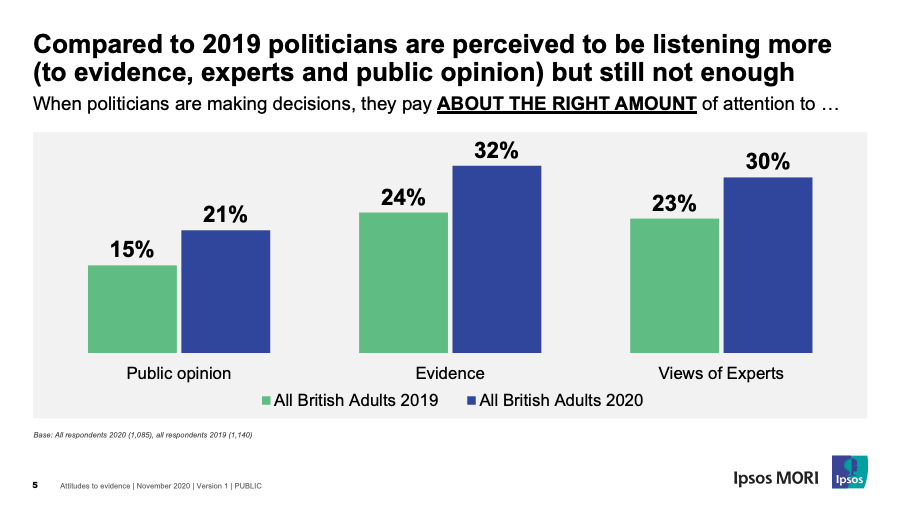 Commenting on the findings, Kelly Beaver Managing Director of Public Affairs at Ipsos MORI said:
The public understand that a crisis calls for something different and are prepared to give politicians latitude to make decisions in the public interest quickly. But they expect government to be up front with them about the evidence that's been used for those decisions. And given the inherent difficulty of communicating with the public through statistics alone it will be important for government to leverage strong narratives, stories and personal experiences in the critical next stage of the pandemic relating to vaccines and ongoing restrictions
Technical Note
Ipsos MORI interviewed a representative sample of 1,085 British adults aged 18-75. Interviews were conducted online from 13th – 16th November 2020. Data are weighted to match the profile of the population. All polls are subject to a wide range of potential sources of error.