Most capable/most likeable Prime Minister
Margaret Thatcher is seen as the most capable leader of the last 30 years though Tony Blair is more likeable.
Margaret Thatcher is seen as the most capable leader of the last 30 years though Tony Blair is more likeable
Data from the recent Reuters/Ipsos MORI Political Monitor shows that the two longest serving prime ministers of the last thirty years are also the seen as the most capable. A third of the public (36%) consider Margaret Thatcher to be the most capable leader, while a quarter (27%) say Tony Blair. One in ten rate Gordon Brown and David Cameron as most capable (11% and 10% respectively), while slightly fewer (7%) say John Major.
Blair is seen as the most likeable prime minister. A quarter of the public (26%) say that they like him most as a person, compared with a fifth (22%) who like Baroness Thatcher. Slightly fewer like Cameron (17%) while 13% say Brown and 10% say Major.
Thatcher has the greatest polarising effect between men and women of all the leaders, with men more likely to consider Thatcher a capable leader than women (40% compared to 31%). By contrast, more women than men say they like Thatcher as a person (25% compared to 18% of men). Tony Blair is respected equally by the sexes but has more personal popularity among men than women (30% of men like him as a person, compared to 23% of women).
While Thatcher is seen as most capable by the middle classes, Blair's appeal is broadly consistent across social grades. Gordon Brown and John Major are most respected by those of social grade DE.
Thatcher is viewed as most capable by older people (42% of those aged 55+) while Blair wins the respect of younger people (35% of 18-34s).
Current Conservative leader David Cameron is less popular among current Conservative voters than Thatcher. Two-thirds of Conservative supporters think that Thatcher is most capable while only a fifth rate Cameron. Cameron makes slightly more headway against his predecessor in terms of being personally liked, although more Tory voters still say they personally like Thatcher than Cameron (41% compared to 29%).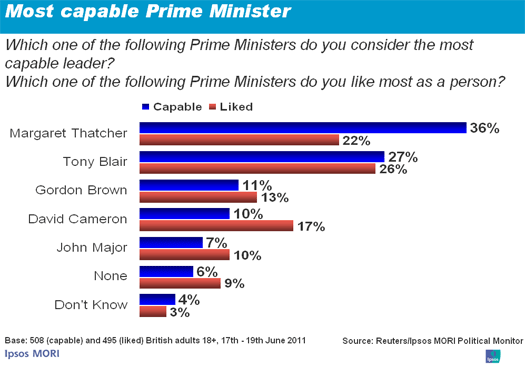 Labour voters rate Blair more highly than previous Labour leader Gordon Brown. Over half (53%) think that Blair is the most capable leader while a quarter say Brown (23%).
Liberal Democrats respect Thatcher most of all the leaders (49%) but she is the least personally popular (9%). Lib Dems are evenly split between liking Cameron (24%) and Blair (22%) the most.
Ipsos MORI interviewed a representative sample of 1,003 adults aged 18+ across Great Britain. Interviews were conducted by telephone 17-19 June 2011.  Data are weighted to match the profile of the population.