My Top 10 Predictions for UK retail financial services in 2020
What does 2020 have in store for the retail financial services sector? Read all about the big consumer trends and what the regulator might have in store for providers in a new blog by Research Director, Alpa Shah.
2019 was a bit of a funny year – not only in my personal life, but in the wider world too, there were all sorts of plot twists and turns. But I think as a country, ultimately, we gained a bit of a clearer view of the road ahead.
So, I am optimistic that 2020 and the decade ahead will be all about building real solutions to the problems we grappled with last year, and here are my 10 predictions that will be in the spotlight.
1.    Ethical financial products and brands will grow in importance
Environmental concerns are increasing, largely led by younger generations; but they will be looking to Government and brands to make the changes needed. Where financial providers invest our money will make 'green' funds and brands that take up green causes more popular this year, especially among affluent professional workers. Brands that meaningfully invest in their local communities, corporate social responsibility and resonate with the social movements of the day could benefit, especially with young adults.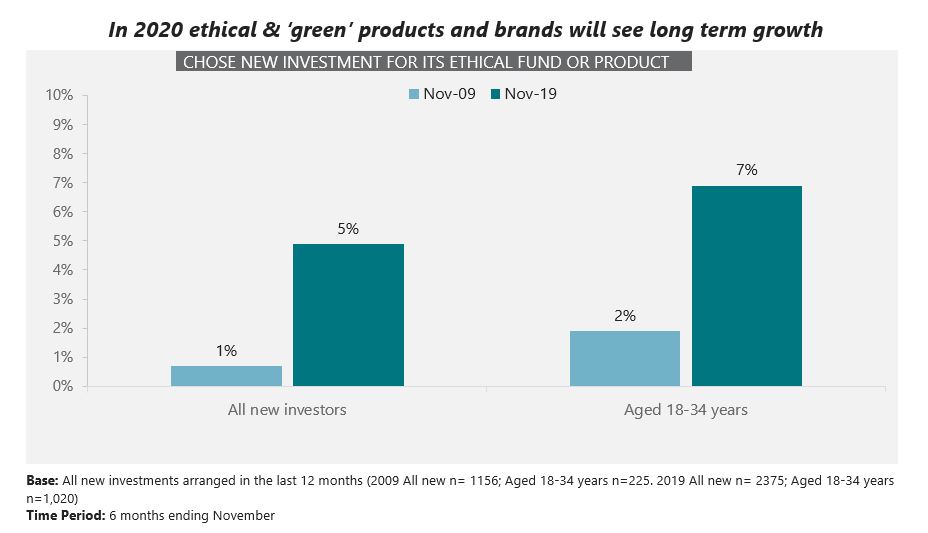 2. There will be a clampdown on the use of customer data
While providers are actively encouraged by the regulator to use customer data to benefit consumers – by pointing out better deals or products for example – using customer data to push more sales will not be looked on favourably. Expect the Financial Conduct Authority (FCA) to talk about inappropriate applications of customer data in 2020, with a view to possible regulations that could encompass how customer data is used in AI-based services such as DIY investing and insurance.
3. New ways for customers and providers to share data will continue to grow
Open Finance that builds on the principles of Open Banking has the potential to allow a whole host of new services to be developed. At the simplest level, automated switching services could hand consumers considerably more power to switch providers and pick products across a whole range of sectors. This may go some way to addressing the FCA's data use concern, but the next question will be who 'owns' that customer relationship? Could the big banks continue to be squeezed by competition as a result?
4. Big banks taking the fight to fintechs
Fewer current account benefits offered by providers makes those offering convenience, budgeting tools and spend analysis more appealing.  Fintechs such as Monzo are branching out to lending and going strong with national advertising campaigns, but there is fierce competition preventing full entry into the mortgage market.  Of course, their expansion depends on rising consumer trust and how well the big banks can fight back with their own app based tools, or look to acquisition. All indications are they are ready to fight, with resources allocated to innovations, but their Achilles heel continues to be unwieldy legacy systems, so the battle in 2020 will be far from over after the first round.
5. More people will be saving
Despite a continuation of low interest rates, the savings market could see those less affluent saving more. Providers will be creating and promoting more app-based products that help people to save little and often, for example, through 'round up and save the change' products, savings goals and ring-fencing money in current accounts. These products are unlikely to generate any post-inflation return, but getting more people into a savings habit can only be a good thing.
6. Investments mis-selling will become a thing
With the painful Payment Protection Insurance (PPI) mis-selling saga put to bed, another monster is likely to rear its ugly head in the form of investments mis-selling; with a focus on Innovative Finance ISAs and mini-bonds affecting a potential 893,000 mass market investors1. Expect to see more regulation on the way niche products are sold, including a possible ban on DIY purchasing. Mis-selling of pension freedoms products is also on the table as the FCA's advice pathways come into effect.
7. Could 2020 be the year the FCA clamps down on the insurance loyalty penalty?
With the final report from the FCA's high profile investigation into general insurance pricing practice due in quarter one, all the signals suggest that the FCA will start to implement remedies to restrict providers from raising prices for loyal customers. The fallout from this could see prices increase across the board as providers adjust their pricing models.
8.  Greater regulation of pensions advice and management
To understand the key change in pensions for 2020, we need to look back at the Queen's October 2019 speech, covering the Pension Schemes Bill: "To protect people's savings for later life, new laws will provide greater powers to tackle irresponsible management of private pension schemes." This coupled with the FCA highlighting the potential mis-selling of drawdown products could provide another shake up for pensions.
9. Greater focus on responsible lending and consumer advice
With a squeeze on bank profits and the FCA placing a greater emphasis on responsible lending and consumer advice, unsecured lending in the form of credit cards, overdrafts and personal loans could become harder to find and more expensive to fund.  However, a substantial dip in the economy could lead to a greater need for consumer credit, but lower acceptance rates and credit limits.
10. Consumer protection and equality will be in the spotlight
In July 2019 the FCA published its Guidance for firms on the fair treatment of vulnerable customers with the aim of ensuring providers consider and help remedy the needs of those who may be struggling financially or from a capability or health perspective. With our Financial Research Survey (FRS) identifying the potentially financially vulnerable as representing 44%2 of the adult population, there is a clear opportunity for providers to address the financial inclusion agenda in 2020.
Maybe 2020 will kick-start a decade of innovation in the financial services sector to suit differing consumer circumstances, needs and preferences, while providing better consumer protection.
Fingers and toes crossed…
Notes
1 Ipsos MORI Financial Research Survey (FRS) 59,895 adults interviewed between October 2018 and November 2019. Survey data grossed up to population of Great Britain.
2 Ipsos MORI Financial Research Survey (FRS) 9,931 adults interviewed between October 2019 and November 2019.
About the Author
Alpa Shah is an Associate Research Director at Ipsos MORI, specialising in the savings and investments retail markets, advising major retail banks on consumer and market trends across all financial products covered by the Financial Research Survey (FRS): Britain's largest and longest running consumer financial services survey.