Only 13 percent of Britons are confident about our current economic situation
The British are amongst the most negative in the world when it comes to the state of their economy according to new research released by Ipsos MORI today.
The British are amongst the most negative in the world when it comes to the state of their economy according to new research released by Ipsos MORI today. The Ipsos Global @dvisor, was conducted among the online population across 24 countries (representing 75 percent of the world's GNP), and reveals a wide variation in economic confidence around the world. The Indians (85 percent) and Chinese (77 percent) are the most positive about their economies, while Britain is ahead of only Japan (9 percent), Hungary (8 percent), France (6 percent) and Spain (5 percent).
160
160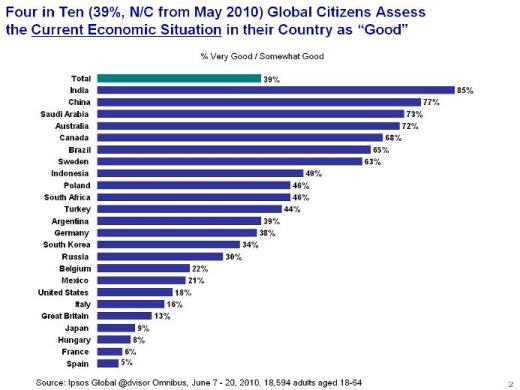 The global average assessment of economies was 39 percent in May and is unchanged in June. The highest positive global level of assessment was in April 2007 at 66 percent and was at its lowest (29 percent) in April 2009. Bobby Duffy, managing director of the Social Research Institute at Ipsos MORI said: "It is clear that six months after the recession ended in Britain, the population still aren't ready to view our economic situation in a positive light. "However, while there has been no change between May and June, optimism is still higher than it was in the dark days of late 2008 and early 2009. "But there is still a long way to go, and the public is looking out for more positive news on jobs in particular before they become more confident."
-ENDS-
Notes to Editors
The Ipsos Global @dvisor Omnibus is a monthly, online survey of consumer citizens in 24 countries and produces syndicated reports and studies specifically tailored to the needs of corporations, advertising and PR agencies, and governments. 160
Methodology
This @dvisory report contains data from the tenth wave of the Ipsos Global @dvisor Omnibus, an online survey of citizen-consumers across 24 countries.160 Seventy-five percent (75 percent) of the world's GDP is covered:160 Argentina, Australia, Belgium, Brazil, Canada, China, France, Germany, Hungary, India, Indonesia, Italy, Japan, Mexico, Poland, Russia, Saudi Arabia, South Africa, South Korea, Spain, Sweden, Great Britain, the United States and Turkey. 18,594 interviews were carried out June 7 - 20, 2010 with adults aged 18-64.160 Weighting was then employed to balance demographics and ensure that the sample's composition reflects that of the adult population according to the most recent country Census data and to provide results intended to approximate the sample universe.160 A survey with an unweighted probability sample of 1000 adults and a 100 percent response rate would have an estimated margin of error of 1773.1 percentage points 19 times out of 20 per country of what the results would have been had the entire population of adults in that country been polled. 160
About Ipsos MORI
Ipsos MORI is one of the largest, and best known research companies in the UK and a key part of the Ipsos Group, a leading global research company. With a direct presence in 60 countries our clients benefit from specialist knowledge drawn from our five global practices: public affairs research, advertising testing and tracking, media evaluation, marketing research and consultancy, customer satisfaction and loyalty.
For further information or to request a full copy of the report:
Matthew Flanders T: +44 20 7347 3452 E:
[email protected]