Only a third of the UK public expect the Government to take the necessary steps to deal with energy market problems
As 16% say they have already been affected by the energy crisis, only a third of Britons expect the Government to take the steps needed to help
A new survey by Ipsos MORI shows only 1 in 3 people in the UK believe the Government will take the steps needed to deal with issues facing the energy market, such as a global gas shortage causing an increase in wholesale energy prices, while almost 6 in 10 (57%) are not confident.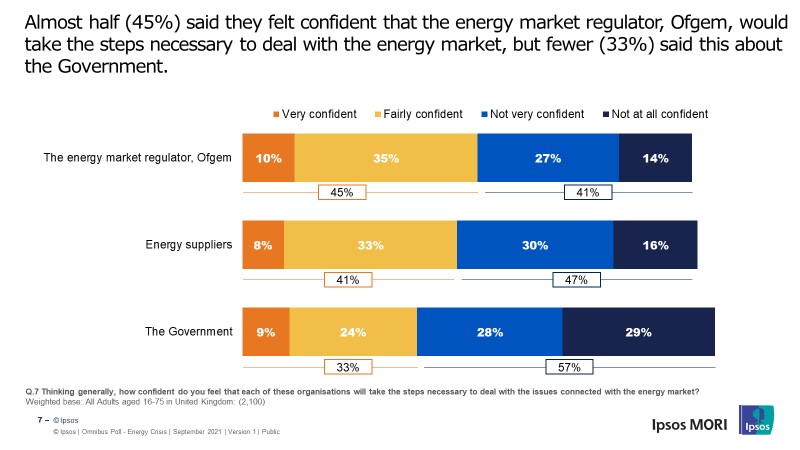 Hopes are higher that the energy market regulator, Ofgem, and energy suppliers will take the necessary steps to deal with the effects of the global gas shortage. Almost half (45%) are confident that Ofgem will do what is needed to deal with the current situation, however, a similar proportion (41%) are not confident. Four in 10 (41%) say they are confident energy suppliers will step in with the necessary actions while 47% are not. 
Already, 16% of the UK public say they have been affected by the closure of some energy suppliers, with younger people (20% of 16-24s and 21% of 25-34s), middle income households (20% of those earning between £20,000 and £34,999) and families with children (21%) most likely to say they have been affected so far. Almost a quarter of those in Wales (23%) and a fifth of those in London and the North of England (20%) say they have been affected so far. Less than 1 in 10 (7%) of those in Scotland have been impacted.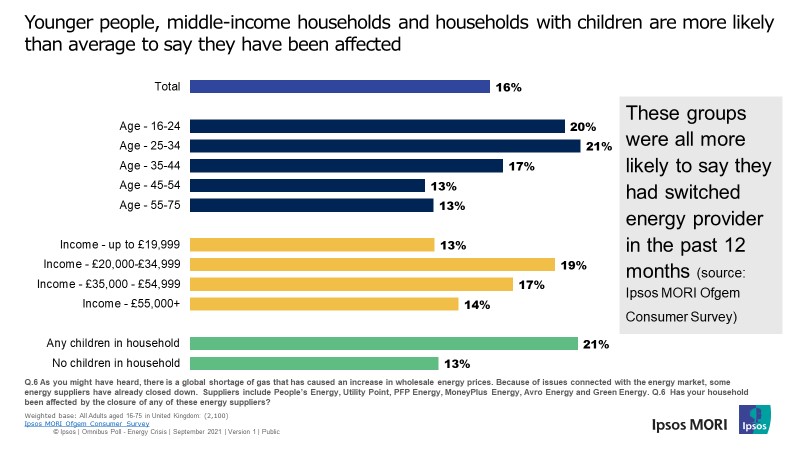 Among those affected so far, 71% have already explored or are planning to explore switching energy provider: much higher than the figure among all those worried about the changes in general (38%). More than half (54%) of those affected by the closure of an energy supplier have contacted their energy supplier or are planning to do so: again higher than the all adults figure of 30%.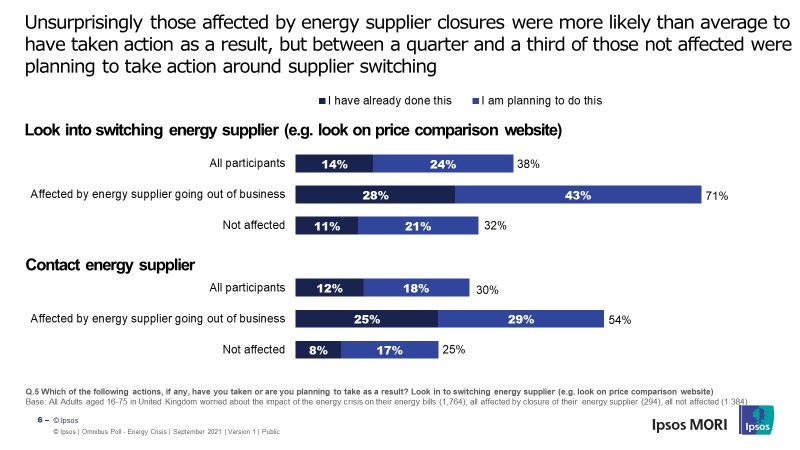 Bridget Williams, Research Director at Ipsos MORI said:
The recent failures of small energy suppliers has sent a real shock through the energy market.  Over the past ten years, small and medium energy suppliers had risen to take 30% of the domestic energy market , and data collected by Ipsos for Ofgem  in 2020 showed that only around a third of consumers would rule out switching to small or unfamiliar energy suppliers.  These issues in the energy market and the well-publicised failures of suppliers including People's Energy and Avro Energy are likely to depress levels of switching and impact on energy market competitiveness.  In the short term, it looks like all energy suppliers are in for a bumpy ride, with anticipated high levels of contact from concerned consumers.
Technical note
Ipsos MORI interviewed a representative sample of 2,100 adults aged 16-75 in United Kingdom using its online Ipsos Digital omnibus between 24th and 25th September 2021. The sample obtained is representative of the population by age, gender, region and working status.  The data has been weighted to the known offline population proportions for age, working status and social grade within gender, and for government office region and education, to reflect the adult population of the United Kingdom.
Download