Panic buying is the public's biggest worry in the run up to Christmas
Panic-buying, shortage of gas and a lack of drivers in the UK are most likely to make Britons worry about Christmas this year according to a new Ipsos MORI poll.
Three quarters of people in the UK are worried panic buying will impact Christmas.
Over half (54%) of families are concerned they won't be able to afford Christmas this year.
At the Conservative Party Conference, the Prime Minister, Boris Johnson, attempted to reassure the public over food shortages and empty shelves in shops ahead of Christmas.   However, a  new Ipsos MORI poll finds high levels of public concern that panic buying, the energy crisis, and shortages of HGV drivers and fuel will have a negative impact on their Christmas.
After a turbulent couple of months, with shortages and both a fuel and energy crisis in full swing, we asked the nation what they worried might impact their Christmas this year.  Up top, was panic buying, with 75% of UK adults aged 16-75 stating this was something they were worried about impacting their Christmas negatively, closely followed by the energy crisis (70%).  A lack of HGV drivers to deliver food, presents and other goods was also top of mind at (68%), followed by inflation at 62%.  Six in ten people are also worried about the impact of the current fuel crisis, despite reassurances from The Government that it would return to normal within days/weeks. COVID-19 continues to play on our minds as well, with 54% of people concerned they, or someone in their household may have to self-isolate.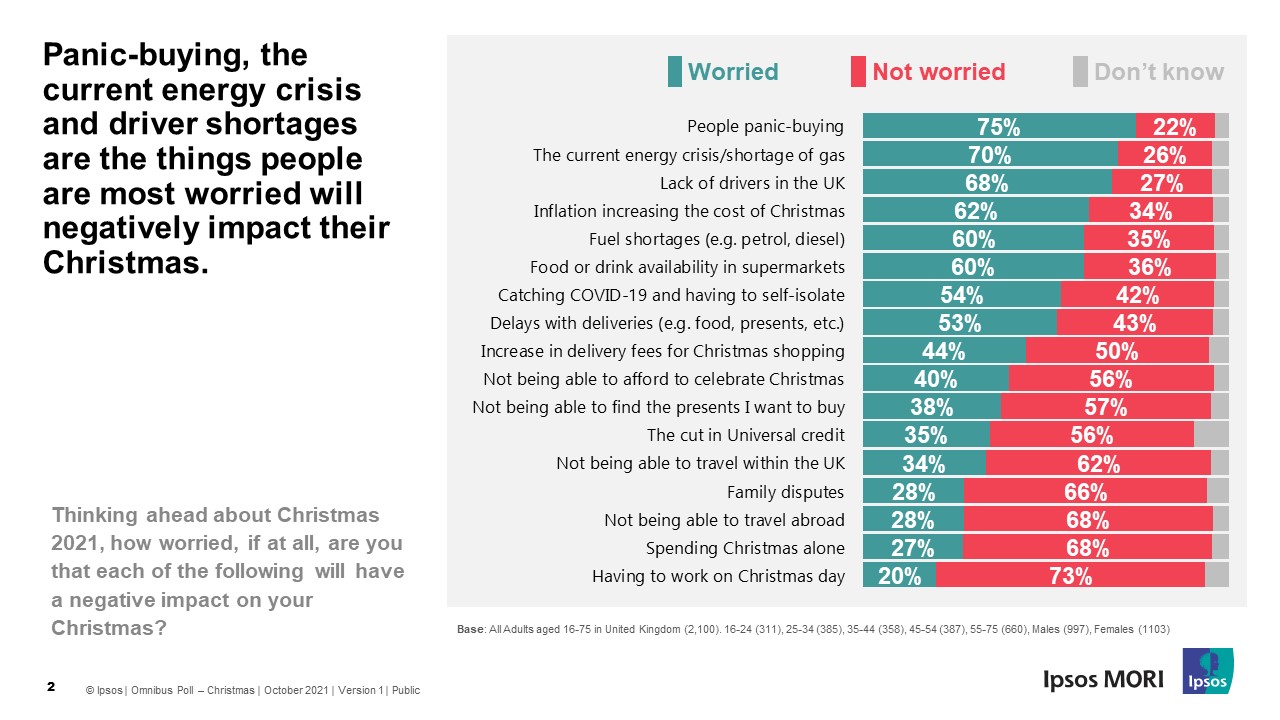 Overall women are more likely to be worried than men when it comes to potentially negative impacts on Christmas, with 66% of women saying they are concerned about food and drink shortages, compared to 55% of men.   Families are also more concerned about the impact on Christmas than those without children – seven in ten (70%) households with children are concerned about the impact of the fuel crisis on Christmas, compared with 55% of those without children.   And over half (54%) of families are worried about not being able to afford to celebrate Christmas, compared with 31% of households without children.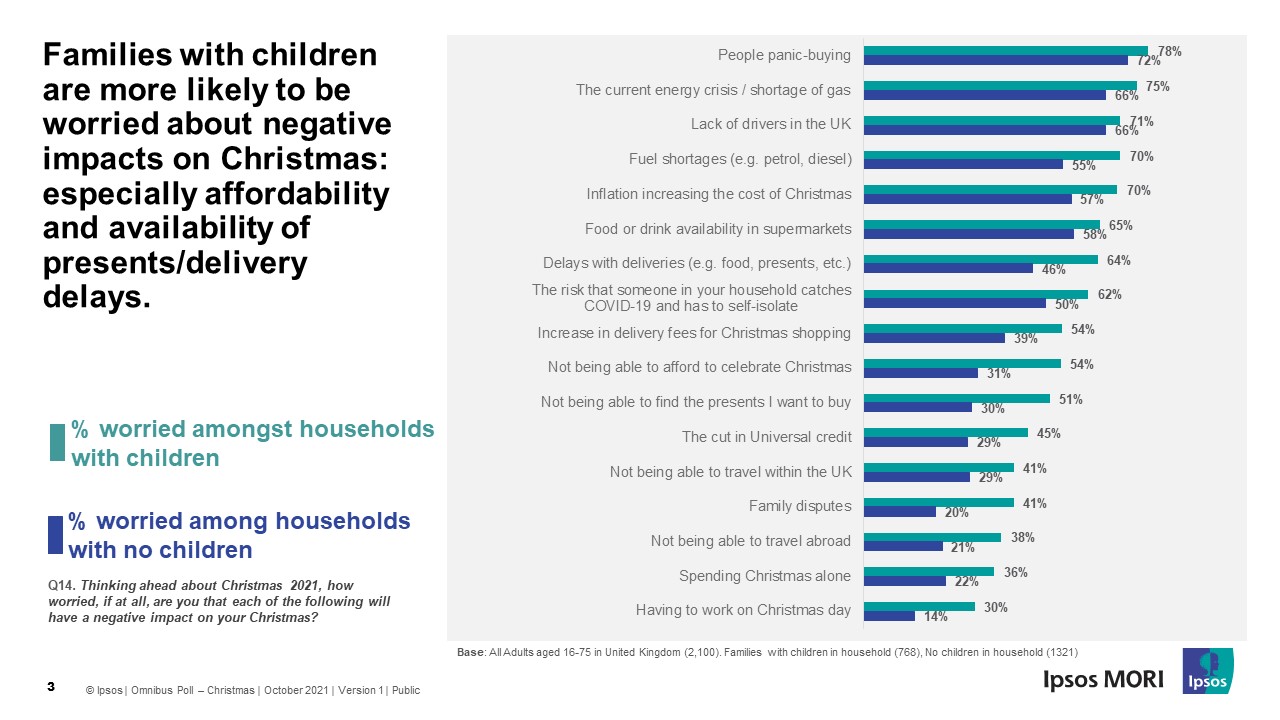 Bridget Williams, Research Director at Ipsos MORI said:
Despite recent shortages of food, drink and fuel, mince pies are already on the shelves in some supermarkets and, although a little early for some, there is no denying Christmas is on its way. While the Prime Minister has given reassurances, the majority of people are currently concerned about the impact of all these crises on Christmas this year. As well as likely shortages of food, drinks and presents to buy, there are concerns about a squeeze in household incomes with rising prices: particularly amongst women and families with children.
Technical Note
Ipsos MORI interviewed a representative sample of 2,100 adults aged 16-75 in United Kingdom using its online Ipsos Digital omnibus between 24th and 25th September 2021. The sample obtained is representative of the population by age, gender, region and working status.  The data has been weighted to the known offline population proportions for age, working status and social grade within gender, and for government office region and education, to reflect the adult population of the United Kingdom.
Download