Public: homelessness is a serious issue and is set to get worse
In a new survey by Ipsos MORI for the Centre for Homelessness Impact (CHI), almost 9 in 10 people (86%) across the UK say that homelessness is a serious problem and only 4% expect it to decrease in the next year, 6% over the next 2 years. 
Seven in ten, 71%, believe that we do not pay enough attention to the issue and there are strong levels of support for a range of policies designed to address homelessness including 73% support for a legal right to shelter for anyone who does not have somewhere to live.
Across the UK, 15% of people think that it is very or fairly likely that they could personally experience homelessness in future, but it's 26% among 16-34-year-olds.
 A quarter (26%) say they have ever experienced homelessness either personally or through family and friends. It's 34% among those aged 16-34 and even higher, 40%, among those renting from a private or social housing landlord.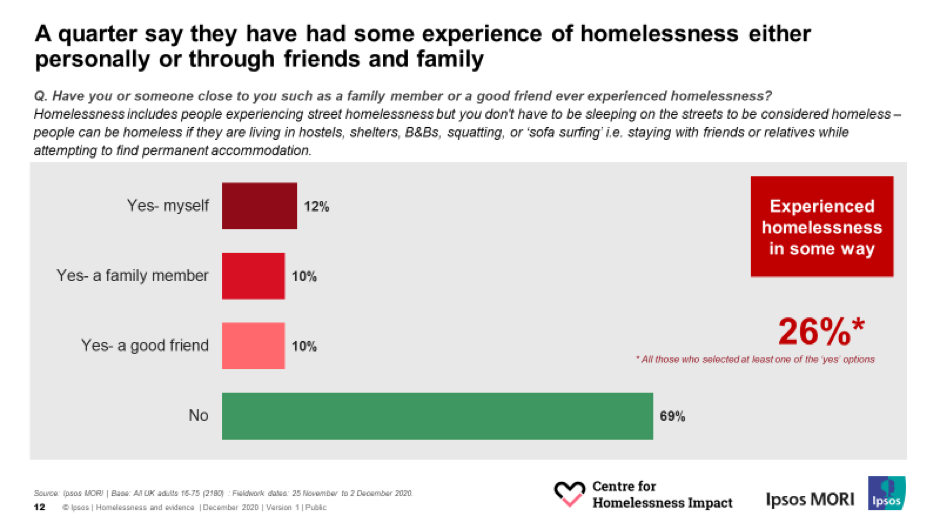 The survey was conducted to support the Centre for Homelessness Impact's End it with evidence campaign and covered the role of evidence in addressing homelessness. A majority (54%) believe that too little attention is paid to evidence and would like to see important decisions on homelessness made based upon evidence of what works (57% choose this from a list) and the views of those affected by or at risk of homelessness (54%). These feature ahead of expert's views, the cost/amount of money needed, and public opinion.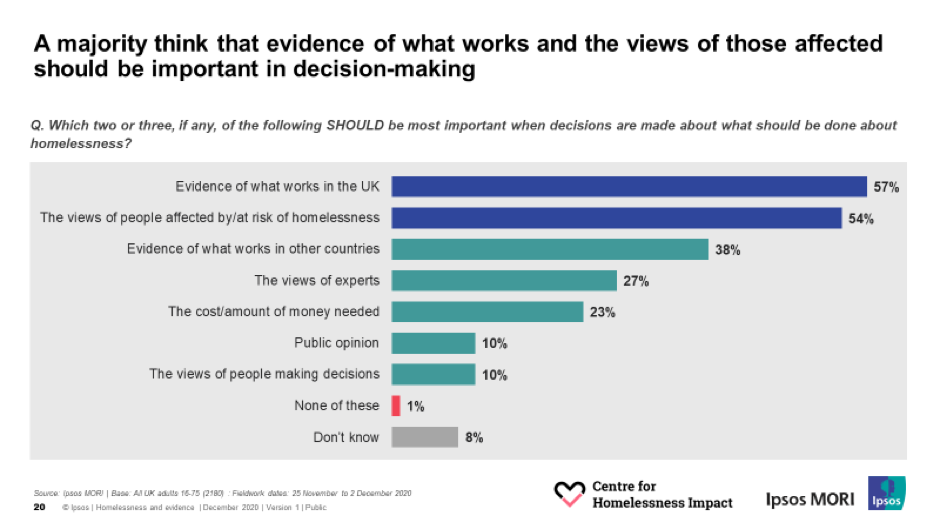 More survey data and commentary will be shared in early 2021 including findings from further questions covering public attitudes, knowledge and priorities plus analysis of differences among demographic and geographic groups of the UK population.
Technical note
Survey of 2,180 UK adults aged 16-75 conducted online between 25 November and 2 December 2020. Booster samples achieved in Wales (514), Scotland (516) and Northern Ireland (200) to add to 950 in England. 
 Data has been weighted to the known population profile at the UK level. 
Download