A Recipe for My Finances: How banks can better cater for new savers
In a world with more online sources for pasta sauces than ISAs and mortgages, why haven't financial institutions got their online presence for fledgling savers organised? Nina Gaber examines the ingredients financial services could add to their current offerings.
In 2008, I declared my financial independence. But, fresh out of university, what did I know about managing my money? For the first couple of years, I always turned to my 'financial advisor' (AKA my father). He's not really a financial advisor. He's a physiotherapist. But he did know more about finances than I did.
My father used to point out (frequently) that I ate out too much, which he claimed contributed to my financial mismanagement. I took his advice and started preparing my own meals at home; primarily to cut down my expenses, but also to stop hearing the constant complaints. And, I must say, I'm becoming quite the cook!
Thanks to endless online resources, I can find recipes, step-by-step guides and videos on how to make the perfect meal for almost any occasion. Not to mention the huge number and range of authors; from celebrity chefs to people just cooking in their kitchens. I also like to refine my searches by reading other people's experiences and ratings of recipes. Which made me think – surely, I can apply the same method to learn how to manage my finances better? I did. And it worked, to some extent. But something was missing…
A question of palate
Ipsos research has shown that younger age groups (16-34s) spend 1,457 minutes a week on their smart phones, versus 308 minutes for people aged 55 and above . Millennials are also the age cohort most comfortable using multiple sources to gather information or educate themselves on any topic of interest.
They are interested to know how other people in similar situations to themselves are managing their finances. However, having access to so much and such varied information can have its downsides. 
When it comes to managing their money, Millennials (18-34s) are hungry for relevant and above all, reliable information and support.
Ideally, the information would also be personalised to their current financial status and accounts; to help them plan and manage their finances, set financial goals, track them and get support in meeting these goals. All this conveniently at their disposal on mobile banking applications.
Ipsos conducted a study to better understand these issues and examine how different age cohorts would like to interact with their financial services providers. Eight possible mechanisms were evaluated – either currently available or feasible with current digital capabilities –and the findings unlocked some interesting patterns. My fellow Millennials were indeed more open to a wider selection of communications approaches, including goal managers, virtual bankers and tools which allow us to 'learn from the crowd'. 

Dietary requirements
The same underlying needs tend to be met in a very different way for older cohorts. They are keener on the idea of receiving a daily message each morning, summarising their financial situation; including current balance and payments in and out. This method would also be a good way of making such consumers immediately aware of suspicious transactions. What stands out to them the most is the idea of getting this information in a daily text message each morning, similar to a notification of a news alert.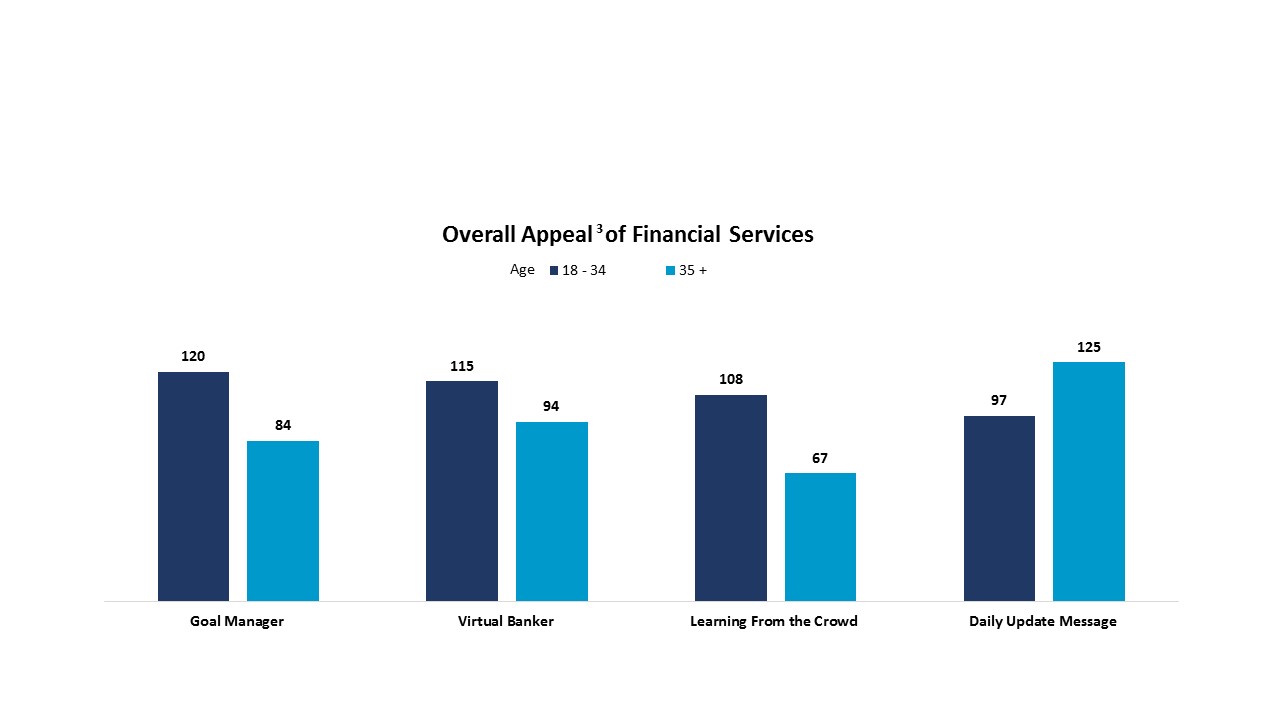 Although different age cohorts have different preferences when it comes to information and support in relations to their finances, from a broader perspective, based on our research, all adult bank account holders have three common needs: convenience, speed and transparency.
They would value easier access to personalised support, information and guidance from their providers. If this were to be available, in real time, via their banking app, the appeal would be significant. Receiving immediate alerts on anything regarding their bank accounts has widespread appeal, particularly if that included things such as unusual transactions, payments and transfers, or any changes to their accounts (such as changes in interest rates). 

Silver service and a tailored menu?
So, what does this mean for banks? 'One-size fits all' service propositions may risk failing to meet the needs of any customer groups. Taking into account not only customers' channel preferences but also the ways in which they prefer to source information and guidance could help make your offer as relevant and engaging as possible. Something that is particularly important at a time when there are FinTechs delivering some interesting innovations around engagement models. Banks should also not forget the importance of how propositions are communicated to customers; a tailored offer accompanied by a personalised message is more likely to attract attention.
When I know I need a gluten-free green pea risotto recipe, I know which website will send me the shopping list for ingredients and the step-by-step guide to make a crowd-pleasing meal. When I need help with managing my finances, I would like to know that my financial service provider will give me correct, personalised guidance to ensure my goals are met. And to spare my father – and myself – any grief. He's much better at Physiotherapy!