Public divided on Johnson – 37% favourable towards PM, 41% unfavourable.
Majority do not think Johnson is 'in touch', 'honest' or 'a Prime Minister I am proud of'.
Public think Johnson will now 'get Brexit done' but are divided over whether he will get a good trade deal, improve the NHS or improve living standards.
Party leaders
In the aftermath of the 2019 General Election, Ipsos MORI surveyed 1,138 British adults aged 18+ between Dec 13th and 16th. We asked how favourable members of the public are towards the main GB political parties and their leaders and also some detailed perception statements about Prime Minister Boris Johnson and what his new government will achieve.
Boris Johnson
Boris Johnson has the highest favourability ratings of the main party leaders in our survey. 37% are favourable towards Boris Johnson compared with just 20% for Nigel Farage, 19% for Jeremy Corbyn and 14% for former Lib Dem leader Jo Swinson.
However, despite Johnson's ratings being the best of the party leaders included in the survey he is still a figure who divides opinion. 37% are favourable towards him but 41% of Britons are unfavourable. His net favourability rating is -4, up from -14 the week before the election and -8 at the beginning of the campaign.
When asked whether a series of statements apply to Johnson, this division is made even more clear. Although 62% of Britons think Johnson 'has a lot of personality', the public are divided on whether he 'understands the problems facing Britain', 'is a capable leader' or whether he 'is going to make the country a better place'.
Meanwhile, a majority of Britons think Johnson is not 'in touch with ordinary people' (54%), not 'a Prime Minister I am proud of' (53%) and not 'an honest person' (54%).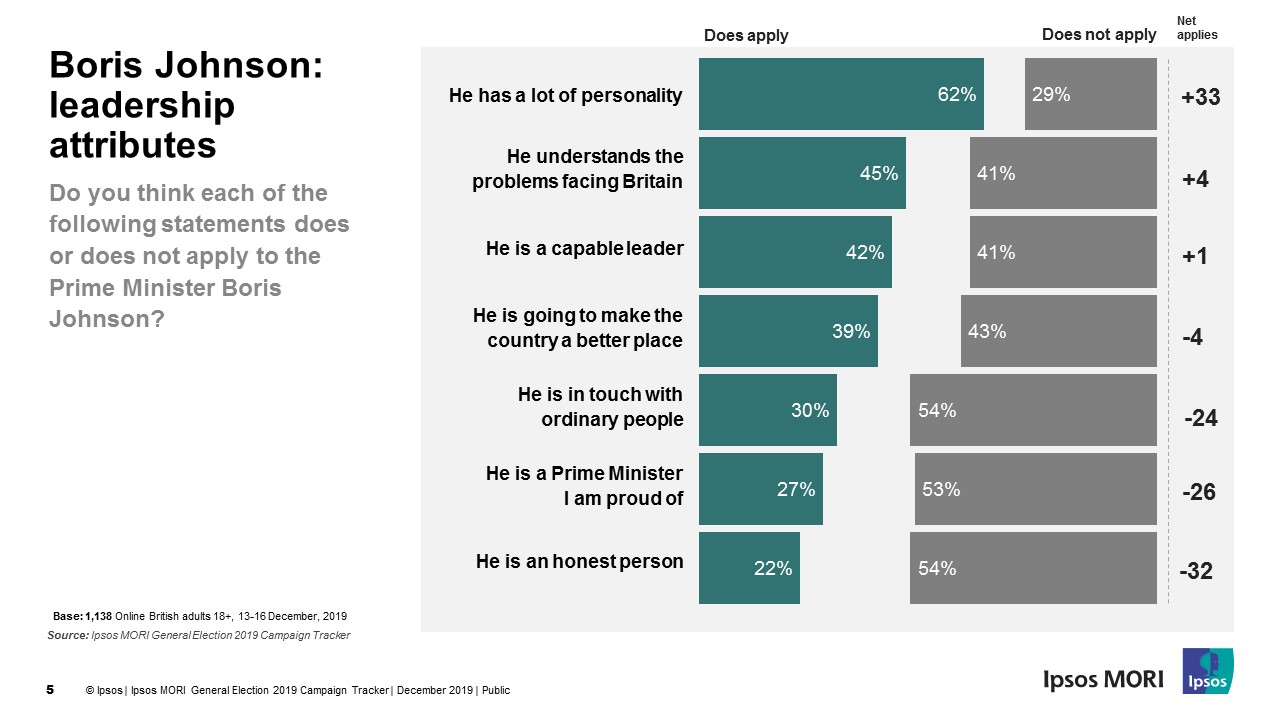 Other party leaders
However, in contrast to Johnson, just 19% of Britons are favourable towards Jeremy Corbyn, 63% unfavourable. Net -44. This net rating is slightly lower than the -39 recorded at the beginning of the campaign.
Meanwhile, just 14% are favourable towards outgoing Lib Dem leader Jo Swinson and 53% are unfavourable. Her net score of -39 is almost twice as bad as it was when the campaign started (-20).
20% are favourable towards Nigel Farage, 55% unfavourable. Net -35. Farage's net favourability rating is slightly lower than the -30 he started with at the beginning of the campaign.
Favourability towards parties  
Unsurprisingly, considering the election result, the Conservatives have the highest favourability rating of the parties included in the survey at 39% favourable, 40% unfavourable. Net -1. Having dipped during the campaign itself, the party's rating of -1 is back where it started in week one (-3).
Ratings for other parties fare much worse. Just 27% are favourable towards Labour and 54% unfavourable. Net -27. This rating is also similar to the -29 shown at the start of the campaign.
80% of those aged 65 and over are unfavourable towards the Labour Party. So too are 74% of Leave voters, 65% of those living in rural areas, 59% of those living in the south and 57% of those living in the Midlands.
19% are favourable towards the Lib Dems and 47% unfavourable, net -28. The party's net rating is down from the start of the campaign (-19).
Just 20% are favourable towards the Brexit Party. 53% unfavourable. Net -33. At the beginning of the General Election campaign this figure was -27.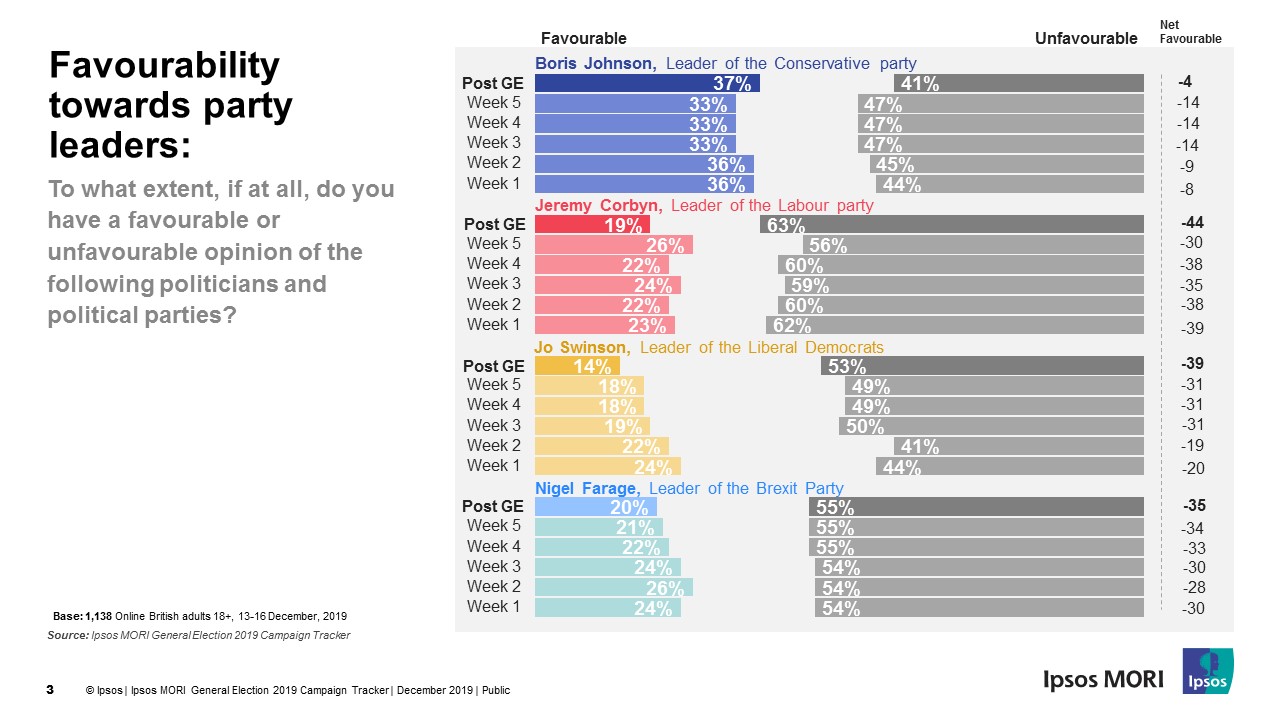 Anticipations for 2020
Britons are divided about how the result of the 2019 General Election makes them feel about 2020. 40% feel positive as a result of the election and 36% feel negative.
Men (46%) are much more likely than women (35%) to feel positive – reflecting previous research showing that men are more motivated by Brexit and likely to vote Conservative than women.
Unsurprisingly, given that we know older people and Leave voters are more likely on average to vote Conservative, both of these groups are much more positive than negative about 2020 following the election result.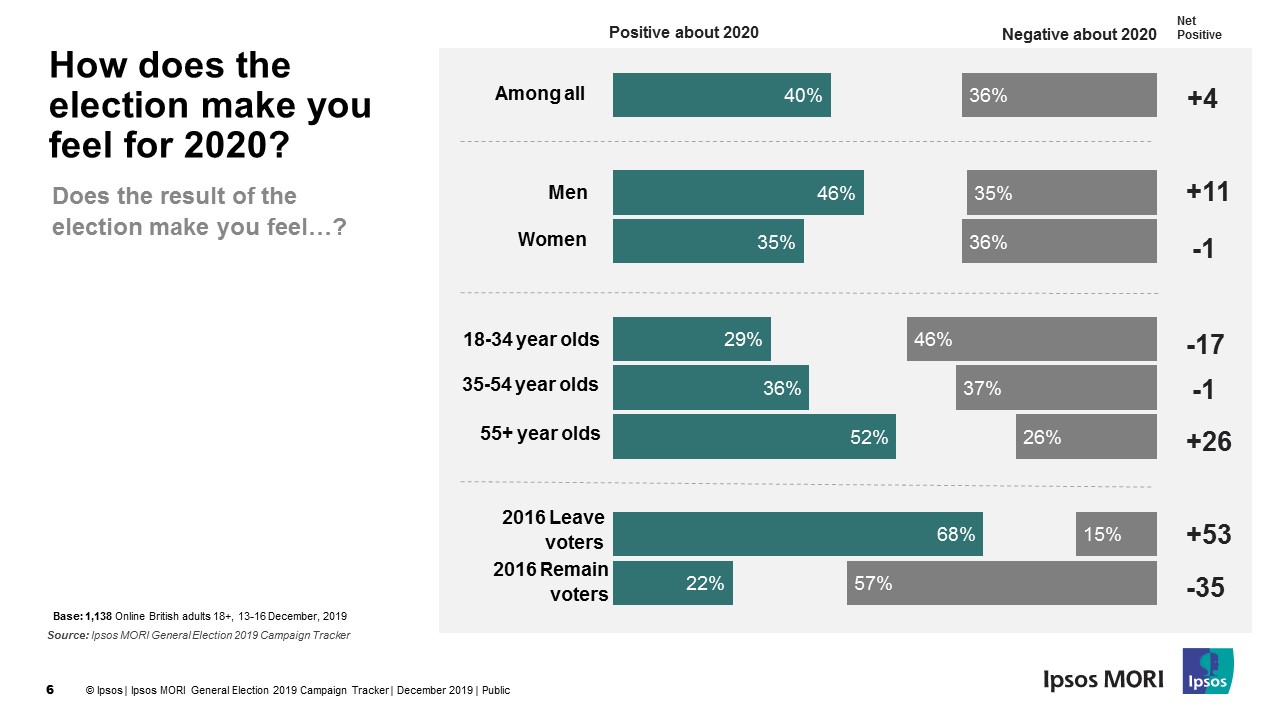 What will the new government do?
Following last week's election result, some eight in ten (81%) now expect the new government to take Britain out of the EU but the public is much more divided on whether it will get a good deal for Britain in future trade talks with the EU. 43% think it is likely the government will get a good deal and 45% think it is unlikely.
Similarly, the public is also divided on whether the new Johnson government will spend more money on public services, improve the economy or NHS or make Britons feel proud of their country.
Meanwhile, the public are also pessimistic about the prospects of the government taking positive action in other areas. 6 in 10 think it is unlikely the new government will reduce social divisions, reduce social inequality or 'improve my own standard of living'. 
Likewise, a majority of Britons think it is unlikely that the new government will improve living standards for people on low incomes (56%), reduce crime (55%) or reduce taxation (53%).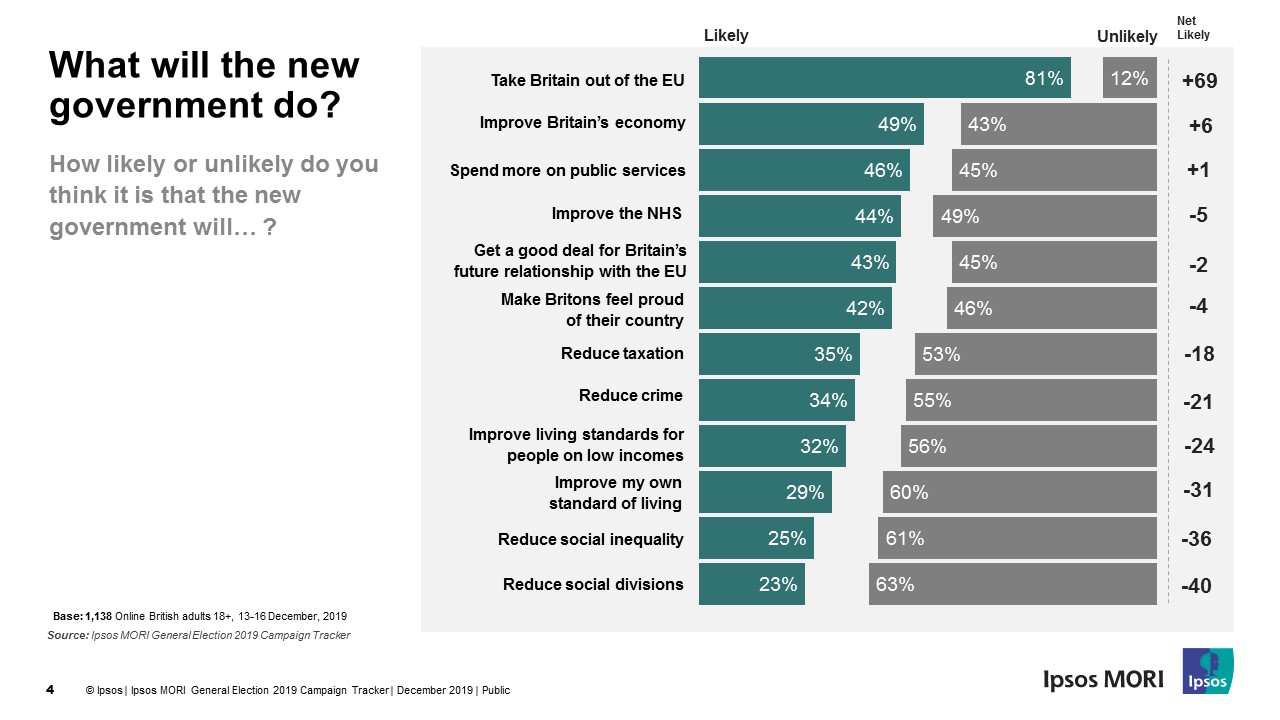 Commenting on the findings, Ipsos MORI Research Director Keiran Pedley said:
Despite Boris Johnson and the Conservatives convincingly winning the 2019 General Election it is worth pointing out that the Prime Minister is not universally popular. As many Britons are unfavourable towards Johnson as favourable, a majority see him as untrustworthy and more than half are not proud he is Prime Minister. This matters little now but could become important later in 2020. Although the public expects Brexit to now happen, the jury is out on whether Johnson will get a good deal in trade talks or whether he can deliver on other domestic priorities. If he cannot deliver, Johnson may find that the honeymoon period for his new government is a short lived one
Technical note
Ipsos MORI interviewed a representative sample of 1,138 British adults. Interviews were conducted online: 13th to the 16th December, 2019.  Data are weighted to match the profile of the population. All polls are subject to a wide range of potential sources of error.