Support for independence continues to fall as Labour narrows gap with SNP
Our latest Scottish Public Opinion Monitor for The Times shows that support for independence continues to fall
In the wake of the deal signed by Alex Salmond and David Cameron to pave the way for a referendum on Scottish independence, our latest Scottish Public Opinion Monitor for The Times shows that support for independence continues to fall.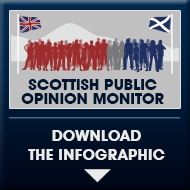 Among those certain to vote in the 2014 referendum, 30% agree that Scotland should be an independent country, down five percentage points since our last poll in June and nine points since January. Support for the Union has increased, as 58% of Scots said they would vote 'No' in the referendum, an increase of three points since June and eight points since January. Just over one in ten Scots are undecided (12%), which is up two points since June. Support for independence is highest among those living in Scotland's most deprived areas (43%), men (37%) and those aged 35-54 (35%). Conversely, women (24%), those aged 18-24 (27%) and 55+ (27%), and those living in Scotland's more affluent areas (23%) are the least likely to vote 'Yes'.
In voting intention for the Scottish Parliament, Labour has narrowed the gap with the SNP to five points. Our latest poll has the SNP on 40% among those certain to vote, down five points since
June
, and Labour on 35%, an increase of three points over the same period. This represents a ten-point swing in favour of Labour since our poll in
December 2011
.
The Conservatives remain in third place on 13%, up one point from June, with the Liberal Democrats in fourth on 8%, up two points since June.
December 2011
to +10% in our latest poll. Scottish Labour leader Johann Lamont's recent speech on universal benefits appears to have done little to boost her popularity among Scots. Just over a third are satisfied with her performance as leader (35%) while 30% are dissatisfied. This represents a net satisfaction rating of +5%, which has fallen by four points since
June
. Of particular concern will be the fact that she appears to have made little headway in raising her profile over the past few months. A third of Scots felt unable to rate her performance, the same as our poll in June found. Scottish Green Party leader Patrick Harvie is the only other leader with a positive net satisfaction score (+6%), although this has fallen by six points since June. Scottish Conservative leader Ruth Davidson's net satisfaction rating is currently -9% (down two points), while Willie Rennie, leader of the Scottish Liberal Democrats, has a net satisfaction rating of -7% (down three points).
Christopher McLean, Senior Research Executive with Ipsos MORI Scotland, said:
"Now that the process for the referendum has been agreed and the real debate can begin, this poll highlights the considerable challenges facing the 'Yes' campaign. At the turn of the year, support for independence was increasing and touching 40%. That momentum appears to have been lost and the level of support for independence has returned to its historical average. On the other hand, although the 'Better Together' campaign has a healthy lead, the poll shows that they cannot afford to be complacent, particularly given that more than one in ten Scots remain undecided."
Read the commentary on the poll from Sir Robert Worcester and Mark Diffley
Download the charts here (PDF) Download the computer tables here (PDF) Download the topline results here (PDF) Download the Infographic here (PDF)
Technical details:
Results are based on a survey of 1,003 respondents conducted by telephone
Fieldwork dates: 8th October – 15th October 2012
Data are weight by: age, sex and working status using census data; tenure using SHS data; and public-private sector employment using Scottish Government Quarterly Public Sector Employment series data
An asterisk (*) indicates a percentage of less than 0.5% but greater than 0. 
Where results do not sum to 100, this may be due to multiple responses or computer rounding. 
Where the base size is less than 30 the number (N) rather than the percentage of respondents is given. 
Results are based on all respondents (1,003) unless otherwise stated