Understanding the General Election using Neuroscience
New research published today by Ipsos MORI provides an insight into not just what people say about voting intention and support for parties / candidates, but also the conviction of these views.
New research shows difference between stated and 'emphatic' support for political parties, and leaders, highlighting potential for further shifts ahead of Election Day. 
New research published today by Ipsos MORI provides an insight into not just what people say about their voting intentions and support for a party or candidate, but also the conviction of these views.
Using a technique called Implicit Reaction Time (IRT), which measures how quickly people express an opinion, the research explores how emphatic people are in their responses regarding their views of the candidates, the political parties, and voting behaviour.
We measure whether or not a response is emphatic based on how quickly they agreed with an opinion, or chose a leader or a party, going beyond stated responses. Thirty topics relating to the general election were tested, capturing both the explicit (stated) support, and the conviction with which this stated support is held.
Following the notable narrowing of the Conservatives' lead seen in recent polls, this research gives some insight into where it all might have gone wrong for Theresa May, and indicates further changes may still lie ahead.
There is no doubt that May was well ahead before the launch of the manifestos – especially among those who voted to leave the EU. Voters saw May as a capable leader who is good in a crisis. Furthermore, both explicitly and emphatically, the Conservatives fared better on some of the key issues in the election, being seen as having the best policies in relation to defence and security, Brexit, the economy, immigration and taxation. In contrast, the Labour Party was considered to hold the best policies for housing, welfare and benefits, and the NHS – but only by small margins.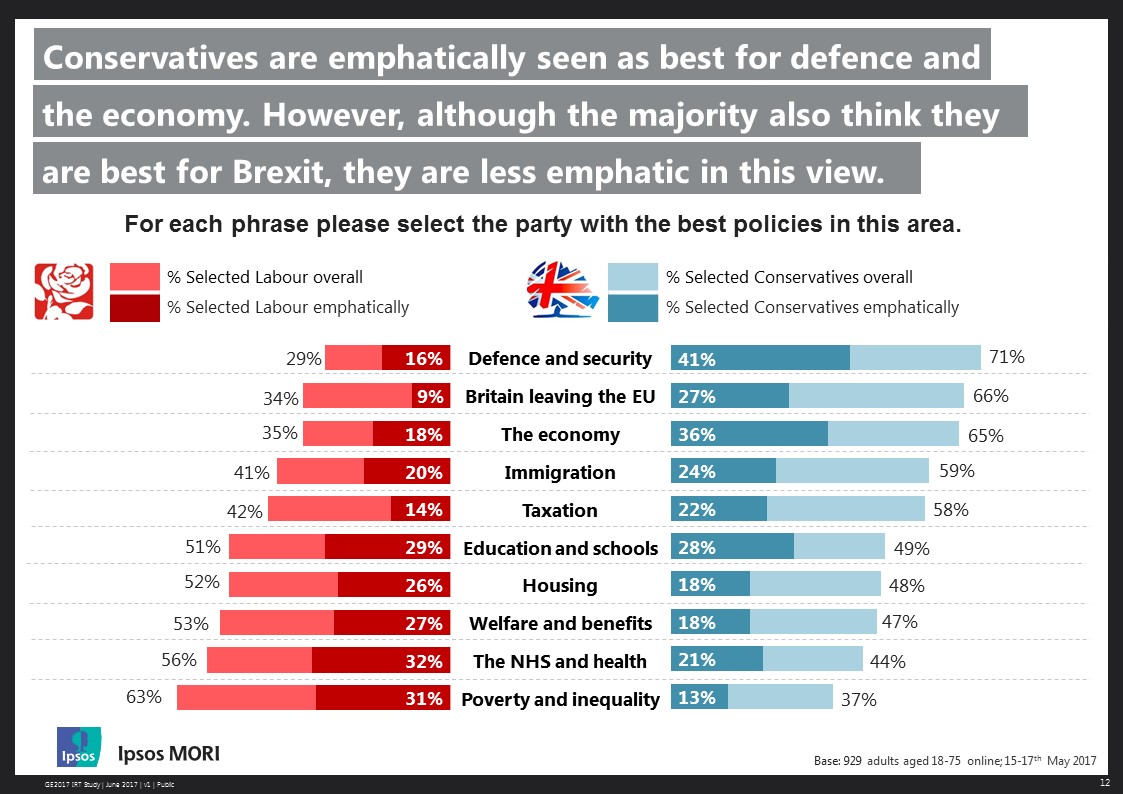 However, the study also shows that even when well ahead on the 'topline', the 'true believers' only make up a much smaller proportion of that. For May, the biggest gaps between explicit and emphatic support relate to being in touch with ordinary people, patriotic and honest, while big gaps are evident in the belief that the Tories have the best policies on taxation, and poverty and inequality. This suggests that, not surprisingly, while May and her party had a significant lead at the beginning of the campaign on the fundamentals, this was not as solid as may have first appeared, leaving scope for it to change during the campaign.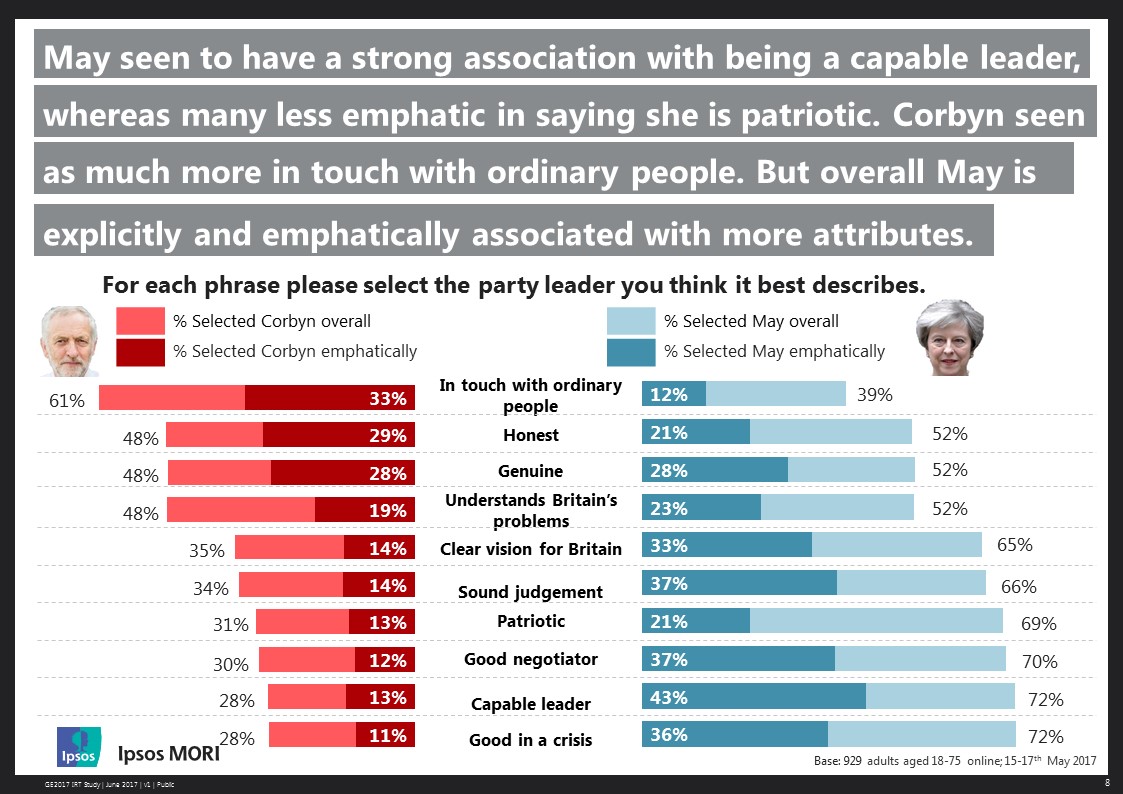 On the other hand, these findings also point to potential weakness for Labour too, despite the surge suggested by recent polls. This data suggests Labour's support could be just as soft as that of May and the Conservatives. Corbyn was rated best by 18-34 year-old voters, a group that is less emphatically certain to vote than those aged 55+. Likewise, the biggest gaps between topline and 'true believers' for Corbyn come on having a clear vision for Britain and understanding Britain's problems, while voters demonstrate only soft support for Labour's policies on Brexit and taxation.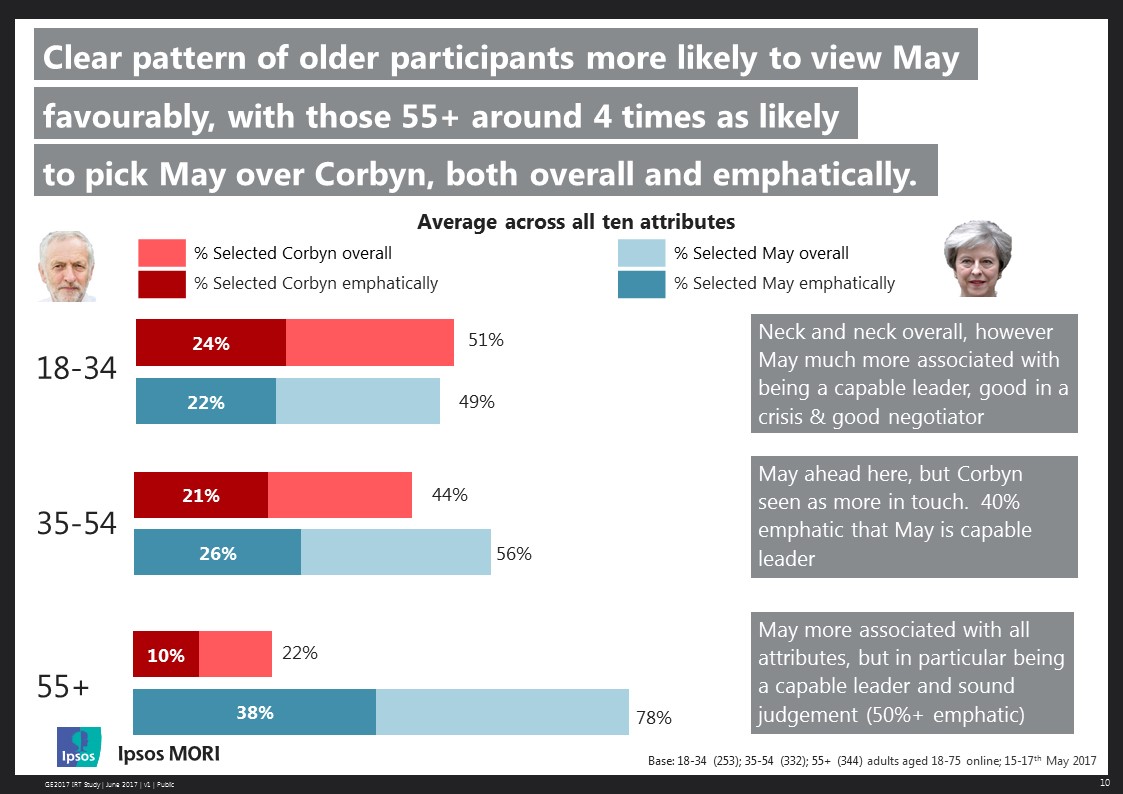 And one last thing - it is going to be just as hard for pollsters as ever, with some clear gaps on intention to vote, especially amongst younger people. Voters aged 55+ are significantly more likely to say, both explicitly and emphatically, that they are certain to vote in this election, which could be key, given that younger voters are more likely to hold strong positive associations with Labour: on almost all areas.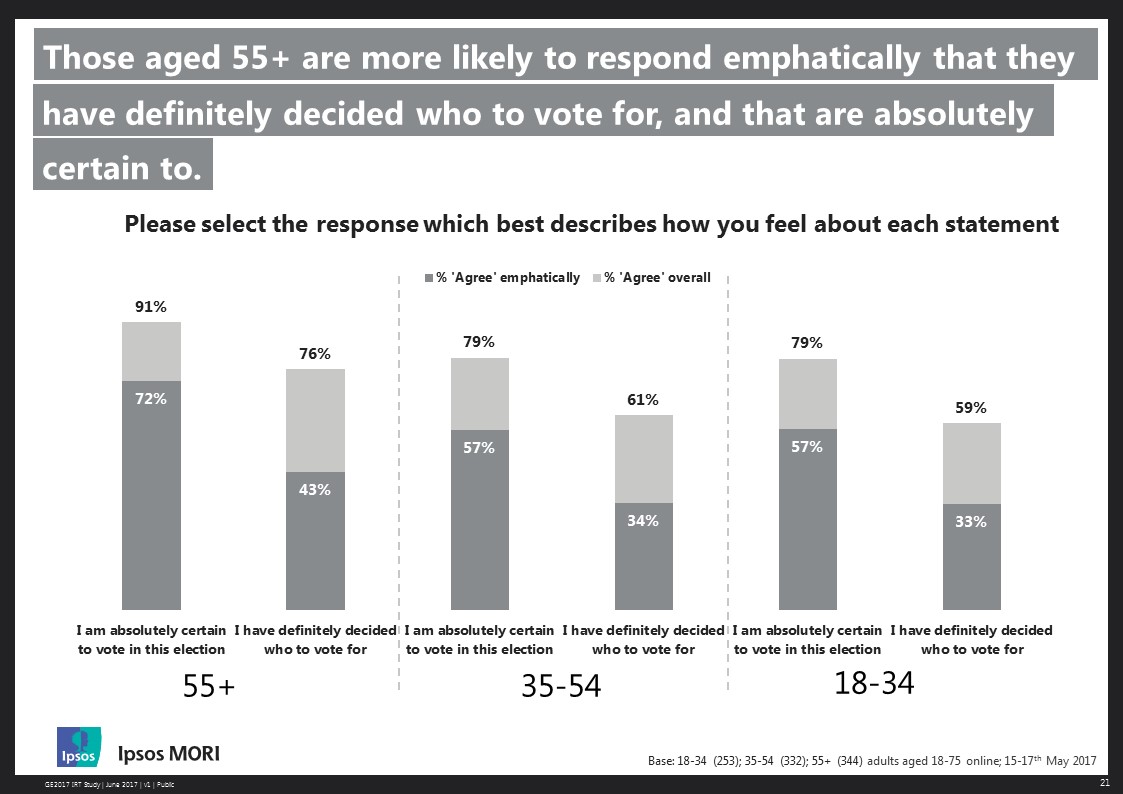 Technical note
In partnership with NEUROHM, Ipsos MORI conducted an IRT module among 929 adults aged 18-75 online between 15th-17th May 2017, testing strength of feeling towards party leaders, the parties, and voting in general. For further technical details, please refer to report published on the Ipsos MORI website.
In the first scenario, respondents were asked whether they associated each phrase with either Jeremy Corbyn, or Theresa May:
Capable leader
Clear vision for Britain
Genuine
Good in a crisis
Good negotiator
Honest
In touch with ordinary people
Patriotic
Sound judgement
Understands Britain's problems
In the second scenario, respondents were asked which party has the best policies on:
Defence and security
Britain leaving the EU
The economy
Immigration
Taxation
Education and schools
Housing
Welfare and benefits
The NHS and health
Poverty and inequality
In the third scenario, respondents were asked to answer 'Agree' or 'Disagree' to the following statements:
I am a strong supporter of a political party
I would consider voting tactically
Voting should be compulsory
I have definitely decided who to vote for
I always vote in elections
The election result is very important to me
Every vote counts
I voted in the 2015 general election
I am absolutely certain to vote in this election
I am registered to vote