What are the reputational and regulatory risks for businesses that automate?
Evidence from our Key Influencer and General Public surveys shows that MPs and their constituents are at odds over automation — with diverging views on the desirability of 'minimum human quotas' or an 'automation tax'.
The Fourth Industrial Revolution is well underway. Automating work – replacing human workers with robots, machine learning algorithms, and artificial intelligence – is a phenomenon currently sweeping through every industry in the world, and is transforming the global economy and labour market. 

Debate rages over the impact of automation, with various studies suggesting that the proportion of jobs that could be lost in the OECD ranges from 9% to 57%. In the UK, PwC estimate that three-in-ten (30%) jobs are at high risk of being automated out of existence by the early 2030s. The Bank of England has put that figure at 35%. A landmark MIT study found that automation in the US between 1993 and 2007 had no positive impact on employment, leading only to job losses, and although The IPPR Commission on Economic Justice argues that automation will not lead to job losses, it also believes that automation will transform work and – without careful management – will have an outsized negative impact on the poorest. 

The potential positives for society are staggering – in terms of improving productivity and quality of life – but so are the reputational and regulatory risks to businesses that automate. Evidence from our Key Influencer Tracking (regular research among influential audiences such as Parliamentarians and business journalists) and research among the general public shows that MPs and their constituents are at odds over automation, creating a tension which could rise to the surface should automation lead to net job losses.

What they do agree on is that automation will cost more jobs than it creates. Almost half of MPs and over half of the public think more jobs will be lost than gained in the next 15 years. Both groups also distrust the very aspect of artificial intelligence and machine learning which will make this wave of automation unique – decision-making power. Roughly half of MPs are uncomfortable with artificial intelligence making decisions that affect peoples' lives, and over half of the public would not be comfortable with artificial intelligence making decisions that affect them personally.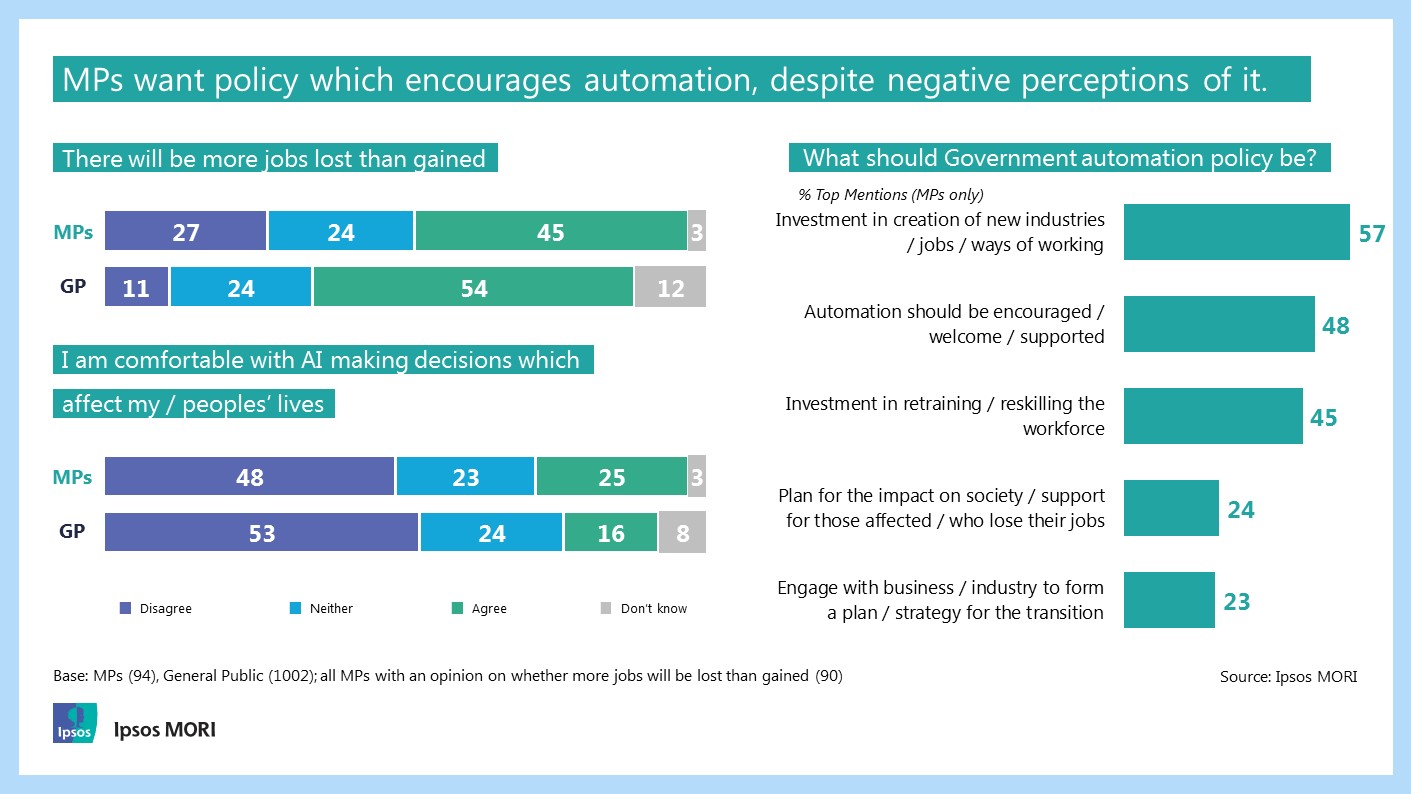 MPs nevertheless support forging ahead – almost nine-in-ten (89%) think businesses should continue to automate work. They believe that the Government should respond by investing in new industries (57%) and helping to reskill the British workforce (45%). Only 4% want the Government to regulate, and a majority (53%) would oppose an 'automation tax'. 

In contrast, over two-in-five (44%) members of the public support an 'automation tax' on businesses which automate a large proportion of work, and half (50%) support 'human quotas' – a minimum number of human workers all businesses would need to employ. The public are at odds with MPs, believing that rather than tack into the wind the Government should regulate, making it difficult for businesses to automate their production processes or service delivery.
Should automation indeed cause more jobs to be lost than created, growth in unemployment and underemployment is likely to drive an increase in public concern about the impact of new technologies, pushing negative sentiment about automation to the surface. The same can be said if no jobs are lost but automation exacerbates inequality by disproportionately harming the poorest in society. Businesses that automate could face a backlash, and upwards pressure on Parliament from the public may lead to more MPs supporting regulation to curb automation. Some key MPs are particularly susceptible to such upwards pressure – for example, the think-tank Future Advocacy believes that Shadow Chancellor John McDonnell's constituency could see nearly 40% of jobs automated by the 2030s.

Businesses that automate will gain a competitive edge in their industry, and the commercial rewards for doing so could be enormous. But the reputational and regulatory risks are significant too, and could undermine those gains. For such businesses, managing reputations through the Fourth Industrial Revolution will be key to reaping its benefits.