What do the public consider acceptable and unacceptable at Christmas?
Avoiding turkey and returning presents is fine but Britons are less accepting of leaving decorations up or not reciprocating gifts
As we approach the holiday season, new research by Ipsos MORI shows what behaviours are deemed acceptable, or not, during the festivities.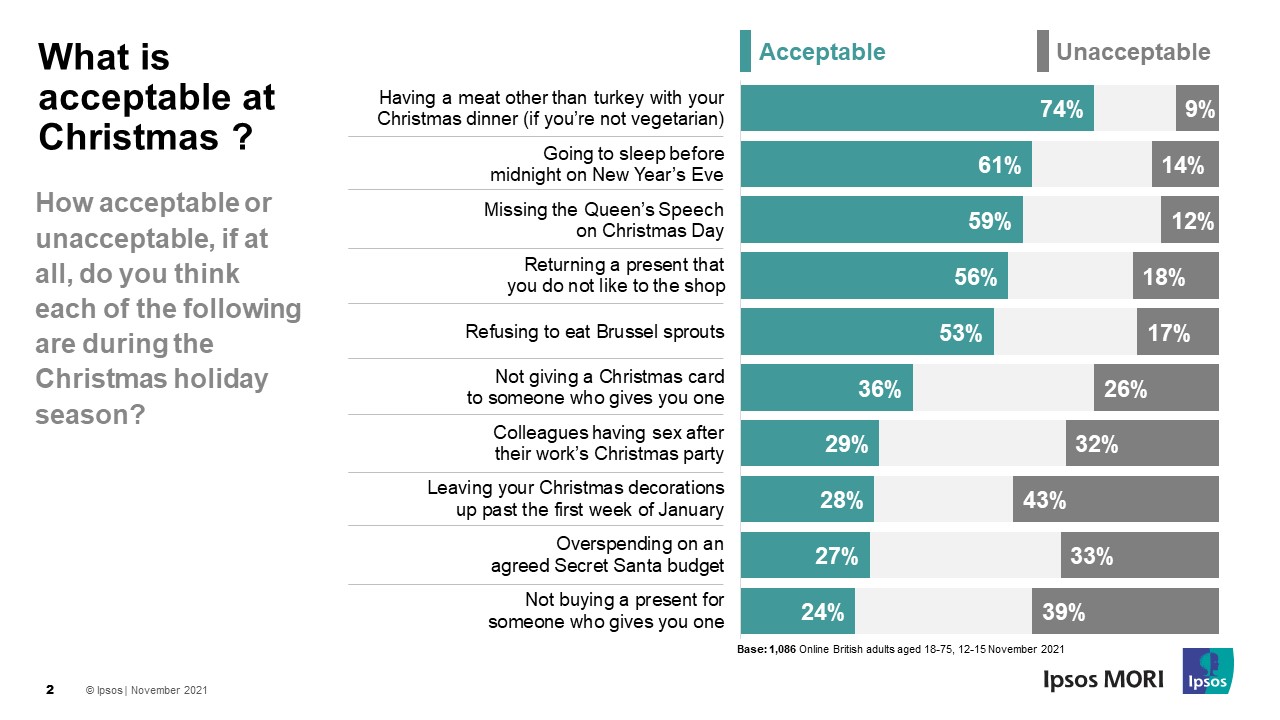 Of the behaviours listed, leaving Christmas decorations up past the first week of January is most likely to be deemed unacceptable, 43% say this should not happen while 28% would be fine with it. 
Britons are not happy with unreciprocated presents. Four in 10 (39%) say it is unacceptable to not give a present to someone who has given you one. However, a majority are fine with people returning presents they don't like to the shop, 56% say this is acceptable compared to under 1 in 5 who disagree (18%). Opinion is split when it comes to overspending on an agreed Secret Santa budget. A third (33%) say this is unacceptable while a similar proportion (27%) disagree. 
Considering Christmas dinner, few Britons are concerned about sticking to the traditional components. Three-quarters (74%) say it is acceptable to have a meat other than turkey (if they're not vegetarian). Only 1 in 10 (9%) say this is not ok. A majority are happy for people to refuse potentially the more controversial part of the meal, the Brussel sprout. Fifty-three per cent say it's acceptable to refuse to eat them but 1 in 5 (17%) believe they should be eaten. 
People also seem to be unconcerned about another British Christmas tradition, the Queen's speech. Six in 10 (59%) deem it acceptable to miss the Queen's Christmas Day speech while just 12% disagree. Remain (68%) and Labour voters (64%) are more likely to deem this acceptable than Leave voters (52%) or Conservatives (53%) – though majorities of each of these groups think this is ok.
Opinions are split among Britons as to whether it is acceptable for colleagues to have sex after their work's Christmas party. Three in 10 (29%) say this is acceptable while around a third (32%) think it is not. Men are significantly more likely to say this is acceptable than women, 39% compared to just 19%. Younger Britons are also more likely to support this, 45% of 18-34s say it is fine compared to only 29% of 35-54s and 12% of 55-75s.
Looking to New Year's Eve, 6 in 10 (61%) say it is fine to go to bed before midnight while only 14% say people should stay awake to see the New Year in. 
Too soon or too late?
Every year, Christmas decorations seem to pop up in shops and on houses earlier and earlier, but when do Britons think is the right time to start getting ready for Christmas? 
According to this research, certain things should be left until the first week of December. This is the most popular week amongst Britons for putting up the Christmas tree and decorations (34%), sending Christmas cards (36%), watching Christmas films (28%) and listening to Christmas songs/carols (34%).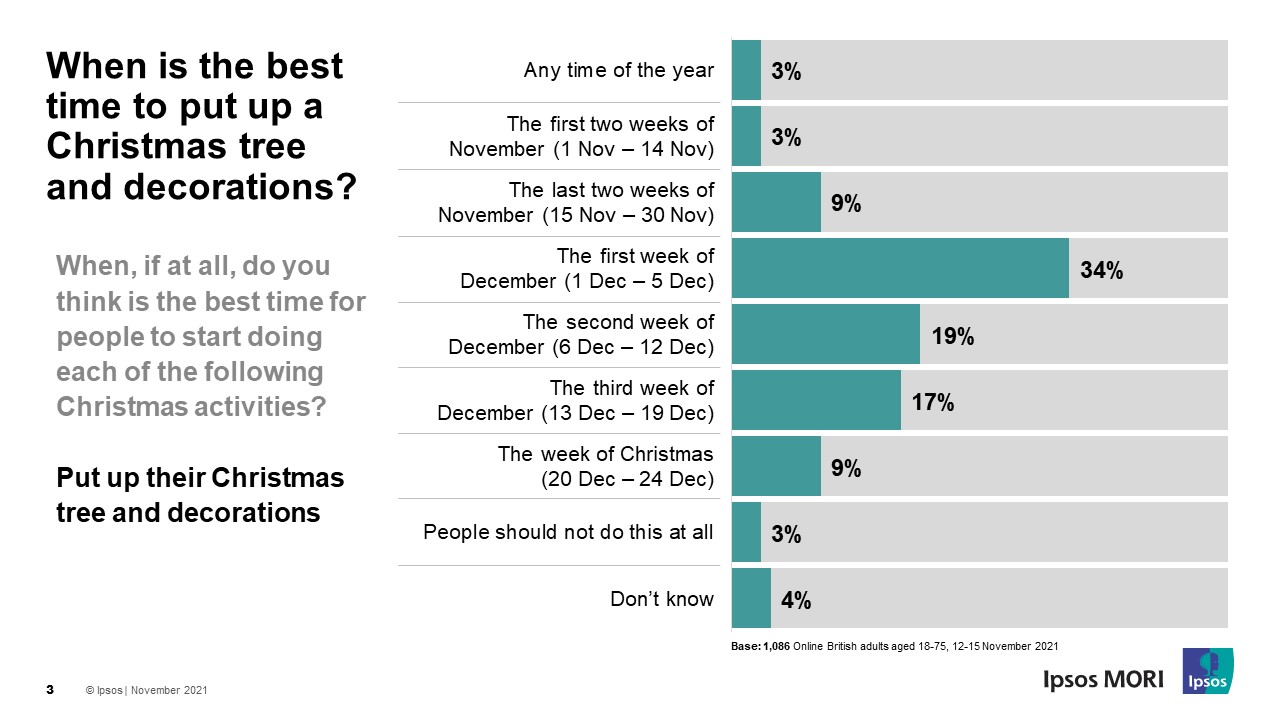 However, not everything needs to happen that week. Four in 10 (40%) Britons think people should be buying presents at any time of the year. A third say Christmas jumpers/clothes should not be put on before the week of Christmas itself, however 1 in 10 (11%) say this should not be done at all.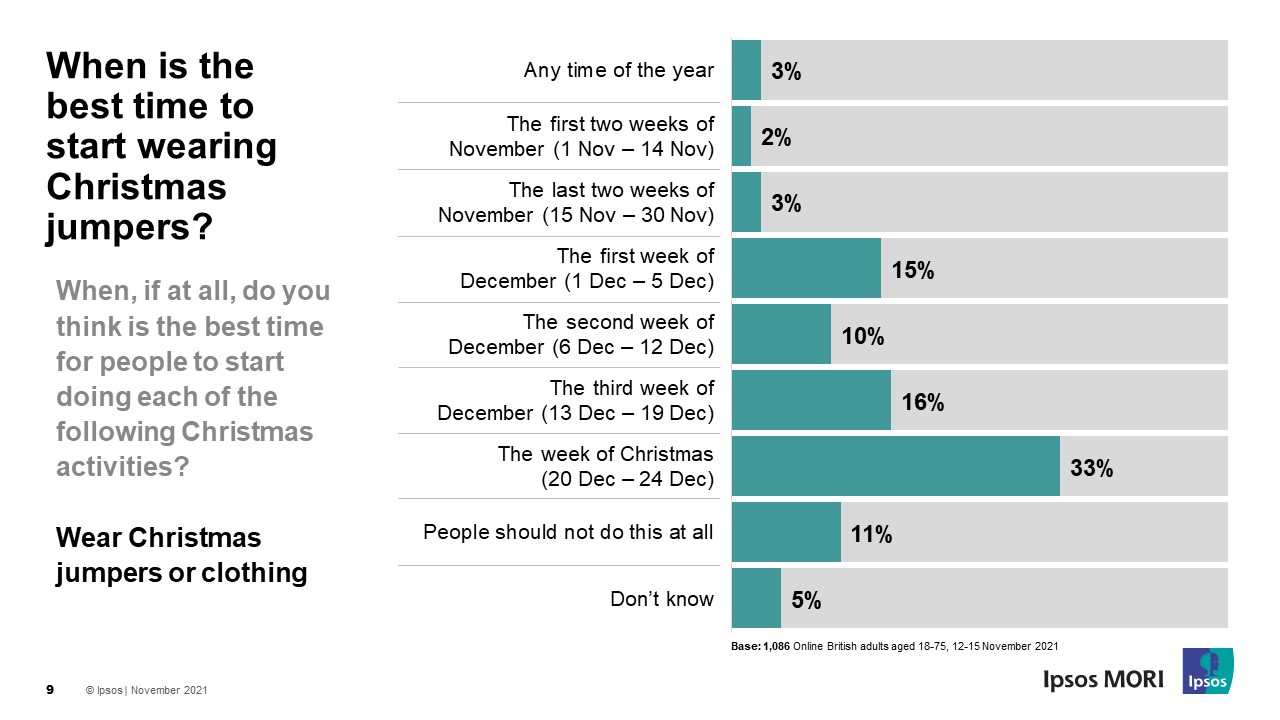 Keiran Pedley, Research Direcor at Ipsos MORI, said:
The public are getting ready for Christmas, with one in three Britons thinking it's acceptable to put the tree up next week. Whilst relaxed about certain Christmas traditions, like the Turkey dinner or Queen's speech, the public are less impressed by those that do not reciprocate gifts and those that leave decorations up into January. Not everyone is ready for the Christmas spirit though – spare a thought for the one in ten who think it is never acceptable to wear a Christmas jumper!
Technical note:
Ipsos MORI interviewed a representative sample of 1,086 Britons aged 18-75 Interviews were conducted online between the 12th and 15th November, 2021. Data are weighted to match the profile of the population. All polls are subject to a wide range of potential sources of error.
 
Download