Thinking Outside the Box, Bag and Wrapper
Why now is the moment for sustainable packaging in Japan.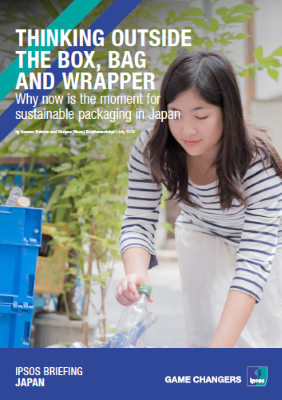 Although Japanese citizens are highly aware of the threats of climate change, we do not see the same levels of environmental concern relating to the problem of packaging waste. But this looks to be changing, giving brands the opportunity to meet a need for sustainable products in the market. Ipsos research finds that the Japanese consumer is less likely than the average citizen around the to be willing to take personal action on tackling packaging waste. This briefing paper shows that this is not due to a cold indifference towards the issue, but a lack of options. And further evidence shows that Japanese individuals do take responsibility for managing excess packaging.
The brands who act first to fill this gap and will be those who benefit the most – not just in sales but in brand equity. Helping consumers to feel that they are "doing the right thing" will be well received, and Japanese will likely respond with diligence and commitment. Rather than waiting to react, the brands who pre-empt both the emerging consumer expectations and stricter regulations on packaging and waste will gain competitive advantage.
We share four strategies for maximizing the value of sustainable packaging:
Educate and empower consumers with positivity
Internalise sustainability
Shout about it
Make it shareable