The growth in users of streaming media platforms continues to disrupt. In the second quarter of 2018, Netflix reached 130 million streaming subscribers worldwide. Meanwhile, Amazon's Prime service remains one of the most popular video-streaming service, succeeding Netflix and YouTube.
In line with the growth worldwide, SVOD services are also on the rise in MENA. Although barriers to using these platforms involve the cost and availability of content for free, paying for content is becoming widely accepted in throughout the region: nearly two thirds of internet users have paid to use any platform in 2017. Growth is set to continue as operators customize content and offerings with new titles coming on stream in Arabic.
Within this dynamic and disruptive environment, content platforms, business models, customers' habits are in constant change. SVOD platforms provide easy access and encourage "binge watching" more than one episode of their favorite show in one sitting, at the expense of other often advertising funded media. We found that 28% of internet users in KSA, Egypt and UAE are binge-watching daily, which converts to a potential daily audience of around 9 million adults!
For that reason, to better understand the customers who are the key components of this equation, we have been tracking market trends via the "SVOD Deep Dive" study in MENA since December 2015.
The study tracks the consumption habits, attitudes and behaviors of online users as well as their brand perceptions of the online platforms.
In an increasingly competitive market, to stay ahead it is important for content producers & service providers to understand what works for the MENA region. In this respect, "SVOD Deep Dive Study" will be an essential source to understand the MENA SVOD market and define business strategies.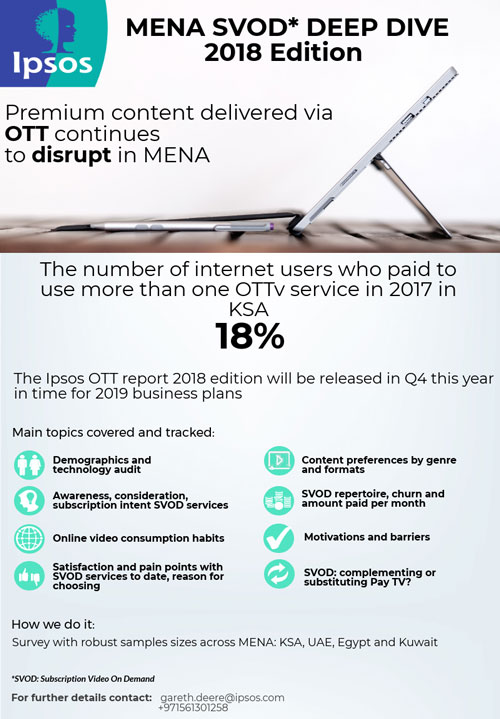 Download