Adelaide's Central and Hills and NSW's Murray top the most liveable metropolitan and regional locations
2020 has been a year when COVID-19 has wrought unprecedented disruption upon Australians' way of life.
Against the backdrop of business closures, layoffs, working from home and social distancing, the Ipsos Issues Monitor has tracked steep increases in Australians' concern about the economy and unemployment (see Figure 1). Concern about healthcare peaked in April and again in August, following the rollercoaster of new outbreaks and extended lockdowns.


An Ipsos poll conducted in July found that 34% of Australians believed their own personal financial circumstances would get worse over the next 12 months, compared to 23% who believed they would get better. This net negative score of 11% was a vast improvement on March, when the negative outlook outweighed the positive by a whopping 28%.
Amidst all this upheaval, most of us have all been spending more time than ever in our homes and neighbourhoods. Which makes it an interesting time to look at how Australians feel about their local areas.
We surveyed 14,000 Australians for our annual Life in Australia study during July 2020. Participants were asked to select the top five attributes that they believe makes somewhere a good place to live. We also asked them to rate how well their local area performed on across 16 liveability attributes. We've done this every year since 2016.
Interestingly, despite the rapid evolution in our lifestyles and clear impact of the pandemic on our concerns, the attributes that we feel are most important in our local areas are stable when compared to 2019. Feeling safe, affordable decent housing and high-quality health services remain the three most important attributes in both metropolitan and regional locations (see Figures 2 and 3).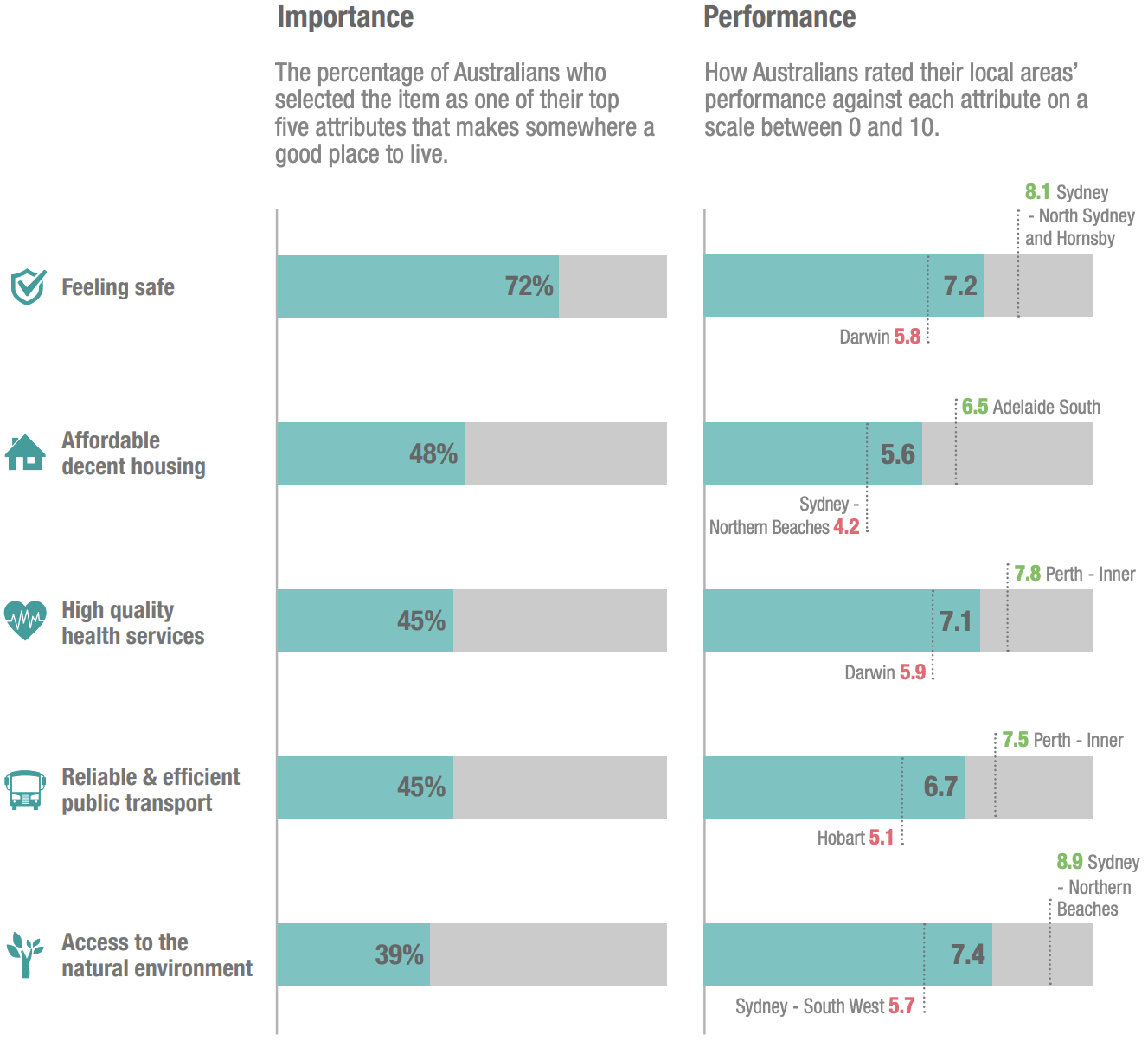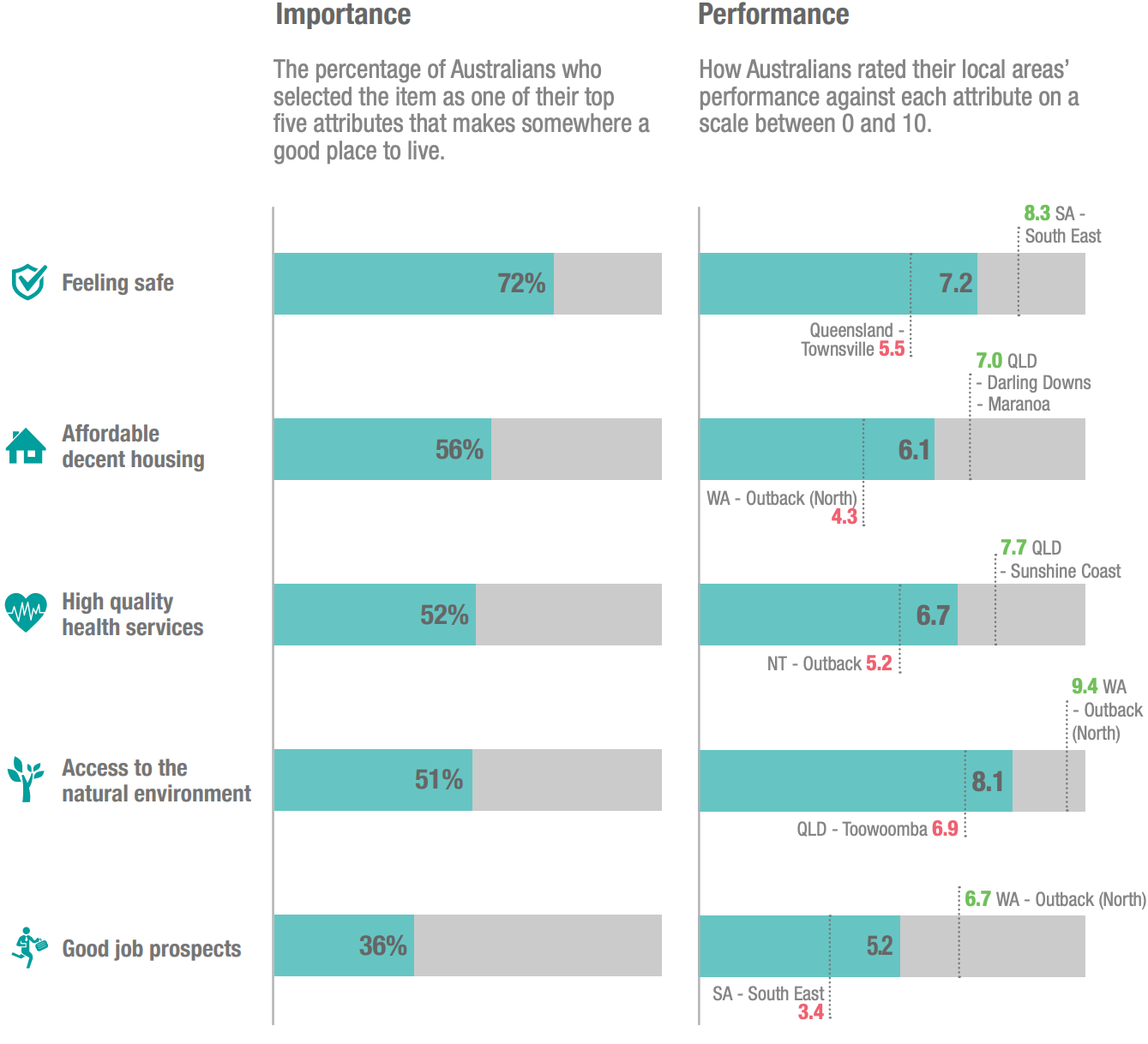 And despite the fact that many Australians will have been looking for opportunities to spend time socially distancing in the outdoors, the importance of access to the natural environment was also very stable compared to 2019. It remains the fifth most important attribute in metropolitan locations and the fourth most important in regional locations.
All of this is not to say that the changes brought about by the pandemic haven't impacted where some people want to live. Domain, for example, has recently reported spikes in searches for properties in regional areas.
However, it is interesting to note that factors that make somewhere a good place to live remain unchanged even as our lifestyles have been turned upside down by COVID-19.
Most liveable metropolitan locations
This year, the most liveable metropolitan location in the country based on Ipsos's 'Liveability Index' was Adelaide (Central and Hills) with a ranking of 71.5. It was the only metropolitan location in the country that rated above average across all 16 liveability metrics and was the only Adelaide location in the top 10 most liveable metropolitan locations. 
Sydney dominated the 10 most liveable metropolitan locations with four entrants (Sutherland (2), City and Inner South (6), North Sydney and Hornsby (7) and Northern Beaches (8)). Perth and Brisbane both had two locations in the top 10 (Perth – Inner (3), Perth – Northwest (9) / Brisbane – Inner City (5), Brisbane – West (10) and Melbourne had one (Inner South (4).

Most liveable regional locations
The most liveable regional location was the Murray region in NSW with a ranking of 70.4. It rated above average compared to other regional locations for every metric except for access to the natural environment.
South East Queensland was heavily represented in the 10 most liveable regional areas, with the Gold Coast (3), Sunshine Coast (5), Moreton Bay South (8) and Toowoomba (9) making the list. Three Victorian locations made the top 10 (Warrnambool and South West (2), Ballarat (6) and Hume (7), along with two NSW locations (Murray (1) and Newcastle and Lake Macquarie (4)), and the Wheat Belt in Western Australia rounding out the top 10.