Features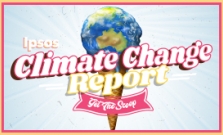 Discover The Ipsos Climate Change Report
The Ipsos Climate Change Report report provides the findings of the annual climate change research conducted in Australia by Ipsos Social Research Institute.
The #Hayne #RoyalCommission has left #Australians feeling disillusioned with the corporate ethics of the #finance a… https://t.co/HZ1lubwFSz
7:00 AM - 17 August 2018
At Ipsos, we are passionately curious about people, markets, brands and society.
We make our changing world easier and faster
to navigate and inspire clients to make smarter decisions.