Australians rank their most important Sustainable Development Goals
Health and wellbeing, zero hunger and clean water the most important United Nations Sustainable Development Goals for Australians – Ipsos study
Half of Australians (51%) are aware of the United Nation's Sustainable Development Goals (SDGs)
One-in-six Australians believe they are familiar with the SDGs (16%)
Good Health and Wellbeing (85%); Zero Hunger (85%); and Clean Water and Sanitation (84%) are considered the most important SDGs by Australians
To coincide with the Sustainable Development Impact Summit held late last month at the 2019 World Economic Forum in New York, Ipsos surveyed people across the world about the United Nations Sustainable Development Goals (SDGs).
Globally, three-in-four (74%) adults are aware of the SDGs and a quarter (26%) consider themselves familiar (very or somewhat) with the SDGs. In Australia, there is less awareness with half of Australians (51%) advising they are aware of the goals, and 16% considering themselves familiar with the SDGs.
Respondents were asked how important each of the SDGs were to them. Australians consider 'ensuring healthy lives and promoting wellbeing for all at all ages' and 'ending hunger, achieving food security and improved nutrition, and promoting sustainable agriculture' as the most important SDGs (85% very or somewhat important for both). This was followed by 'ensuring availability and sustainable management of water and sanitation for all' (84%: important). These SDGs were also regarded as the top three most important goals globally (84%, 85% and 84% respectively).
There are 17 Sustainable Development Goals established and adopted by the member states of the United Nations in 2015. The SDGs form a framework for governments and NGOs to develop policies that advance peace and prosperity across the world and make sure we leave a better planet for future generations.
The Goals cover health & wellbeing, economic, environmental and educational topics. These include ending poverty and hunger, improving access to education and healthcare, addressing inequalities, and climate action. The UN considers the SDGs "an urgent call for action by all countries – developed and developing – in a global partnership".
Commenting on the findings, Jennifer Brook, Director, Ipsos Australia Social Research Institute, said: "Despite Australians regarding the Sustainable Development Goals as important objectives in making sure we leave a better planet for future generations, there is limited awareness of the Goals. Australians acknowledge we aren't very familiar with these goals.
"Australians place most importance on the SDGs that are related to humanitarian aspects of development: identifying good health and wellbeing; zero hunger; and clean water and sanitation as the most important of the goals.
"Since collecting the data, Australia has seen one of the largest ever protest events in our nation's history take place in September's global climate strike where around 300,000 people attended rallies across the country. Although the SDG of climate action is considered important by three quarters of Australians, it will be interesting to see whether more of us would place importance on this goal in the future.
"Increasing public awareness of the SDGs both here in Australia and across the world will help facilitate the large-scale global change which is required in order to shift the world onto a more sustainable and resilient path and tackle the vast challenges of eradicating poverty and improving the natural environment."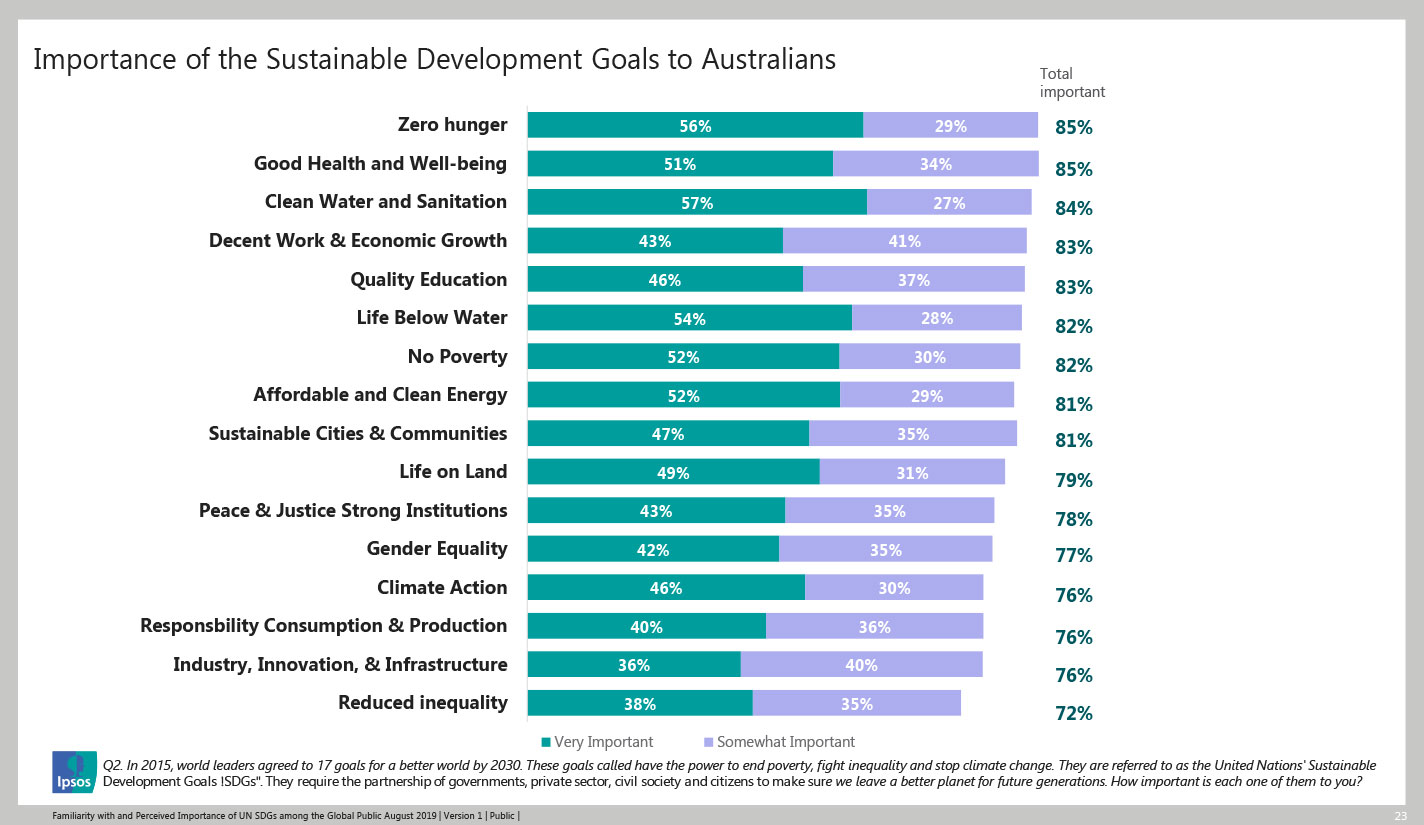 Detailed global findings
Awareness and familiarity with the SDGs are higher amongst emerging countries than economically advanced countries. Those living in Turkey (92%), mainland China (90%) and India (89%) are most aware of the SDGs. Awareness was also high in Brazil, Malaysia, Peru and Sweden (87% each).
Correspondingly, the residents of countries with the highest awareness also rated their familiarity with the goals highest: India (55%), Turkey (53%), and China (52%).
Only around half of those surveyed in Japan (49%), Great Britain (49%), the United States (50%) and Canada (51%) were aware of the SDGs. Least familiarity with the SDGs was noted in Japan (8%), France (11%), Italy (11%), Canada (11%), and Great Britain (13%).
Zero Hunger (End hunger, achieve food security and improved nutrition, and promote sustainable agriculture) is ranked #1 overall and also by Belgium, Chile, Hungary, Italy, Mexico, Russia and South Africa), but second to last (#15) in India.
Clean Water and Sanitation (Ensure availability and sustainable management of water and sanitation for all) which is globally the second most important SDG is #1 in Argentina, France, Turkey and also in the top 3 of 12 other countries.
Other countries that, along with Australia, also placed Good Health and Wellbeing (Ensure healthy lives and promote well-being for all at all ages) as the most important SDG were Japan, the Netherlands and the United States. Globally, this was ranked the third most important SDG.
Although Gender Equality, (Achieve gender equality and empower all women and girls), was globally considered the least important of the SDGs, three-quarters (74%) of those surveyed globally still regarded this as an important goal. Furthermore, those in Sweden ranked this as the #1 SDG and those in India placed this as the #2 most important goal.
Globally, Climate Action (Take urgent action to combat climate change and its impacts by regulating emissions and promoting developments in renewable energy) was considered the 11th most important of the SDGs tested. And although no country ranked this goal as #1, it featured in the top 5 for residents of Poland, Peru, France and South Korea.