Three in four Australians would get COVID-19 vaccination – Ipsos survey
More than half of those willing to be vaccinated would get the vaccine within a month of it being available to them
Three in four Australians (67%) are willing to get the COVID-19 vaccine when it becomes available, according to an Ipsos survey.
Ipsos's most recent polling on willingness to get the vaccine shows a remarkable increase in the percentage of respondents across 15 countries who strongly agree that "if a vaccine were available to me, I would get it." In Australia, there has been a a moderate increase of 6%, which is in line with other countries where the vaccine is not yet available.
Among those who agree they would get the vaccine for COVID-19, a majority would opt to receive it within a month, with an average of 44% globally indicating they would get it "immediately". In Australia, 40% say immediately.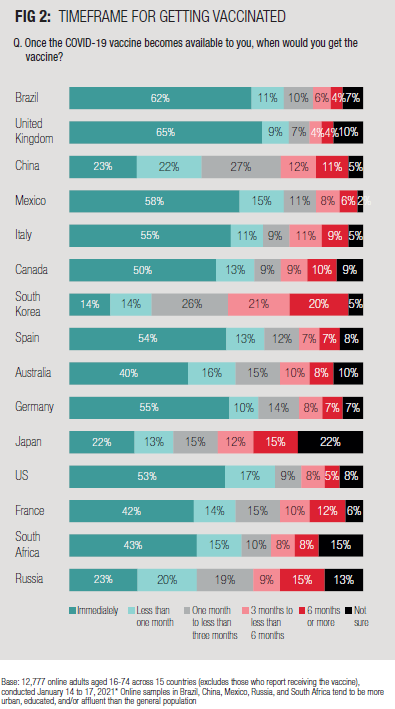 The Japanese seem to be the most hesitant to be vaccinated, in line with previous Ipsos surveys. Also, while France continues to be below average on their willingness to get vaccinated, those who are willing are ready to roll up their sleeves quickly.
Groups most interested in getting to the front of the line for vaccines include older citizens, the more affluent and those who have a higher trust in government. Overall men are more likely than women to be willing to get the vaccine, although among younger age groups, the gap evens out.
Ipsos Australia Director, Jessica Elgood, said: "The early hesitancy we saw around the globe wasn't being driven by the public buying into conspiracy theories, it was more likely to be reasonable, thoughtful people being hesitant because they didn't know what they needed to know to make the right decision.
"Many of the world's citizens reported they were worried about the speed at which new vaccines have been approved and their potential health risks, both immediate and longer-term. For the more cautious among us this was an honest, logical reaction to an information and experience deficit. We simply didn't know what we needed to know to make the decision to get vaccinated. With the Federal Government launching a new advertising campaign last week, we can see that they understand where much of our hesitancy is coming from and they are seeking to reassure the public that the vaccines are safe and effective and meet 'Australia's high safety and quality standards'."
For more information, please click here https://www.ipsos.com/en/attitudes-covid-19-vaccines