Affluent Highlights: how do the European Affluent travel the world?
Over in Europe, we are beset by storms, rain and cold weather. So, for many people, booking a holiday in the sun offers a glimpse of hope amidst the gloom. With far more money to spend, the Affluents are particularly keen on travel – and do so for both business and pleasure. In fact, the average Affluent in Europe takes about 10 flights a year and stays around 24 nights in hotels.

By asking a wide range of questions to these wealthy and well-travelled people, we are able to dig deeply into why and how they like to travel, as well as how much they do. By analysing their responses to a number of lifestyle statements, we segmented them into three groups – each of which have distinct preferences and behaviours when it comes to their travel. These are:
Affluent Experientials
Affluent Luxury Travel Lovers
Affluent Staycationers
Affluent Experientials
Affluent Experientials make up 17% of the Affluent Europe population - 9 million of Europe's high-income earners. This group is defined by a keen interest in travelling off the beaten track. And they enjoy doing things and being active, as opposed to lying on the beach all day. With more money than most, they can afford to spend a little bit more to create the kinds of experiences they want.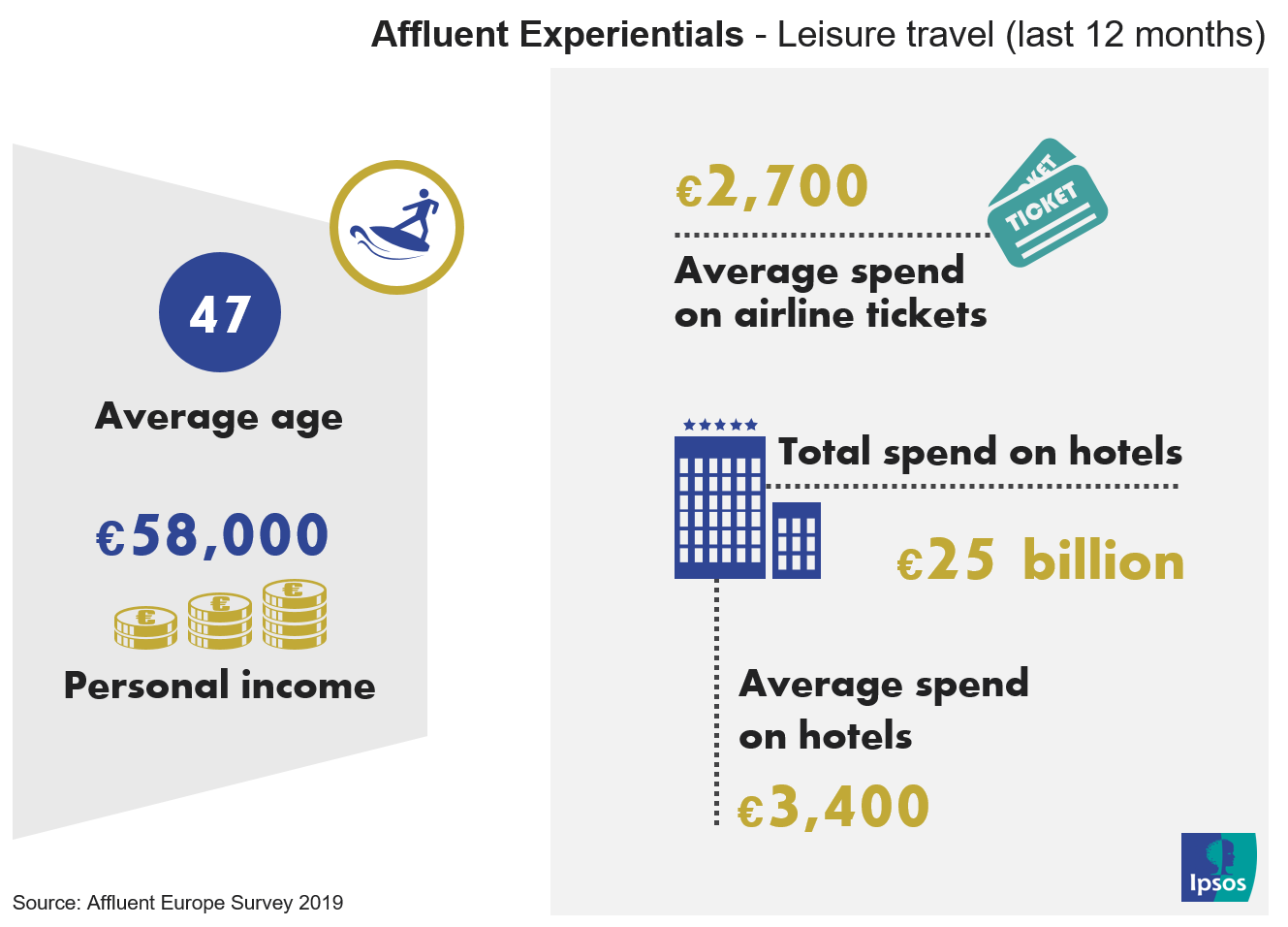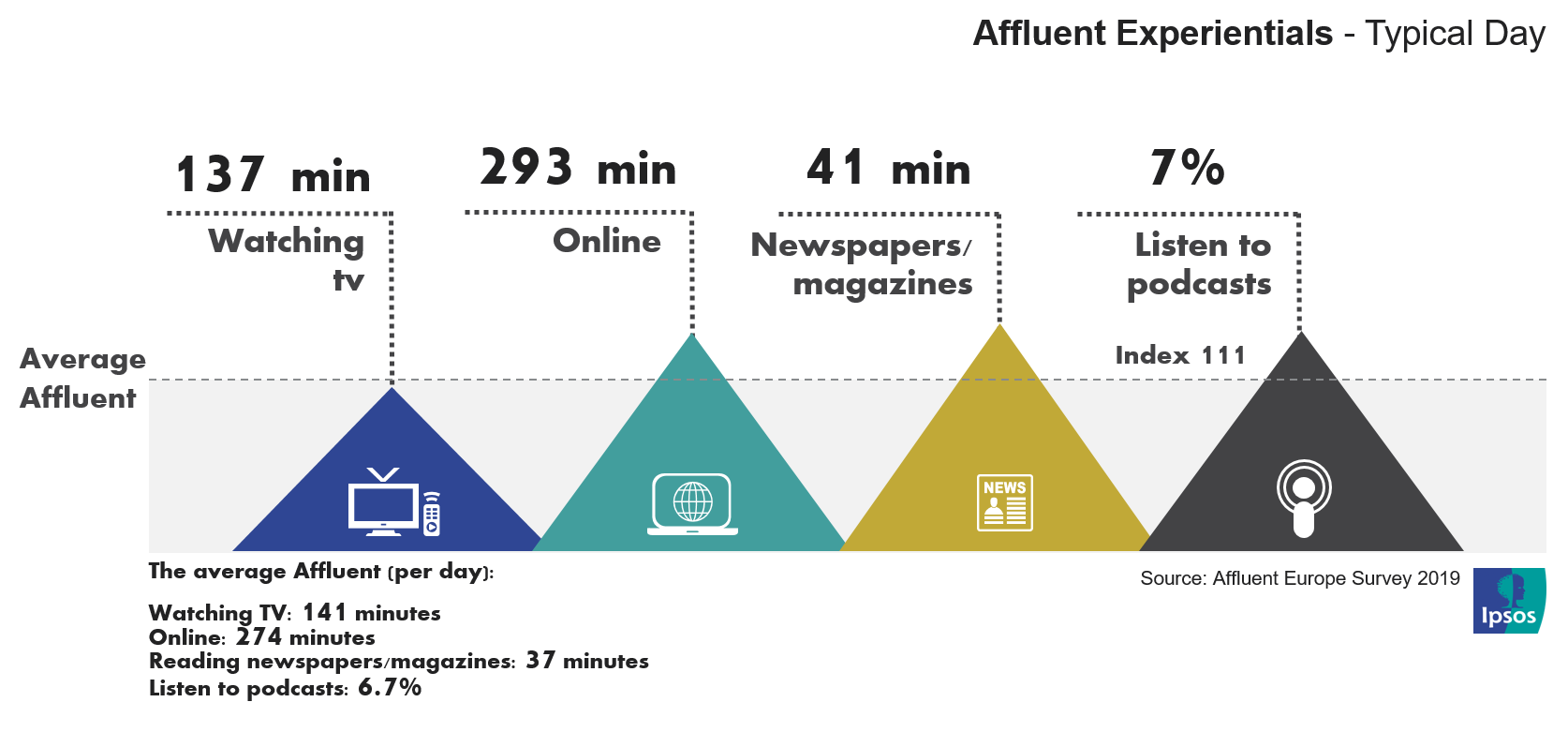 Affluent Luxury Travel Lovers
The Affluent Luxury Travel Lovers like to travel in style. They have the deep pockets to afford the best hotels and the most comfortable seats on the plane. A fifth of them spent 21 nights or more in hotels in the last year. Affluent Luxury Travel Lovers make up 9% of the Affluent Europe universe or 4.7 million of Europe's high-income earners.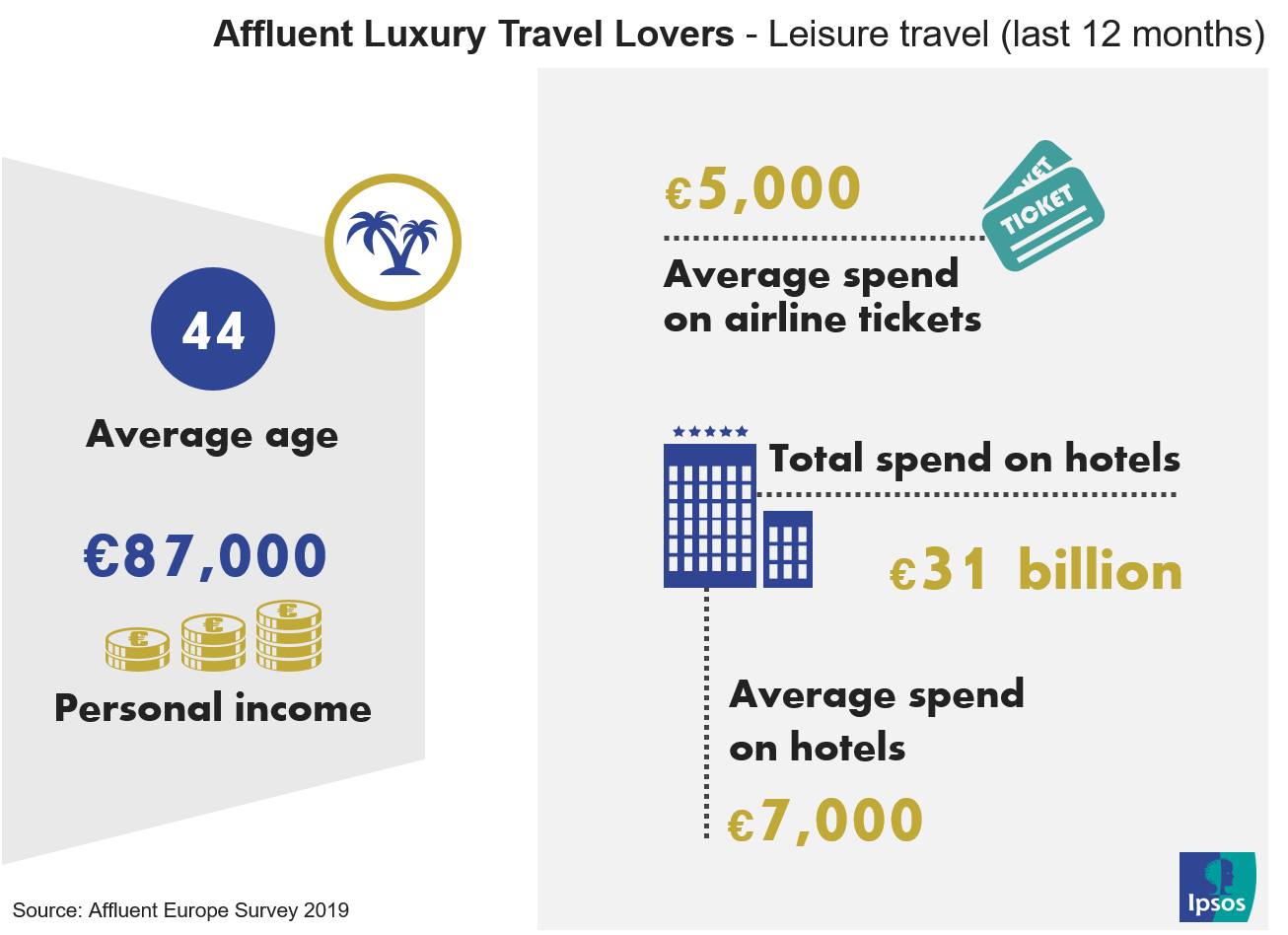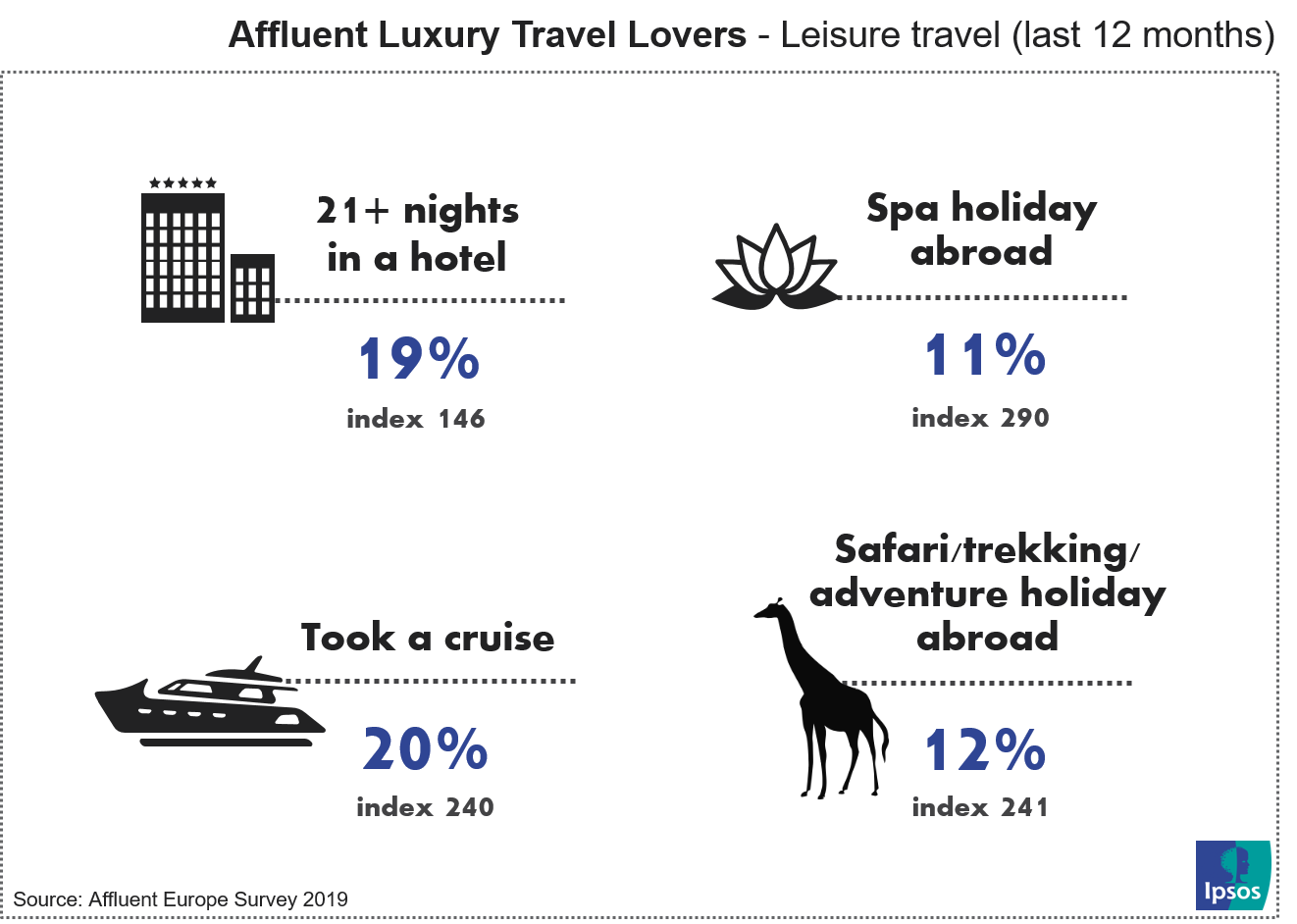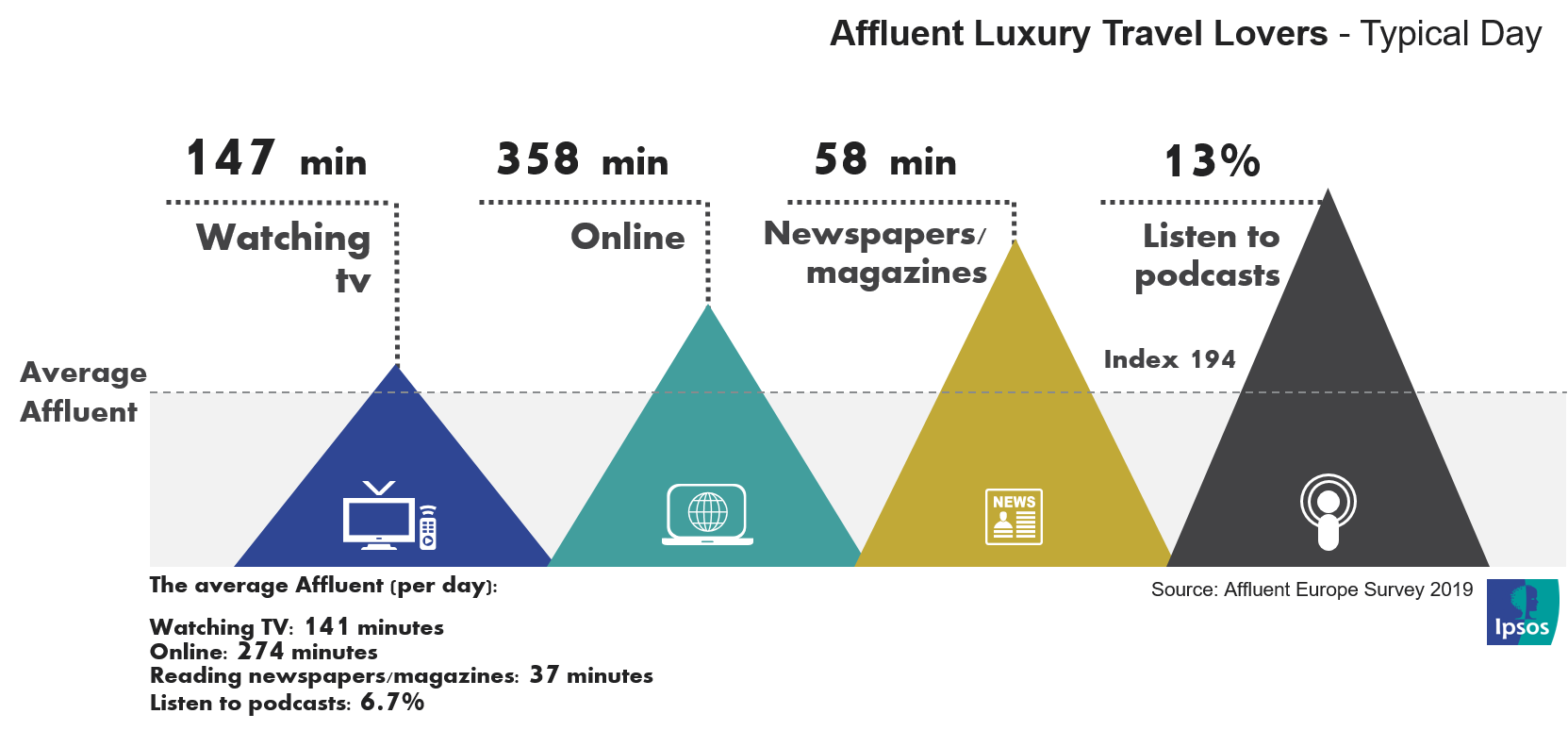 Affluent Staycationers
The Affluent Staycationers like to stay at home. They might drive themselves around their home country, head to the beach or to the countryside. Affluent Staycationers make up 19% of the Affluent Europe universe, or 9.7 million of Europe's high-income earners.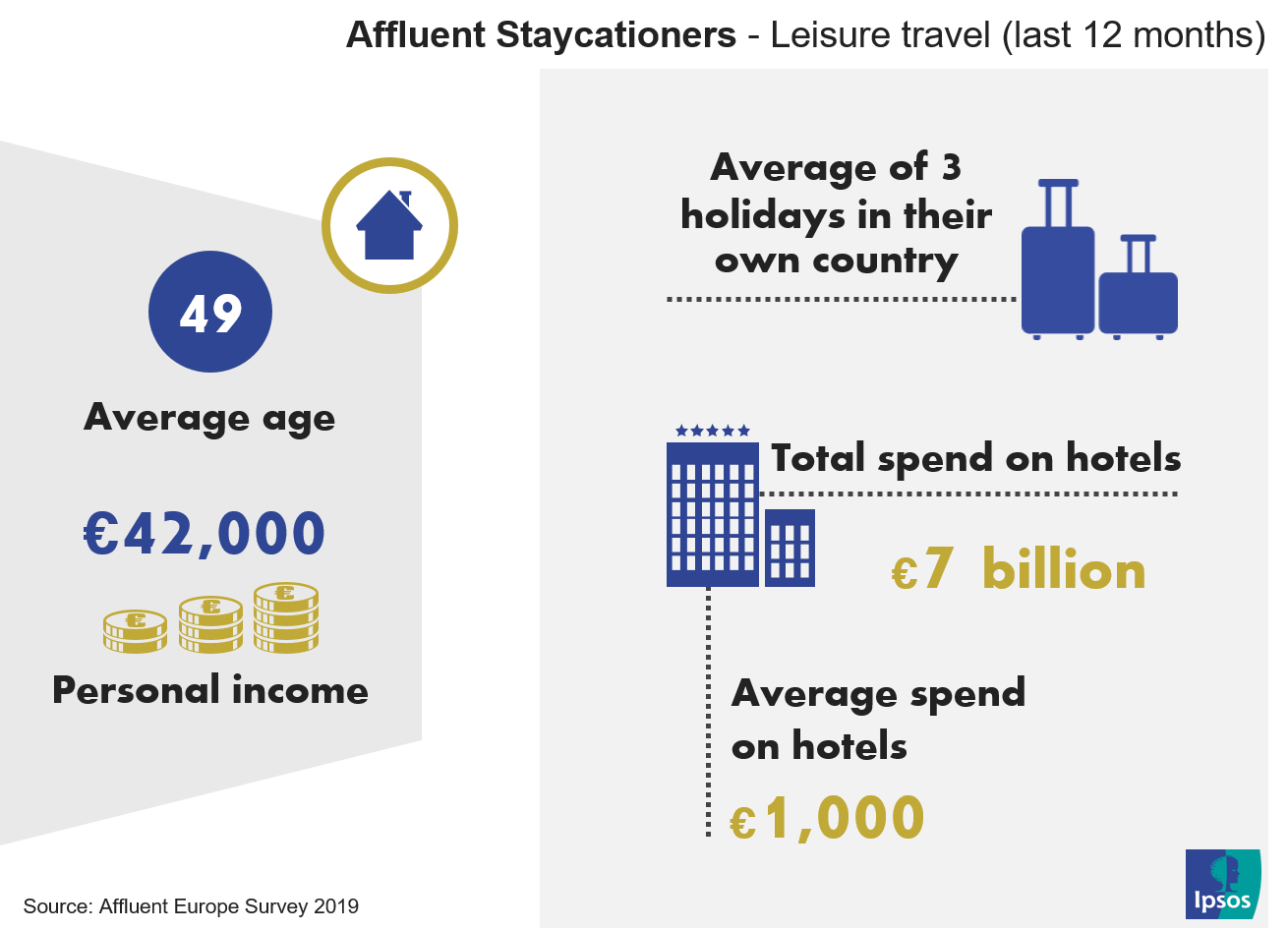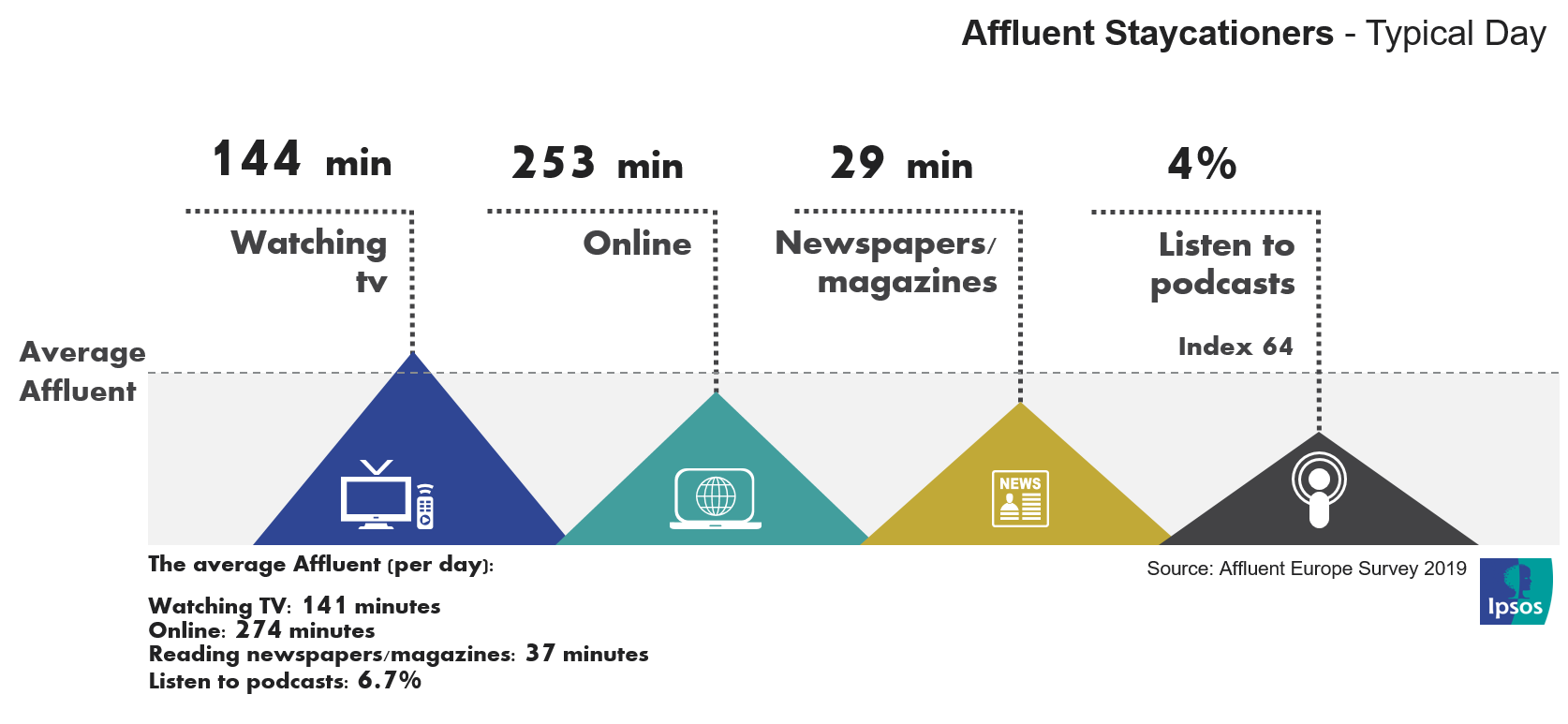 There's a deeper story behind the data
This is just a glimpse of the results. These monthly Affluent Highlights pick out a few notable findings from the rich Ipsos Affluent Europe survey database, which contains many diverse and valuable insights about the attitudes, preferences and behaviour of the Affluent population. Our goal? To deliver data and insights to help you understand, and reach, the world's most influential customers.
Get in touch with our research experts to learn more about the Ipsos Affluent Survey, for information about subscribing, or how our research can be customised to your needs.
---
*Definition of groups
Experientials: Affluents who strongly agree with 'When I go on vacation, I prefer to go places that are off the beaten track'.
Luxury Travel Lovers: Affluents who flew first class or business class regularly or always for leisure trips in the last 12 months.
Staycationers: Affluents who went on a holiday in their own country and did not travel abroad for leisure purposes in the last 12 months.
About the Affluent Survey
The Ipsos Affluent Europe Survey is an ongoing and dynamic Survey, which has been conducted for over 20 years and delivers continuous insights in the media and consumption habits in 21 countries across Europe, and 47 worldwide. Since Affluents spend more, adopt earlier and recommend often, we strongly believe that engaging and understanding this audience is key for media companies, advertising agencies and brands. Yes, it's a resource like no other.