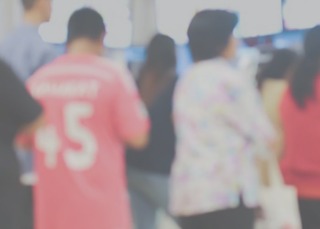 OUR SOLUTIONS
Performance optimisation in retail and leisure outlets
Our electronic queue management software solutions help you to optimise performance in retail and leisure outlets. We will help you identify the most up-to-date customer trends, find out what's happening in your store or restaurant, and why.
Managing high volumes of customers at peak periods is not simply about moving them through the checkout as quickly as possible. This is why many retailers are redefining shopper experiences using the best queue management systems available. A mobile queue management system, for example, enables customers to book a place using their phone and continue browsing until they are served.
As well as improving the reality of waiting in line for customers, these solutions provide actionable insights for businesses at every level.
With Ipsos' Queue Management System service, Quick Service Restaurants can understand the time it takes to serve customers, implement improved queuing systems, monitor back of house activity, and identify trends and patterns.
Store managers can:
find out what is driving sales;
match staffing patterns with queue system performance;
make better use of budgets;
discover the times when they are most likely to improve conversion rates;
evaluate and target poor-performing hours to improve conversions;
understand the impact that walk-in and queued shoppers have on store performance, based on Average Transaction Value (ATV) and conversions.
Area managers can:
ascertain if marketing initiatives increased the number of people who went to stores and whether they had to queue;
identify and learn from how stores manage different types of customer flows;
highlight stores with the best growth opportunities;
measure the impact of new service training programmes and queue interventions on conversion rates and basket sizes;
evaluate loyalty card events and see whether they drive additional traffic, when they could be used most effectively, and if customers are buying or simply enjoying the event.
Head office can:
plan with confidence for the future;
understand customer trends;
assess the real impact of a new store concept or refit;
discover the best-in-class queue management system practices that improve conversion rates and ATV;
use queue patterns, both online and offline, for discussions during lease negotiations;
evaluate and optimise store layout performance;
measure effectiveness of changes to the marketing mix;
understand the impact of in-queue product placements.